Little Free Library is a grassroots organization bringing free books to communities across the country, and several Little Free Libraries have already popped up in the NYC area.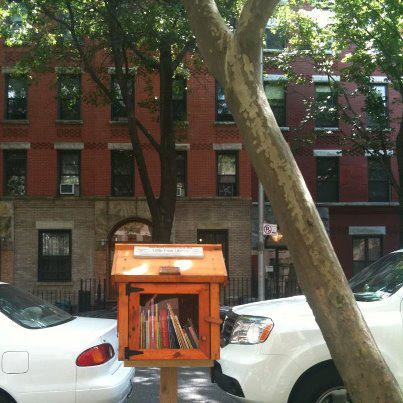 If you happen to be walking down St. Mark's Avenue in Brooklyn, you might stumble into something that resembles a large birdhouse erected on the sidewalk. Look again! Resident Suzanne Pettypiece has built one of the first Little Free Libraries in the area.
Little Free Library, a nonprofit organization created to facilitate literacy and community, is a grassroots movement working to upend the hyper-techno ways we socialize on social media and/or eschew library visits in favor of downloading eBooks. The first one was erected in 2009 in the small town of Hudson, WI by Todd Bol, who wanted to find a sweet way to memorialize his mother, who was a book lover. It was a 2-foot by 2-foot weatherproofed box perched atop a pole. A sign hanging above a plexiglass door said: "Take a book, return a book." Bol and his co-founder Rick Brooks had no idea that several years later their organization would sweep America.
Placing free books in public places is a way to reclaim a stronger sense of community. "It used to be that I didn't know many people in my neighborhood, but now when I walk down the street it's unusual not to see someone who I know because of the library," Pettypiece says. Younger readers can also forge new friendships. Nicole Okumu, who recently moved with her family from Copenhagen to Morristown, NJ, plans to build one in her new front yard. "My family and I moved from a very communal place, and I'd love to recreate that community as much as I can," Okumu says.
And so it goes with Suzanne Pettypiece's Little Free Library in Brooklyn and in Sloatsburg, NY, where Margaret Gulick has erected hers. Pettypiece's Brooklyn library has a children's book theme, and it's not uncommon for her to walk outside and see bags of books left with notes like this: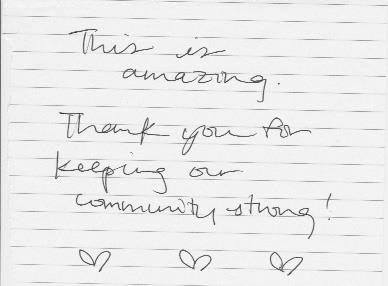 Gulick's library showcases a broader range of reading material. "I have an eclectic mix right now, fiction and nonfiction," Gullick says, listing Charles Kuralt's America, Tom Brokow's The Greatest Generation, Clutter Control, Wright, Me (an autobiography of Katherine Hepburn in large print), Loving Frank, Horan, Girl Who Played With Fire, War of the Worlds, and The Secret Life of Bees.
A different personality resides within each box, both in the contents of the library and in the décor. Some artists in Wisconsin have gathered theirs together to showcase them in an exhibit, and Little Free Library hopes to offer a continual selection of limited editions created by different artists around the country.
To set up your own Little Free Library, or to see if there's one near you, visit littlefreelibrary.org. There, you can find downloadable building templates, as well as a selection of already-built models. Once built, you can place yours on a map that aims to tie the community together with possible theme weeks, book giveaways, and more.
Also see
Literacy Resources in the NY Metro Area
10 Ways to Help Your Child Be an Excellent Reader