The Diocese of Rockville Centre is taking steps to raise its Long Island Catholic schools to new heights. The schools now integrate technology in curriculum, offer more extracurricular activities in leadership, and teachers have been prepared for the common core standards.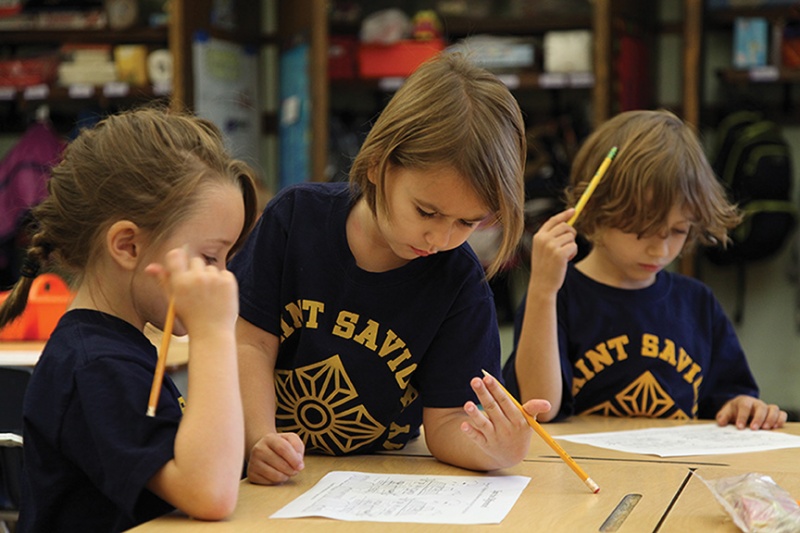 Even the youngest students at St. Saviour Academy in Park Slope, Brooklyn are taught to strive for academic excellence. The school is just one of the many local Catholic schools making progressive policy changes to improve its educational process.
According to the National Catholic Education Association, U.S. enrollment in Catholic schools has fallen by nearly 25 percent in 13 years. In June 2013 the Archdiocese of New York closed 24 of its "at-risk" schools. Still, in spite of the figures, educators at these schools are clearly doing something right: The NCEA reports that 99.4 percent of those enrolled in Catholic high schools go on to graduate, and 84.9 percent of those graduates go on to college. While Catholic schools across the nation are struggling to stay afloat, others right here in the New York metro area are not only thriving, but also adapting in order to provide kids with the tools they need to succeed.
On Long Island, Bishop William Murphy of the Diocese of Rockville Centre formed the Bishop's Advisory Committee for Catholic Education in 2010. The committee spent nearly 18 months studying the trends of Catholic schools and assessing the needs of students. The resulting "Strategic Plan for Catholic Elementary Schools," introduced in 2011, outlines six areas of focus and actions that will help Catholic schools across Long Island implement them.
Bishop Murphy says the whole point of the program is to unite the community in providing children with a quality education. "This strategic plan will help us to identify and take advantage of the many opportunities that lie ahead in order to provide Catholic education that is academically excellent and spiritually engaging as well as affordable and accessible," Murphy says. "We need to commit ourselves to working together for the good of all the students in our schools and those who will come to be educated in the future."
Sister Joanne Callahan, superintendent of schools for the Diocese of Rockville Centre, served on the Bishop's Advisory Committee. As she helped to draft the plan, and has watched it come to life, she says the results have been astounding—especially when it comes to academics.
"We've done a lot over the last two years to prepare our teachers and administrators to understand the Common Core standards and to teach according to those standards," Sister Callahan says, adding that the diocese is placing a special emphasis on improving children's math skills. It's also training teachers to use the most progressive classroom techniques and technology. "We do a lot of professional development with teachers to help them integrate technology into the curriculum," Sister Callahan says. "We have a dedicated teacher training lab at St. John the Baptist High School in West Islip. All of our schools have interactive white boards, and we have several schools that have iPad pilot programs in designated grades. It's amazing what young children know about technology today, but what we're doing is helping them to use it effectively [to enhance learning]."
Schools across the diocese are offering enriching classes aimed at helping kids develop their talents and a complete worldview. Apart from the standard band, choir, and drama clubs, Rockville Centre schools, for instance, also offer a variety of leadership courses and clubs where students can explore their interests.
"Some of our schools have mock trial club and end up going to St. John's University to hold their mock trial," Sister Callahan says. "We also have forensics, TV and radio production, and sports programs, all of which have been incredible for our students. Our goal is to develop well-rounded students."
The diocese continues to lead the charge in modernizing its administration, too. Since the early 1990s, Catholic schools across Long Island have used a two-tiered governance model similar to one recently adopted by the Roman Catholic Diocese of Brooklyn. Parish pastors and principals share responsibilities with a small board of directors made up of a few laypersons. Though oversight of finances and Catholic identity are reserved exclusively for clergy, this model acknowledges that laypersons have valuable perspectives when it comes to classroom practices, recruiting students, and training educators.
As the Diocese of Rockville Centre continues to take strides toward a better future, Sister Callahan says there are a few things that will always stay the same. "In a world that needs so much to look at values, where children need to be able to make good choices, a Catholic education gives students the academic part that's important," she says. "But it also helps them with questions of 'How do I live my life?' 'How do I make good decisions?' and 'How am I going to be a leader?'"