Island Wide Speech, an auditory, speech, and language center on Long Island, is developing its group therapy sessions to promote interaction and speech development.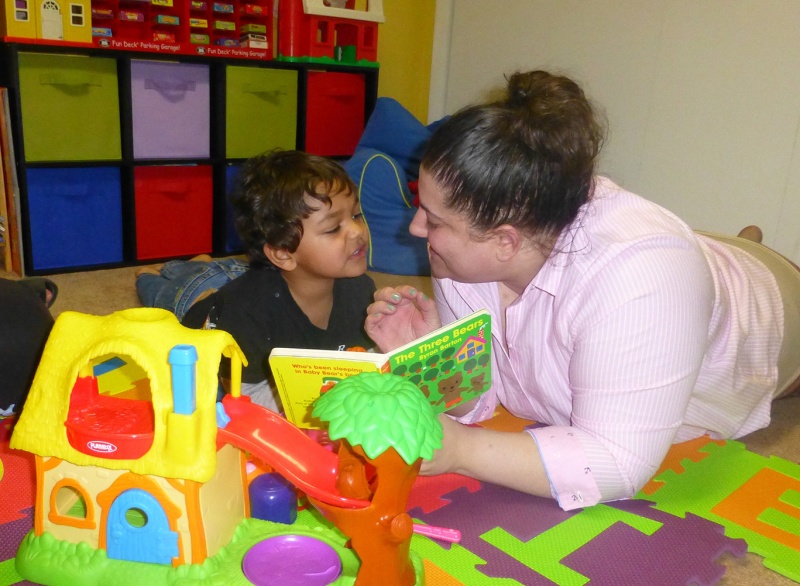 Speech Pathologist Fara Augustover, M.A., CCC-SLP, works with 4-year-old Thanus by reading The Three Bears.
Island Wide Speech, a new auditory, speech, and language center on Long Island, is offering group and individual therapy for children with hearing loss, auditory processing disorders, and other listening challenges. The center offers on-site sessions, as well as telehealth and mobile sessions in Nassau and Suffolk counties.
With a background in social communication and social conversation, speech pathologist and founder Fara Augustover, M.A., CCC-SLP, aims to develop the group sessions to promote peer interaction and speech.
"If the child is talking to an adult and there is a communication breakdown, [the] adult will fill in the blanks. They don't want to see [the child] suffer," Augustover says. "Kids are not as forgiving. They won't fill in the blanks. If they can't go out on the playground and play with the other kids then I haven't done my job."
Island Wide Speech also prides itself on a family-centered approach, including family and any other professionals the child is working with in his or her treatment plan.
With her specialty in auditory oral therapy, Augustover uses both hearing and speech to help her patients develop spoken language. She is also PROMPT (Prompts for Restructuring Oral Muscular Phonetic Targets) certified. "[In PROMPT], you actually physically manipulate the speech mechanism, you move the jaw or the lips," Augustover explains. "It develops the motor planning movement, so the brain develops muscle memory." She has seen great progress with patients using this technique, and finds that children are very open to it.
Augustover has also begun a book project with a character that relates to her patients. For more information or to support her project, visit her Kickstarter page.