A couple on Long Island volunteers to teach children with autism how to surf through Surfers Healing, a daylong surfing camp for children with autism that was founded by former competitive surfer Israel "Izzy" Paskowitz and his wife Danielle.
When Surfrider Foundation sent an email to its members in 2006 looking for volunteers in Long Beach, NY, Joe Moses decided to give his time, and for the past seven years the North Babylon resident has been using his vacation days to help out with Surfers Healing, a daylong surfing camp for children with autism.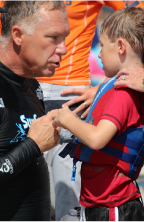 "It's important for me to do this," says Joe Moses of his volunteering commitment to Surfers Healing.
Michelle Beausoleil Helferich
"I went down the first day and just got hooked," Moses says. "I've been surfing for close to 40 years, and this is an incredible way for me to give back."
Surfers Healing was founded by former competitive surfer Israel "Izzy" Paskowitz and his wife Danielle, whose son Isaiah was diagnosed with autism when he was 3 years old. Izzy got the idea for the nonprofit foundation when he took his son out on his surfboard for the first time and saw the calming affect the ocean and surfing had on Isaiah.
"You'll see [some of the kids] be somewhat apprehensive, and some are all gung-ho and happy and into it, and they all go out there and have an incredible time," Moses says. "There's something about being in the ocean that [children with autism] can relate to. A lot of parents will come back and say, 'It's all they talk about, all they draw about, all they sign about. They can't wait to go again.'"
A Day at Surfing Camp for Kids with Autism
Moses describes the camp as a day where parents and families of children with autism can relax and communicate with other families about their similar experiences.
"Everybody is there for the same purpose," Moses says. "There are no funny looks [if a child acts out]. It's like a big family. It's everybody's camp—everybody claps, cheers, cries for every kid. It's a really incredible thing."
Learn more about Surfers Healing, sign your child up for camp, or
volunteer at surfershealing.org.
The camp is 100-percent free for all families and all equipment is provided, as well as lunch, snacks, and beverages for participants and their families. Part of Moses's job as a volunteer is to transport the equipment—surfboards, life vests, and tents—to the different camp locations along the East Coast, from South Carolina to Rhode Island. He also helps kids put their gear on and get them in the water and on the boards with the pro surfers.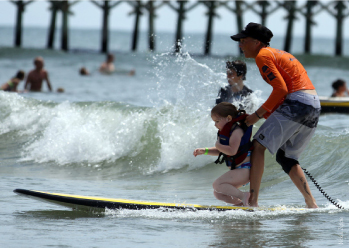 The conditions at last year's Folly Beach, SC, camp were just right, so volunteer Cari Beckerman, who traveled from Long Island, was able to take smaller children surfing. Vickie Trippe
Moses's wife, Cari Beckerman, also volunteers with Surfers Healing. "She works with me, and she is such a great surfer. She helps coordinate and set up with the equipment, she helps stage the kids and get them into their life vests, basically everything I do," Moses says. "If the conditions are right and the kids are small, she'll take a kid [surfing], too."
There are no age restrictions, although Moses says the participants are mostly 3-20 years old. He says weight is the determining factor in getting kids on surfboards with pro surfers, but no one is ever turned away. If a camper is too heavy for the surfers to handle, volunteers will body surf with them.
The surfers, who come from all over to give their time, expertise, and energy, are Moses's heroes, he says, because they have the skill and strength to surf with the kids. "What I get out of it is just incredible," he adds. "It's just one of those things in life, the path that leads you to certain things. I'm so happy that surfing brought me to this."
Surfers Healing in 2014

Surfers Healing will make 16 stops across the country in 2014, with three of them being close by!
September 7, 2014 - Belmar, NJ
September 10, 2014 - Lido Beach, NY
September 12, 2014 - Montauk, NY
Registration and program info will be available soon on surfershealing.org