Take a cue from guerrilla gardener Liz Christy and toss seed grenades in vacant lots in your neighborhood to plant wildflowers. This form of "Do-Nothing Farming" is the perfect way to get in on the greening act even if you don't have land to call your own.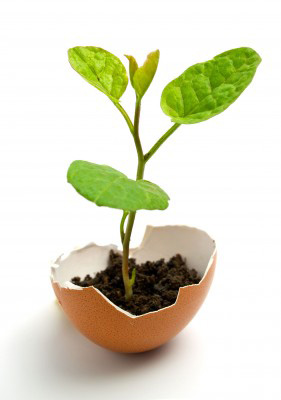 Seed grenades (also known as seed balls, bolitas de arcillas, tsuchi-dango, and saatbomben) were first used centuries ago. By packing seeds into a just-sturdy enough vessel, which might also contain some fertilizer, then scattering these balls on the ground, farmers ensured that their precious seeds were protected from birds, insects, sun, and wind until rainfall caused them to germinate. Ingenious!
In the 1970s, seed balls were rediscovered and popularized by Japanese "Do-Nothing Farming" pioneer Masanobu Fukuoka. Around the same time, guerrilla gardening pioneer Liz Christy began throwing wildflower "seed grenades" into fenced off vacant lots around her New York neighborhood. What Fukuoka and Christy had in common was a determination to make inhospitable soil bloom.
If you're too impatient to tend a garden, or you don't have a patch of dirt to call your own, this springtime experiment provides a perfect excuse for you get into the guerrilla gardening act.
You'll need:
Seeds of three distinct species of wildflowers native to your area
1 lb. or so of organic compost
Air-dry clay (for example, the kind sold by Crayola)
Newspaper torn into 2"-wide strips
2½ cups of flour
One dozen eggs
Mixing bowls
Towels you can get dirty
Water
Small balloons
A long nail
A small straw
Masking tape
Clay Seed Grenades
1. Mix a small amount of clay with compost and just enough water to form a mix that holds together without crumbling.
2. Pinch off a small amount of the mixture, stick a few of the first variety of wildflower seeds into it, and roll it into a ball. Roll the ball in more compost.
3. Make a dozen or so of these clay seed grenades, then leave them to dry on a windowsill or counter.
Papier-mâché Seed Grenades
1. Blow up a dozen or so balloons—until they're no bigger than your fist.
2. Mix the flour with 3 cups of water, until the mix has a pancake batter consistency.
3. Dip the newspaper into the mixture, then squeegee off the excess gunk by pulling the newspaper between two closed fingers.
4. Wrap each inflated balloon with papier-mâché (that's what you've made), leaving an empty space about as big as a coin around the balloon's knot. Once the shells have dried, pop and remove the balloons.
5. Fill each shell with compost mixed with a tiny bit of water, and a few of the second variety of seeds. Put a piece of tape over the papier-mâché seed grenade's hole.
Eggshell Seed Grenades
1. Using the nail, poke a small hole at the center of the egg's smaller end, and a larger hole at the other end; then use the nail to break the yolk.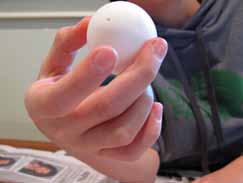 2. Using the straw, blow the contents of the egg out of the larger hole into a bowl. Because you're not using these eggshells for a craft, you don't need to clean them out perfectly.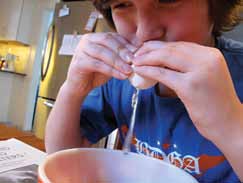 3. Tape the small hole closed, then fill the eggshell with compost, a little water, and a few of the third variety of seeds. Put a piece of tape over the eggshell seed grenade's hole.
Once you've made three types of seed grenade (these are just suggestions; feel free to come up with your own grenade forms—just don't use glass or anything toxic), you're ready to make like Johnny Appleseed.
With grownup supervision, toss the grenades into untended public spots. The idea is that they'll break on impact. Keep visiting these spots and take notes—which species of flower grows best?
| | |
| --- | --- |
| | Excerpted from Unbored: The Essential Field Guide to Serious Fun by Joshua Glenn and Elizabeth Foy Larsen with the permission from Bloomsbury USA. |
Also see:
Tips for Spring Gardening with Kids
5 Tips for Buying the Right Lawn Mower