Acclaimed actor, writer, and director Kevin Del Aguila talks about his alternating roles as Broadway star (in the Tony-winning "Peter and the Starcatcher") and Manhattan dad.
When Broadway's Peter and the Starcatcher was nominated for nine Tony Awards earlier this year, Kevin Del Aguila (who plays Smee, the silly sidekick in the show) accompanied his co-stars on stage at the Beacon Theatre June 10 to perform a snippet of the acclaimed musical. Del Aguila opened the scene solo with a song, dressed in full-on mermaid costume complete with a wig swapped for a mop head and a mad grin on his haphazardly lipsticked mouth. While he was realizing a dream he'd had for many years, performing live for millions of viewers, he was also thinking about one little fan of his who was sitting at home feeling a bit let down.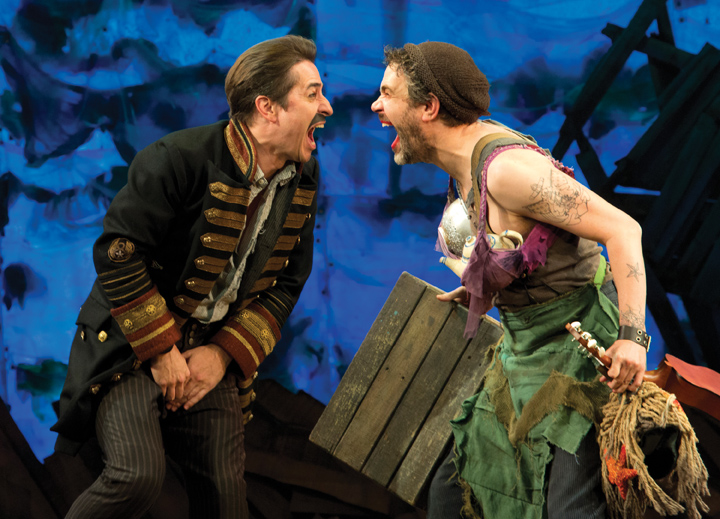 Del Aguila (right) as Smee and Matthew Saldivar as Black Stache in Peter and the Starcatcher
The Tony Awards, as is tradition, aired on a Sunday, which is Del Aguila's only night off from performing. But Sundays are usually reserved for time with Felix, Del Aguila's 3-year-old son. "He knows Sunday is the day off and that he has me all day," Del Aguila says. When the Tony Awards interrupted that father-son time, "I said 'Oh wait, we have this contest. But you get to see Daddy on TV!' He was disappointed," Del Aguila says. "But he stayed up with Mom and watched Daddy be a mermaid on television."
Since Peter and the Starcatcher opened in April, Del Aguila has performed six nights a week. "I suddenly got cut out of my role as the book reader at bedtime, the bath guy, and all of these great things I looked forward to," he says. And with curtain time at 7pm on most nights, family dinners are often eaten on the fly. "We still try to eat together as much as we can," Del Aguila says. "But it's resulted in us going to a lot of diners really quickly."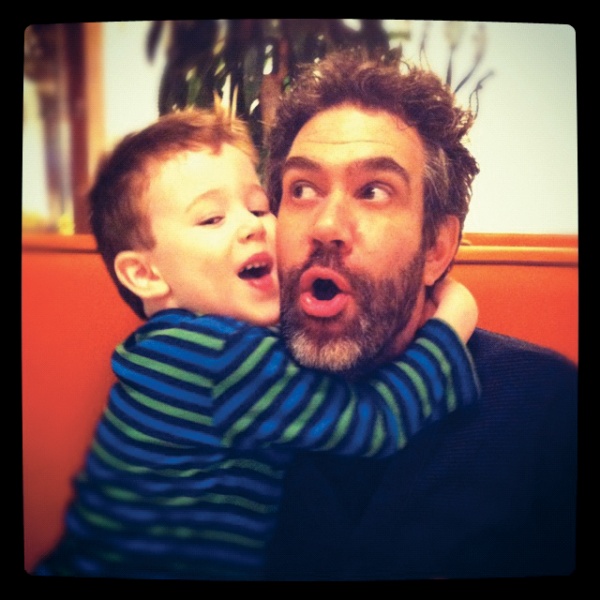 Kevin Del Aguila and son Felix
Luckily, the Del Aguila clan lives in Midtown, just a few blocks from Times Square and the Brooks Atkinson Theatre, the current home of Peter and the Starcatcher. Originally from southern California, Del Aguila got his master's in fine arts at Temple University in Philadelphia and moved to the center of NYC immediately after, chasing the dream of being an actor. Little by little, though, he let his dream of being on stage fade. For more than a decade before his Broadway debut in Peter and the Starcatcher, Del Aguila gained recognition for his writing and directing skills, including multiple nominations for the long-running Off Broadway show Altar Boyz, for which he wrote the book. So when he was called in to audition for Peter and the Starcatcher and secured the role of Smee, "It was a complete surprise," he says. "I saw the people outside the audition room and I thought 'If I was holding the auditions, I'd pick them.'"
Watching Del Aguila on stage, bantering with Black Stache—the "Captain Hook" role originally played by Tony-winner Christian Borle and taken over in early July by the equally apt Matthew Saldivar—it's easy to see why he was chosen for the role. As Black Stache blusters and sputters in the spotlight, Del Aguila's Smee proves an agile accomplice, sharpening each punch line with witty delivery and polished comedic timing.
Adapted from the book series by Dave Barry and Ridley Pearson, Peter and the Starcatcher is the wildly funny and eccentric tale of how a no-name orphan boy became Peter Pan with a little help from a brave girl named Molly Astor (played by the Tony-nominated Celia Keenan-Bolger).
While it may sound like a kids' show, the humor skews a bit toward the older crowd. Still, Del Aguila's son has been to see the show twice. "We thought he might as well, because how often is your dad on Broadway?" Del Aguila explains.
On his first trip to the theater to see the result of all his dad's "pirate practice," as rehearsals were called at home, Felix was most looking forward to seeing the crocodile Dad had told him about. But it was another character who ended up stealing his heart: "The next day, he was running around pretending to be the girl from the show. He kept wanting to be called Molly Astor, the great swimmer," Del Aguila recalls. Before he saw the play, Del Aguila says, Felix was struggling in swim class, afraid to put his head under water. Soon after, though, Del Aguila's wife texted him a video of Felix swimming around effortlessly, picking rings off the bottom of the pool.
With Dad writing and directing for companies like Theatreworks USA, the largest nonprofit professional theater group for young audiences, Felix already has several Off-Broadway shows under his belt as well. In July and August, Del Aguila's version of Skippyjon Jones hit the Lortel Theatre, and in November his adaptation of The Velveteen Rabbit will begin a three-month run at the DR2 Theatre. Del Aguila describes the latter as a Starcatcher for little kids. "It's another show where we use a lot of found objects—and in this case toys—to become other things."
While Del Aguila doesn't wish the instability of a theater career on his son, he stresses the importance of the performing arts in every child's life. "When they see theater, they literally see grown-ups 'playing' in front of them," he explains. "It is a communal experience, a ritual with its own particular type of 'magic.' And when it's done well, I think theater can expand a child's creative mind and sense of imagination."
Raising Felix
Toting a toddler around Midtown Manhattan has its challenges, says Del Aguila, a native of southern California. "Every now and then there are rats at the playgrounds, homeless people on the benches, and drug deals on the corner, and you think 'Oh, why can't it just be Neverland?'" he says. But on the whole, New York is an amazing place to raise a child because there's just so much to do. The Del Aguila trio often ventures to the museums, but Felix has several places he really loves to go. The two he always requests, his dad says, are the drum store—"it's a Tin Pan Alley-type place on 48th that has a sign outside that says 'Come in and play our drums,' and they actually live up to the sign"—and the FDNY Fire Zone in Rockefeller Center.
One summer Sunday, when Del Aguila didn't have a performance or awards show to attend, he and his wife and son rented bikes and rode up and down the West Side, near the Intrepid. While cruising, they stumbled upon a place that offers free kayaking. "I couldn't believe it, they just give you the kayaks for free," Del Aguila says. "So we went kayaking in the Hudson River, and it was the best day off we've had. Finding these little surprises and joy in the middle of all this stuff is what it's all about."
Also see:
Our theater critic's review of Peter and the Starcatcher