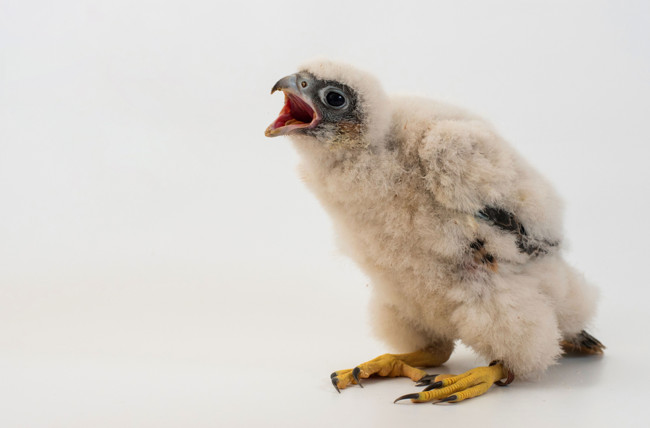 Meet the 3 Baby Peregrine Falcons That Now Call NYC Home
Rosie, Martha and Juno hatched near the Bayonne Bridge in May.
Get can't-miss family activities sent to you!
Get the Best Kid-Friendly Activities
Sent to You Weekly!
"Rich Kerney, a SIB maintenance unit supervisor, and Chris Nadareski, a research scientist with the New York City Department of Environmental Protection (DEP), climbed up a 40-foot nesting tower in the Arthur Kill near the Bayonne Bridge," reads a statement.
The DEP, Port Authority, and NY State Department of Environmental Conservation have been working together to keep the falcon population thriving in New York, which is considered a bird of prey's paradise. Peregrine falcons are listed as endangered in New York State, and were eliminated as a nesting species in the early 1960s due to pesticide residues in their prey. However, the release of captive bred birds from 1974-1988 helped restore the population. Peregrines first returned to nest on two bridges in the city in 1983 and two years later were nesting again in the Adirondacks. Martha, Rosie, and Juno represent the next population of peregrines to make their mark on the city's skies.
Main Image: Martha, Rosie, and Juno look a lot like this little guy, but will grow to be majestic predators.