Introducing...
Vanessa Friedman, Assistant Editor and Manhattan Calendar Editor
When I told my friends I would be working as an editor at a parenting magazine, no one was surprised. "It makes sense," my best friend said. "Writing about New York and children? You'll fit in perfectly." Am I a native New Yorker? Nope. A mom? Absolutely not (yet). But I'm serious about this job being just right for me. Let me explain.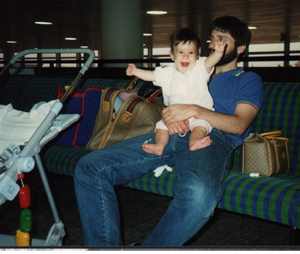 This is one of my favorite baby photos of myself.
Is there anything better than seeing a tiny human express pure joy?
Ever since I was a baby, I've loved taking care of babies. One of my earliest memories features me at age 3, playing "babysitter." I took some dolls to the bathroom, put the small stool I used to enable me to see the bathroom mirror on top of the laundry hamper (to make a bunk bed, obviously), and put my dolls to sleep. After "reading" them a goodnight story, I inexplicably chose to cover the entire bathroom in thick layers of toilet paper. I used four rolls in total. Then I called in my parents to check out my meticulous work. As my mom's jaw dropped in horror, I told her the "kids" had behaved well while she was out. Then I asked for a tip.
As I grew older I started caring for real children—not dolls—and luckily for everyone I dropped the idea that TP-ing a bathroom makes one a sought-after babysitter. But if I had kept my parents on their toes when I was a young child, they certainly returned the favor. They moved our small family—my parents, me, and my younger brother—from South Africa to Canada when I was 4, and we moved again (this time to Massachusetts) when I was 10. At the time I told my mom she was ruining my life, and in response she handed me a journal and asked me to direct all my negative energy at the page, not her. I obliged.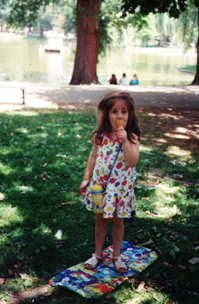 To be honest, not much has changed since this picture was taken: I still like ice cream and floral print dresses, and I like to be prepared with sensible footwear and a sturdy water bottle.
Fast-track through the next 13 years: I fell in love with New York City on a family vacation, swore to move here one day, and followed through on that vow when I chose to go to NYU for my undergraduate degree. I was a babysitter, a camp counselor, and a tutor. I filled up the first journal my mom gave me, and then I just kept writing. I chronicled middle school and high school with a paper and pen before switching over to blogs in college, and now I use my words wherever I can: I have a paper journal, an iPhone journal app, several blogs, a Twitter handle, and of course I get to use my words at work to talk to our readers about two of my favorite things: New York and children.
I may never be a native New Yorker and I'm definitely not yet a mom (I'm thinking 30 sounds like a good age to start a family, but working for a parenting magazine has taught me that when it comes to kids, it's best not to make firm plans about anything), but I'll always be a writer. And being able to write about my favorite topics and call it work? My best friend was right: This job is a perfect fit.