Introducing...
Eleni Skoutakis, Summer 2014 Editorial Intern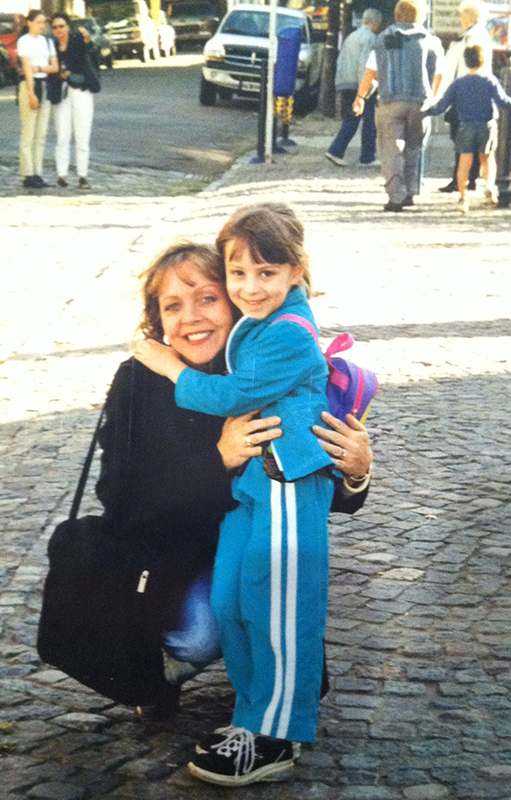 Eleni at age 5, with her mother.
Almost three years ago, at the "wise" age of 17, I made the choice to spend the next four years living in Washington, D.C., attending American University, and majoring in International Service—well, I wasn't sure about the third part yet. Fast-forward to the present and I'm a rising junior and a proud School of Communications student with two newly declared minors in Spanish and Art History.
I left home – Paramus, NJ, to be exact – without knowing what to expect from the city that would be my new home. Aside from being an only child, I'm also a first-generation Greek-American with parents (and grandparents and aunts and uncles) who have showered me with love and constant encouragement. My Greek heritage is such a big part of my identity that even if I were to try to conceal it, my efforts would go to waste. My first name (arguably along with my uncanny resemblance to my father—sorry, Mom) is so prominently Greek that it feels like everywhere I go, my family goes too. The one mystery in that is that my parents never moved to D.C.
My interests, however, vary from those of my family—more specifically, they don't think I'm that funny and the whole concept of reality TV is a little bit of a gray area. I guess you could say that my life as of now has been a series of amazing, awkward moments and attempts to find light in even the most unpleasant of circumstances—all fueled by an unwavering love and appreciation of Saturday Night Live.
I've always enjoyed writing, and it seemed natural (given my lack of interest, but mostly lack of skills in math and science) to want to further pursue that interest. To say that I know exactly what I want to do after graduation would be a bit of an exaggeration, but what I do know is that I hope that it involves the fostering of a long and healthy relationship with writing. Hopefully by the end of my internship here, when someone asks me, "What do you want to do after you graduate?" instead of responding with a frustrated, "I don't know!" I can (calmly and confidently) say, "Maybe I'll work for a magazine or in publishing."
Meet the rest of the NYMetroParents Editorial Team