Introducing...
Melanie Shapiro, Summer 2013 Editorial Intern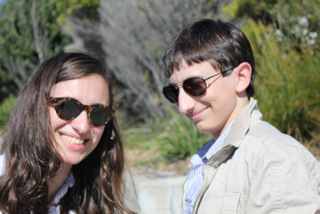 Shapiro (left) with her brother in Sydney, Australia last summer
I've spent the last two years uptown as a student at Barnard College, Columbia University. The Upper West Side definitely feels like home, but my real home is in Westchester, and I love spending time in the quiet suburbs just as much as I love exploring the ins and outs of NYC.
At Barnard, I tend to spend a lot of time in the library as I'm an English major and a religion and ancient studies double minor. When I have time to spare, I try to catch as many Broadway shows and Met operas as I can, and I really enjoy the Met Museum as well. I'm also a huge soccer fan, and I'm slightly disappointed at the lack of any major international tournaments this summer.
While I'm undoubtedly a New Yorker at heart, I love to travel and I have a serious case of wanderlust, although I suppose it's in my blood: My dad is originally from South Africa and his family is spread all around the globe. Our most frequent destinations for visiting close family are Sydney, Australia and London, England. Unsurprisingly, I'm a huge Anglophile and I'll be spending my junior year at Oxford University studying English Literature.
Before I make any big career plans, I want to try and gain as much experience as possible. My goal is to improve my skills, see where my strengths lie, and see what I enjoy doing, although I suspect I'll end up in publishing and be very happy to do so.
Meet all of the NYMetroParents Editors