Introducing...
Shara Beitch, Editorial Intern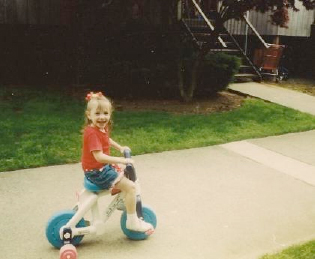 Here I'm 4 years old on my favorite bike in front of my childhood home. I always had a smile on my face, whether or not a photograph was being taken.
I took my LSATs the morning of Oct. 4. The room was filled with coughs of anxiety and I could feel my hands pulsing as I gripped my No. 2 pencil. This wasn't what I wanted. I wanted to write, edit, immerse myself in a world of media—a dream I thought was too unrealistic to pursue.
Several years before all this, and pre-dating my adventures as a student at Binghamton University, I started off at SUNY Rockland. It was only a two-year school, but I quickly became devoted to student affairs and made a name for myself as editor of the school's award-winning student newspaper. It was the happiest time of my life. I wanted to relive that again and again, even after transferring to Binghamton—only it wasn't that easy. I entered a whirlpool of competition as a transfer student, inching my way up as a staff writer for the school newspaper. It wasn't enough. I needed to edit and feel the inimitable rush of assisting in the creation of an issue from start to finish.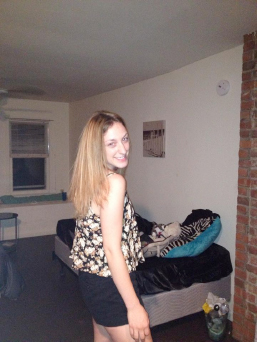 Here I am, 21 years old, right after I highlighted my hair blonde at the beginning of this summer. Fun fact: I am naturally dark brunette – my hair went from blonde to brown on its own around the age of 15.
After a year in Binghamton in which I felt journalistically unfulfilled, I figured I should pursue a more practical endeavor: law. But as indicated above, that path was even less fulfilling than being an idle journalist. I then decided to apply to be an editor for the school's food magazine (because if you know anything about me, you know my devotion to food…and eating). I got the position and began to feel at peace with myself and at home with my school. I joined the school radio and released my unhealthy obsession with country music, bad jokes, and love for media into the lives of whomever dared to give me a listen. I did everything in my power, from blogging to interning at the local newspaper, to express myself the best way I know how. In May, I graduated from Binghamton with an honors degree in English and Rhetoric, ready to take on whatever this world has in store for me.
There are really only a few things anyone needs to know about me before they figure it out on their own. I live my life to make others laugh, and if you aren't smiling, then I will make it my business to have you do so. I always smile at strangers, because everyone is fighting some kind of battle. I drink too much coffee, have a love affair with chocolate, and often find myself staring at maps, plotting ways to fill my travel void. I always remember my dreams, and I appreciate bold gestures more than almost anything. I talk a great deal but ultimately aim to touch lives through the written word. Being an Editorial Intern at Davler Media is just the beginning of my passionate and progressively sage life-long journey.
Also See:
Meet all of the NYMetroParents Editors