Introducing...
Taylor Paraboschi, Spring 2013 Editorial Intern
On a cold February night in 1990, I was born at the cross streets of West Milton and Fulton in Rahway, NJ to two 40-something parents who had suddenly forgotten where the hospital was. Having misread the directions while trying to make it to the ER, my father stepped into uncharted territory, and with the help of two nurses (who were walking to work that day) delivered me in the back seat of his '89 Buick.
You could say my life's always been a tad bit interesting.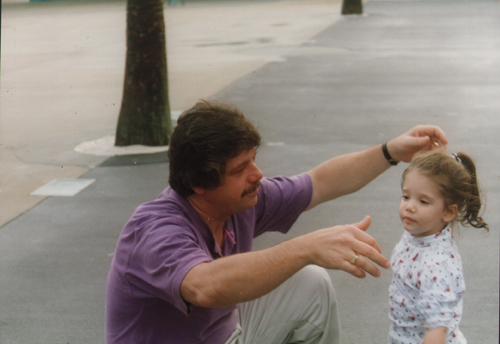 Taylor and her father at Disney World
Like most people, 85 percent of my outlook on life was shaped by my parents and their desire to give me everything they lacked. Growing up in Newark, NJ during the 50s, they didn't have a lot and never had the chance to do and experience different things. My father used to tell me there was no room in life not to stand out—that it was up to me to find ways to grow and learn all that I could, doing my best to help others along the way. My mother agreed, reminding me to always take time to stop and enjoy the little things—like driving down to Atlantic City with your friends to see your favorite band perform or dying your hair neon pink on a Saturday only to regret it (somewhat) the following Monday.
I love life—absolutely everything about it. As cliché as it sounds, I love waking up every morning and not knowing what the day will bring or who I'm going to meet along the way. I've been fortunate enough to have been able to travel around the world, to places such as Italy, Ireland, Turkey, Greece, and Spain, experiencing the different cultures and immersing myself temporarily in a new environment. With a degree in English literature (with a concentration in creative writing) and two publishing internships completed, I hope to further my career in publishing, learning about all of the different departments it takes to successfully publish a book or magazine.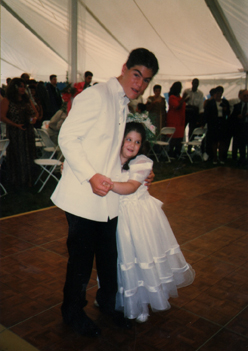 Taylor and her brother Justin
at a cousin's wedding
My ambitions are somewhat scattered in the fact that I aspire to various goals that aren't necessarily related. At the moment I'd like to pursue a career in the publishing world, in either the editorial or marketing/PR departments. One day I hope to be confident enough to begin to publish my own books and make part of my living off of what I really love to do—write.
In four or five years, I'd like to go back to school and receive my certificate in ESL so I can travel around Europe and Africa, teaching English as a second language to the local children while also getting to experience the many countries I haven't been to yet.
While no dream is ever set in stone, I'd like to work towards never being fully satisfied—always moving forward and learning, seeing, and doing all that I can. I'll probably be the only 90-year-old crazy enough to hop on a red-eye to a new destination or decide to give pink hair another try, but I'm okay with that.
Meet all of the NYMetroParents Editors