Introducing...
Theresa Dietrich, Marketing Intern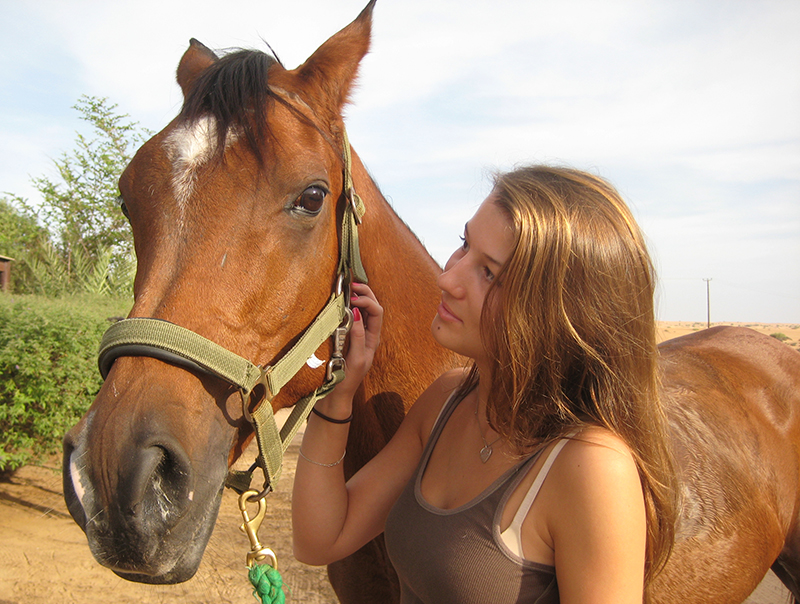 This is my horse Harvey and I before our adventure tour in France. I have been riding horses for 12 years and rode competitively in dressage and show jumping tournaments when I was in high school.
To be responsible for yourself is something you have to learn in life. Spending most of my lifetime in a small town in southern Germany, I always had my family and a familiar environment without any big changes. As my older sister is my role model, I always adopted what she chose: same dress, same food, and same school. I never had to make any decisions on my own but relied on her tried-and-trusted choices. When she decided to go to med school, though, I knew that it was time to take charge of my own decisions and find my way in life.
Like most of my fellow high school students, I had no idea what to study when graduation came around. I always knew what I did not want to do, but choosing a major I could be interested in was very difficult. After graduating from high school in my hometown, I decided to move to Munich to start a new phase in my life, taking matters into my own hands. I knew I had to find the way that was right for me.
In Munich I started my studies at a business college majoring in media and communication management. I knew it would give me a lot of opportunities in the future, but for more than one year I was not sure if it was the right choice. To make sure I had made the right decision, I took a summer internship at a media agency. Within my first day, I knew that this is the right path for my future.
During vacations in the U.S., my family and I frequently visited New York City. I was always fascinated by the people, the buildings, and the lifestyle, but I never even dreamed I would have the opportunity to live there in the future.
After a couple of months in Munich, I realized I wanted a new challenge, and as my college runs a study abroad program with partner colleges in NYC, I decided to spend my term abroad and hopefully my internship in my favorite city—New York.
A few weeks into the study abroad program at Pace University and Berkeley College, I knew I did not want to return to Germany after three months. I decided to stay an additional three months and do my required internship in New York.
So here I am, living in the Big Apple. I have never been so far from my family for so long, but I believe the challenge of coping with and conquering this big city on your own is the best life-changing experience one can have.
Also See:
Meet the rest of the NYMetroParents staff