Six years ago, a Long Island family founded T Off 4 Autism. This year, the annual golf fundraiser and auction dinner raised $170,000 for autism research.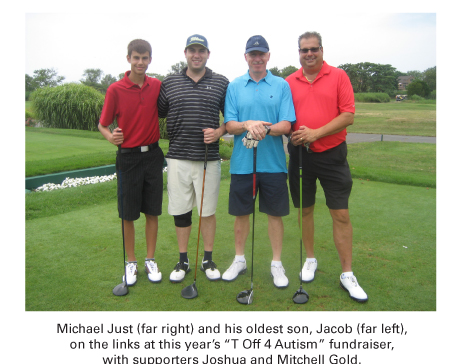 It was early 2007 when Michael Just and his now late father-in-law Shelly Davidoff sat down and came up with T Off 4 Autism, a golf and auction dinner event on Long Island intended to increase awareness for autism and to raise money for medical research. A few years earlier, Just's youngest son was diagnosed with autism at 20 months old. "We decided, We're not just going to sit by and let my son struggle," says Just, whose now 9-year-old son Ryan is steadily improving and attended summer camp for the first time this year. "We thought, 'Let's try to help him and other parents [of kids with autism.]'"
With initial expectations of 20 to 30 attendees, the first-ever T Off 4 Autism blew Just away when 200 golfers and 300 people showed up to play on the green and to participate in the auction dinner—raising about $100,000 to go toward autism research. Since its inaugural event, T Off 4 Autism has raised hundreds of thousands of dollars for organizations such as Autism Speaks, the Cody Center for Autism and Developmental Disabilities at Stony Brook University Medical Center, Nassau and Suffolk Autism Society of America, and the Mental Health Association of Nassau County.
Over the years, T Off 4 Autism, which hosted its sixth annual event in July, has grown with the help of 12 committee members, from local lawyers and medical professionals to contractors, financial planners, and even a toy company owner. This year, the event raised $170,000 with the help of 154 golfers and 260 dinner guests. Each year, T Off 4 Autism aims to help fund research that will help "find a cure," says Just, who is also the father of two teenagers, Jacob and Melissa. "That is the ultimate goal."
For more information, visit toff4autism.org.