It isn't necessary to be superhuman to be a great mentor to an at-risk or underprivileged youth. What makes mentors extraordinary is the commitment he or she makes to changing a child's life for the better. Mentors from Big Brothers Big Sisters of Long Island, Boys & Girls Club in Northern Westchester, and Girls Write Now share their experiences.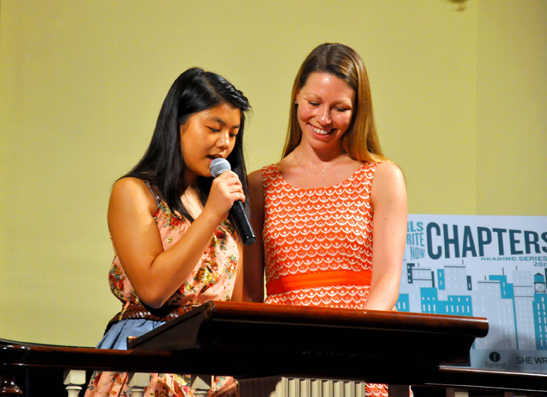 Monica Chin (left) and mentor Elaine Stuart-Shah
at a recent Girls Write Now event, where mentees
and mentors were encouraged to share the writing
projects they had been working on together.
When Barbara Cohen of Syosset signed up to be a Big Sister six years ago, she wasn't sure what she was getting herself into. After an extensive interview that spanned everything from her work history to her family life, the staff at Big Brothers Big Sisters of Long Island told her it might take up to a year to find her the right "Little." But just a week later, Cohen got the call telling her they'd found the perfect match: 9-year-old Katie*, who "loves to shop and loves to talk!" the case manager said.
Cohen thought the match sounded a little superficial at first, but says she and Katie hit it off from day one. Since then, the two have gotten together once a week to shop, talk, go to the movies, bake (or attempt to), and just hang out. And although it may seem like just "girl time," the relationship has become something much more, both for Cohen and the now-15-year-old Katie. The pair has even been asked to represent the organization at mentoring seminars as an example of a successful match.
Katie is one of about 250,000 kids in the Big Brothers Big Sisters program nationwide, which provides one-on-one mentor relationships for at-risk and underprivileged kids with the mission to help them succeed in life. Big Brothers Big Sisters is one of the oldest formal mentoring programs in the country, founded in 1904 in New York City by a court clerk who recognized that caring adults could help kids stay out of trouble (and out of his courtroom).
Over the years, mentors have been proven to reduce crime rates among kids, but the idea has also expanded to a wider range of youth in need. According to the National Mentoring Partnership, about half of our youth population (that's 18 million kids between the ages of 10 and 18) is considered "at risk." In other words, they live in situations that put them at risk of not living up to their potential. This definition includes a wide variety of children, from kids attending underserved high schools that don't challenge them enough academically, to those living in poverty and facing hunger on a daily basis. According to the Mentoring Partnership of New York, 400,000 kids in NYC alone could benefit from a mentor—including the 39 percent who fail to graduate high school on time—but only 35,000 currently have one.
While Katie doesn't have special needs like her older sister, whose autism is so severe that she has no verbal communication skills, Katie's life has been greatly impacted by her sister's needs and the fact that her mother is a single parent. Before she met Cohen, Katie had never been out to eat in a restaurant or to the movies. "She wasn't used to shopping," Cohen recalls. Because it was too difficult to bring Katie's sister to the mall, her mom would shop for both girls alone and bring the clothes home. "She never got a chance to go out and pick out her own clothes. When we did that, she could never make a decision. It could be the simplest thing, but it was like the decision of the century for Katie because it meant so much to her." With a little practice and guidance from Cohen, though, Katie has learned how to handle her own purchases. "There are things like that you take so much for granted," Cohen says. "And you don't realize that kids are really learning them by example."
More than Companions
"A mentor, or Big, is a kind of neutral person outside the family who can act as a sounding board, offer guidance and advice, and steer these kids in the right direction," says Josephine Todisco, assistant director of services for Big Brothers Big Sisters of Long Island. "They provide friendship, guidance, and positive role modeling, but often it's just someone to take them out of their home environment and help them to have some fun sometimes. These kids are dealing with a lot of things at home, for various reasons, and they just need a little bit of a break." Plus, the stable relationship these mentors provide has proven to help these kids build self-esteem and confidence along with other lasting effects.
According to the Youth Outcomes Survey Report, released in January, the Big Brothers Big Sisters community-based mentoring program has proven to have positive academic, socio-emotional, and behavioral outcomes for youth in areas linked to high school graduation, avoidance of juvenile delinquency, and college or job readiness.
Other formal mentoring programs boast similarly positive stats. According to the Harris Survey of Boys & Girls Club Alumni, club alumni credit the adult staff members, also known as mentors, with many positive effects on their character development, including self-confidence (82 percent), good leadership skills (77 percent), and success in high school (63 percent). The majority also noted that these mentors helped them avoid trouble with the law, set goals and aspirations, and achieve success in their later careers.
Girls Write Now, a nonprofit, NYC-based program that matches girls in underserved high schools with mentors and provides a challenging curriculum focused on writing instruction, has a 100-percent high school graduation rate. Monica Chin, a junior at Baruch High School who's enrolled in the program, aspires to go to Columbia or Brown University after graduation and says her mentor, Elaine Stuart-Shah, helps her deal with the stress of doing well in school and applying to colleges. "I think it's important to have a mentor, especially for teens, because college is the next transition in their life—they're basically planning the rest of their life—and a mentor is someone who can give you advice and tell you 'It's okay, I understand what you're going through,'" Monica says, adding that Stuart-Shah is like one of her best friends. "If I can't talk to my parents about something, I can talk to her about it. She gives me a different perspective."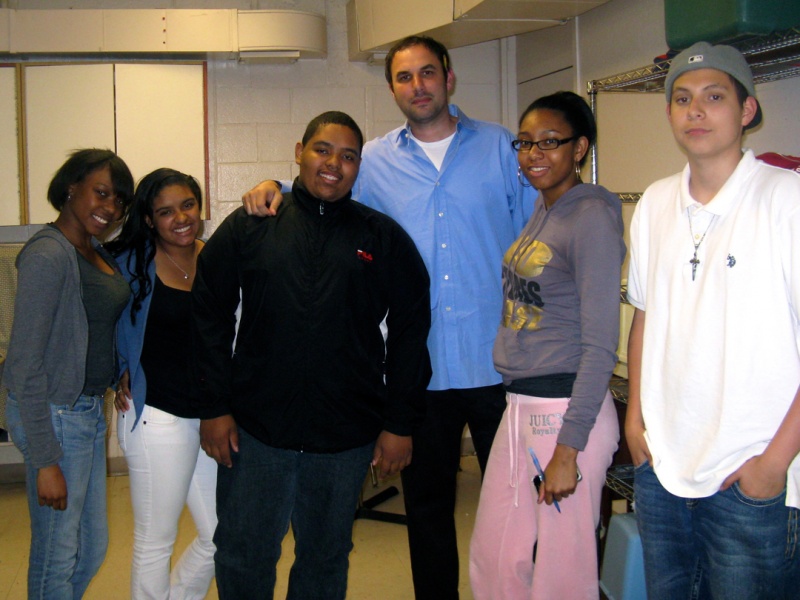 Dan Isenberg (center) with some of his mentees at Boys & Girls Club in Northern Westchester;
left to right: Jenice Barr, Akilah Figueroa, Isaiah Figueroa, Elizabeth Stevenson, and Andrew Aguilar.
The Need for Male Mentors
Across the board, more women volunteer to be mentors than men. While the reasons are somewhat unclear, many mentoring organizations find it troublesome because they use a same-sex model when matching mentors and mentees.
"Historically, there's always been a shortage of Big Brother volunteers," Todisco says. "We always seem to have a high number of boys who want the program, but we don't have a lot of men to serve them. If for some reason a boy from a two-parent home or a boy who has a strong relationship with his dad wants the program, we sometimes have to turn them down. We have so many boys on our waiting list who don't have any male figures in their life at all."
The story is the same at Big Brothers Big Sisters of Southwestern Connecticut. Of all the children waiting for Bigs, boys make up more than 70 percent—a number that's hard to crack when only three out of every 10 volunteer candidates are men.
Dan Isenberg, cultural arts director for the Boys & Girls Club in Northern Westchester, considers himself a mentor to many of the club's members, but says he's especially close with three of the older boys. "The main three guys I'm close with, none of them have fathers in their lives," Isenberg explains. "I'm a male role model for them, a big brother. I think that for them, I'm someone they can deal with on a personal level who is not their peer and not a teacher they have to answer to. I enforce a certain level of discipline with them, but it's a different relationship without all that pressure."
Not Just for At-Risk Youth
Organizations like BBBS, Boys & Girls Club, and Girls Write Now have proven track records as formal mentoring organizations for underserved kids, but those involved agree that all children, whether classified as at-risk or not, can benefit from having mentors in their lives. "I really do think that every child could use as many mentors, as many positive people in their life, as possible," Todisco says.
"Mentors set an example for us and motivate us to try harder," says Jill Gurr, in her book Mentor Youth Now: A Guidebook for Transforming Young Lives (CreateSpace; November 2011). "They give us confidence to reach for more ambitious goals. They teach us how to make good choices."
While Gurr says she didn't come from a disadvantaged background and grew up in a two-parent household in East Meadow on Long Island, her relationship with her family was often frustrating. She credits a slew of mentors throughout her life with providing the support and encouragement she was missing. In 1996, Gurr founded her own mentoring organization, Create Now, in Southern California, and to date she has mentored more than 50 at-risk youths. "When you offer your time and guidance…not only do you give back to your community," Gurr says, "but you also touch someone's life in ways that you could never have imagined."
Get Involved
Interested in becoming a mentor? Your mentee doesn't have to be a stranger. There may already be a child in your life who needs a little extra help and support and would benefit from an informal mentoring relationship.
But if you'd like to sign up as a formal mentor through an organization, start by searching the following sites:

mentoring.org

volunteermatch.org

idealist.org