A new study done at The Children's Hospital at Montefiore shows that the majority of caregivers administer children's asthma medication using an incorrect technique.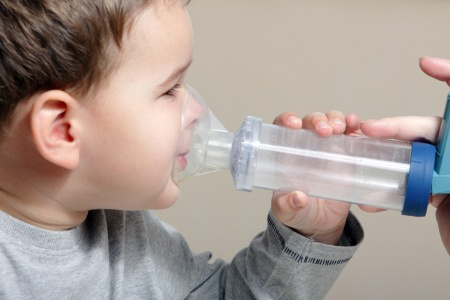 The majority of caregivers who administer their child's asthma medication frequently use the incorrect technique, leading to poor health outcomes, according to new research from The Children's Hospital at Montefiore. The study, published in the Journal of Asthma, found that only one of 169 caregivers accurately carried out 10 steps outlined in national guidelines as the appropriate method to deliver adequate medication for asthma management. Robust education efforts and training of caregivers could help to improve outcomes and reduce hospital admissions and health care costs.
Children with asthma usually depend on their caregivers to administer their medication, often via inhaler. To ensure the appropriate dose is inhaled, a spacer—a chamber with a mask that holds the medication and is placed between the inhaler and the child's mouth—is often utilized. This approach is commonly prescribed for kids with asthma in the U.S., where as many as 7 million children suffer from the condition.
Investigators monitored caregivers' administering technique using a 10-step checklist and determined that if caregivers conducted seven or more steps accurately, they had a good technique; however if they administered six or fewer steps correctly, the technique was deemed poor. Five of the 10 steps were deemed essential for adequate delivery of medication.
"As only one caregiver could do all steps accurately and fewer than four percent were able to complete five essential steps, we believe that regular education efforts would be beneficial to caregivers and their children," said lead author Marina Reznik, M.D., M.S., attending physician, Department of Pediatrics, CHAM, and assistant professor of Pediatrics at Albert Einstein College of Medicine. "We also learned that caregivers whose children had been admitted for asthma in the past year were more likely to exhibit correct use, suggesting they had been retrained during the hospitalization and as a result were better able to perform the steps."
Researchers surveyed and evaluated 169 caregivers of urban minority children, aged between 2 and 9 years old, with persistent asthma whose doctor prescribed the medication to be taken via inhaler on a daily basis. By taking the medication daily, the goal is to control the underlying inflammation of the airways, reducing asthma symptoms and preventing attacks. Caregivers were asked questions to determine how well the child's asthma was controlled and whether they had been instructed or shown by a medical professional how to administer the medication properly.
More than 90 percent of caregivers said they had received a verbal explanation of how to administer the medication, but only 54 percent were asked by a medical professional to demonstrate that they could actually do it themselves.
This first-of-its-kind study was conducted in the Bronx, a region where rates of asthma are high and low-income Hispanic and African-American children are largely affected. Sufferers in this area frequently experience exacerbations that require hospital care and intense therapy.
"Our study results further support the fact that caregivers need regular demonstration and evaluation of the correct technique, which could lead to improved clinical outcomes as well as reduced hospitalizations and health care costs. We want to keep our kids healthy and education will help make that happen," said Dr. Reznik.
As the University Hospital for Albert Einstein College of Medicine, Montefiore is a premier academic medical center nationally renowned for its clinical excellence, scientific discovery, and commitment to its community. Recognized among the top hospitals nationally and regionally by U.S. News & World Report, Montefiore provides compassionate, patient- and family-centered care and educates the health care professionals of tomorrow. The medical center derives its inspiration for excellence from its patients and community, and continues to be on the frontlines of developing innovative approaches to care. For more information, visit montefiore.org and montekids.org.
Also see:
Tips for Traveling With a Child Who Has Asthma
Tips from SuperNanny Jo Frost on Battling Childhood Asthma