Does your child love to sing? He or she can send in a DVD submission for the chance to sing at the National U.S. Open this year during the 2013 U.S. Open at the Arthur Ashe Stadium.
For the past six years, children 12 and younger have auditioned at the U.S. Open Casting Call in New York City, trying out for a chance to sing during sessions of that year's U.S. Open.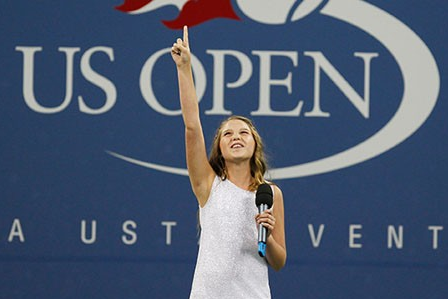 This year, that opportunity is open to kids anywhere throughout the U.S.

Auditions for the 2013 U.S. Open Casting Call will start with a DVD submission process, which means travel limitations will not limit the finest young performers from performing on the grandest stage in tennis.

For the 7th Annual U.S. Open Casting Call, children 12 years of age or younger (as of Sept. 9, 2013) are being asked to submit a taped audition of themselves performing "America the Beautiful" a cappella (no music).

All submissions must be on DVD format and received by May 10.

A second exclusive opportunity for children who are residents of Queens, N.Y., will also be held at the Queens Theater in Flushing on June 11, from 2-4 p.m. ET. Participants there also will be asked to perform "American the Beautiful" a cappella.

"This year's open casting call process is a tremendous opportunity for kids nationwide and youngsters from our neighboring Queens' communities to showcase their vocal talents," said Gordon Smith, executive director and chief operating officer, USTA. "We are looking forward to these young performers lighting up the stage and contributing to the overall excitement that makes this tournament so spectacular."

All DVD audition entries will be reviewed by a panel of judges from the music and entertainment industries. A select number of submissions will be chosen to participate in a call-back audition at the USTA Billie Jean King National Tennis Center on July 11. At that time, the selected singers will be asked to perform individually in front of the judges.

The USTA will make its final singer selections in mid-July, and the winners will then perform "America the Beautiful" live in Arthur Ashe Stadium during the 2013 U.S. Open, which will be held Aug. 26 to Sept. 9, in front of as many as 24,000 fans.

For more information on the auditions, visit: http://www.usopen.org/Casting_Call.