EASY DIY HALLOWEEN COSTUMES FROM LOCAL MOMS
Related:
easy halloween costumes
,
diy children's costumes
,
easy kids' costumes
,
no-sew halloween
,
Using common children's clothing and a few household items, you and your children can make easy Charlie Brown, school bus, Where's Waldo, and grape costumes for Halloween and dress up sessions.
While your kids may be clamoring at the windows of the pop-up Halloween stores, it's easy and fun to create Halloween costumes from things hanging in their closets or lying around the house. These costumes require minimal purchasing, are no-sew, and involve only a little assembly. What's more, your children can keep them on hand for dress up and playtime year-round.
Charlie Brown, Lucy, and Linus by NYC Taught Me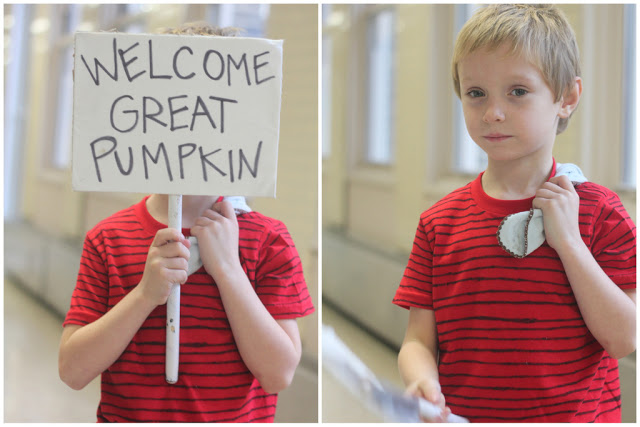 Manhattan mom Sharon Beesley of NYC Taught Me used clothing from American Apparel as the base for Oscar, Owen, and Ella's Peanuts-inspired costumes in 2012. To create Charlie Brown's signature zigzag, she used duct tape to create a simple stencil and painted black acrylic paint onto a yellow shirt, removing the stencil once the paint dried. She drew the stripes onto Linus' red shirt freehand with a black Sharpie brush tip marker. (Lucy's blue button down and skirt might already be in your child's closet, and require no additional work!)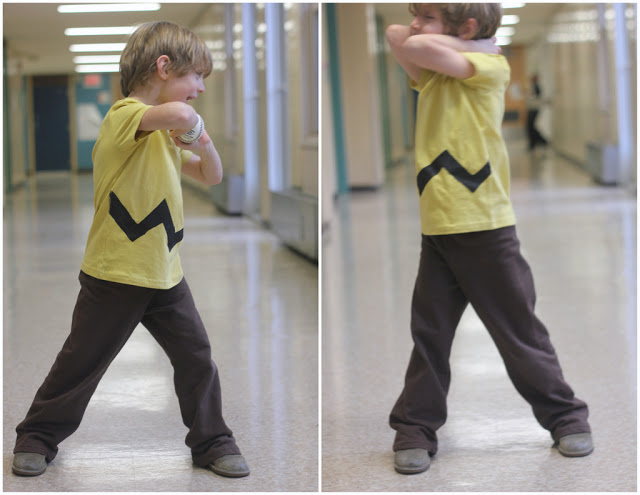 "Owen forgot to take out his sign and blanket from in his backpack for the parade," Beesley says. "He ended up looking like the kid whose mom forgot his Halloween costume"—but as a trio, there's no mistaking Charles Schultz's iconic bunch.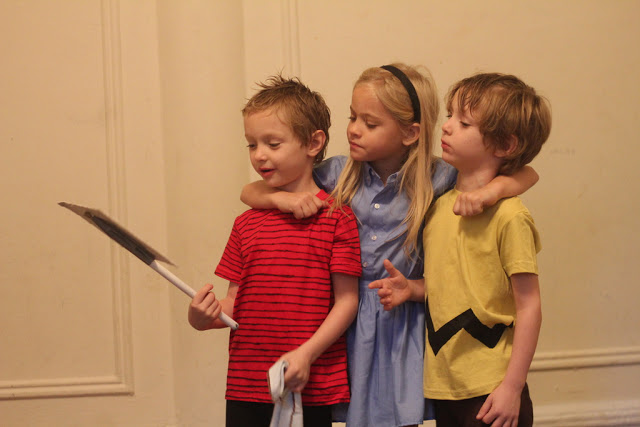 Images courtesy of Sharon at nyctaughtme.com.
School Bus by What Do We Do All Day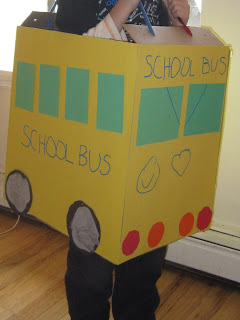 New York City mom Erica of What Do We Do All Day helped her older son make his school bus costume using a cardboard box, string, construction paper, and double-stick tape. "I helped him cut the yellow poster board and put on the straps," she says, but construction paper accents should be easy enough for your child to choose, cut out and attach himself.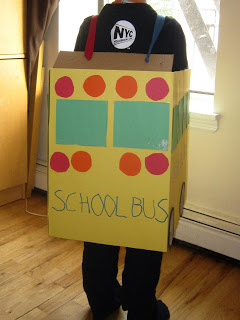 Image courtesy of Erica at whatdowedoallday.com.
Grape Cluster Costume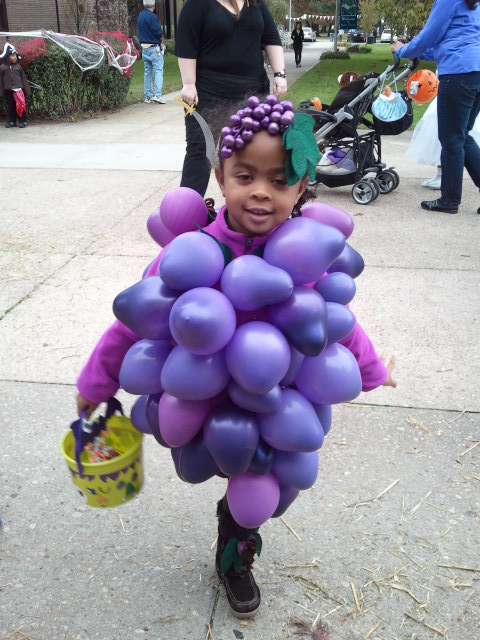 Image Courtesy Kimberly Thomas of valleystreammom.com.
To make a cute cluster of grapes, use double-sided tape to attach purple or green balloons to a similarly colored sweatshirt. Attach fake grapes and felt leaves to a headband to complete the look, as modeled by this trick-or-treater who attended the Valley Stream Halloween Celebration on Long Island.
Where's Waldo by NYC Single Mom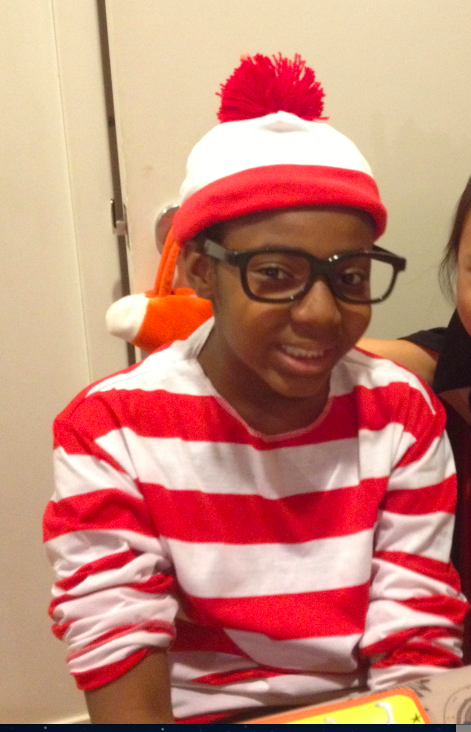 Image courtesy of Linda at nycsinglemom.com.
Linda of NYC Single Mom found Waldo when she paired a classic red-and-white striped shirt with a beanie and glasses for her daughter's Halloween costume. Use a white beanie and add red ribbon trim and a red pom-pom with double-stick tape or fabric adhesive, and punch the lenses out of cheap plastic sunglasses to create thick, prescription-free frames.
Also see:
Make a Boo-tiful DIY Ghost Costume and No-Sew Tutu
Spooktastic Sibling Halloween Costume Ideas
Plan a Fun Halloween in Any Weather
---
Get Your FREE Indoor Activity eGuide!
---
More Halloween Articles Articles
7 Tips for Trick-or-Treating with Your Toddler
New Book Encourages Kids to Give Up Halloween Candy
Halloween Activities in Bucks County, PA
DIY Alien Monster Egg Halloween Decoration
Toddler-Friendly Halloween Events in Fairfield County, CT