The Long Island chapter of First Book, a national nonprofit organization, has donated more than 150,000 books to schools and children's literacy organizations throughout the island all with the help and support of local families.
Dear Ms. Poppe,
I am just another fifth grader, but when you brought the books you brought a smile on my face. I would like to say thank you for that smile.
Sincerely, Joel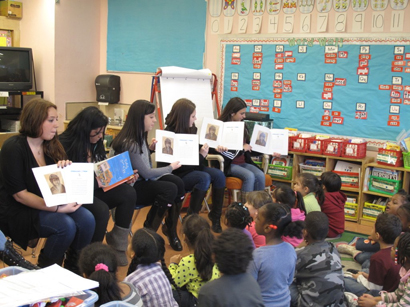 Last year, students at Mepham High School held several fundraisers for First Book-Long Island to purchase books for the students of Leo F. Giblyn Elementary School in Freeport. Eleanor Poppe
This letter is one of the highlights of the work that Eleanor Poppe has done as co-founder of First Book Long Island, a local organization that raises funds for and donates new books to schools and other organizations that serve children. As a mother of three whose children had access to new books whenever they wanted, Poppe says she founded First Book because she was searching for a way to help other children who did not have the same opportunity.
"My friend Kathy Levandoski and I had been very involved in our children's school though the PTA and met to discuss ways to become more involved in giving back to the community at large," says Poppe, who lives in Garden City South on Long Island. "We were both very interested in children's literacy, as we saw how important it was for our children to read at home and appreciated that our children had ready access to books."
Book Buddies
Poppe and Levandoski agreed they would separately research existing charities that focused on children's literacy and then compare notes. They soon discovered they had both found the same charity: First Book, a national nonprofit organization that connects book publishers and community organizations in order to provide access to new books for children in need. The pair then recruited another friend, Shawn Vogel, and the three founded First Book Long Island in 2005.
Give and Receive
First Book Long Island welcomes volunteers to hold book drives or fundraisers and to join its board. For more information, email [email protected] or visit firstbooklongisland.org. To register to receive books, organizations serving children in need should go to register.firstbook.org.
Since then, First Book Long Island has given grants to many programs throughout Nassau and Suffolk counties on Long Island and donated 150,000 new books to local schools and organizations. A typical book grant lasts for six months and offers each child in the program a steady diet of books (usually one book per month), all at no cost. The books are distributed to preschoolers through high schoolers.
Poppe says what appeals to her about First Book is that its local advisory board is run entirely by volunteers. Every dollar donated to First Book Long Island goes to buying books for children in need. Through the national organization, First Book branches have access to new, high-quality books at discount prices, as low as $2.50 each. Further, the national group publishes bilingual books so children can read with their parent who may not speak English, and these books are also made available here on Long Island.
"We know we can't solve every problem, but we believe that a focus on children's literacy helps to address the great disparity among communities and school districts on Long Island," Poppe says. "By virtue of living within the geographical confines of one school district or another, a child, through no fault or choice of his own, has a dramatically different education with potentially lifelong implications."
A Family Affair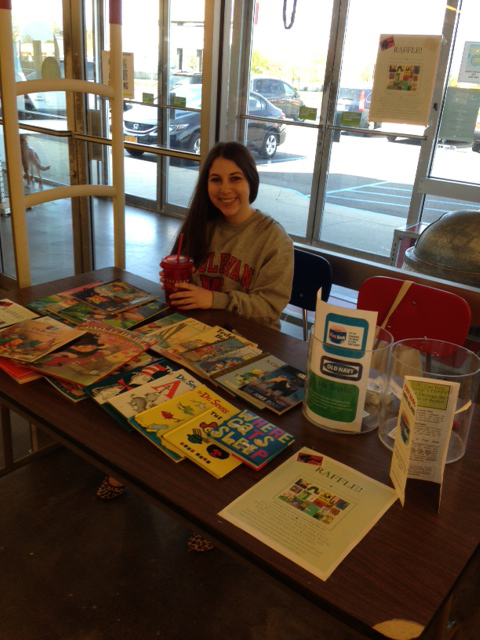 Erica DeMichiel, 18, who has been on the advisory board of First Book Long Island since she was 13, held a book fundraiser at Old Navy in Levittown last year. Courtesy Lisa DeMichiel
The three founders, all parents, have expanded their advisory board to nine members and numerous volunteers. One of these is Lisa DeMichiel of Hewlett, Long Island, who started volunteering with the organization five years ago, when her twins Erica and Matthew were in middle school.
"We were looking for a way to give back to the community, and we're a house of readers," DeMichiel says. "It was easy for my children to understand that though they are surrounded by books at home, there are children who have no access to books."
At the time, she says, First Book was doing local book drives, so her children went to all the libraries in their area and spoke with librarians to ask if they could set up a collection for books. "They did all the contacts themselves, which was a good opportunity for them to explain to adults. They decorated the boxes and every couple of days we'd check them."
They also organized a book collection at their school. When they were done, they had collected 100 new books from the libraries and another 100 from their school.
"As a family, it was fulfilling to know we made a difference," DeMichiel says. Her daughter Erica even joined the advisory board to help encourage other student volunteers.
"When I was little, one of my favorite activities was reading with my parents, and I wanted kids in my community to have the same experience that I had growing up," says Erica DeMichiel, now 18. "Working with First Book made me feel like I could make a difference in someone's life. The experience also gave me a chance to learn valuable leadership skills because I have the responsibility of training and motivating other student volunteers. It's always exciting when someone who contacts me about how they can help uses my suggestions to implement a successful book drive or other fundraising event."
One of the largest recipient groups of First Book Long Island grants is the Women-Infant-Children Program of Nassau County Department of Health. Andrea Gatewood, director of the WIC program in Uniondale, started a book distribution program so that when children come with their parents, they can leave with a book.
"We make sure that their kids get a brand new book, which for most is the first time in their lives," Gatewood says. "We encourage the parents to read with their children. We try to give them books four times a year, including during back-to-school time and Christmas. For me, the best part is when the kids ask for a book when they come back. It means they want to read."