As much as I love eating Nutella straight from the jar, I also love cooking and baking with this addictive chocolate-hazelnut spread. My favorite combination with Nutella is bananas and strawberries inside these sweet vanilla crêpes, topped with a dollop of whipped cream or vanilla ice cream. Serve them for breakfast, brunch, or dessert and your family and friends will smile with joy.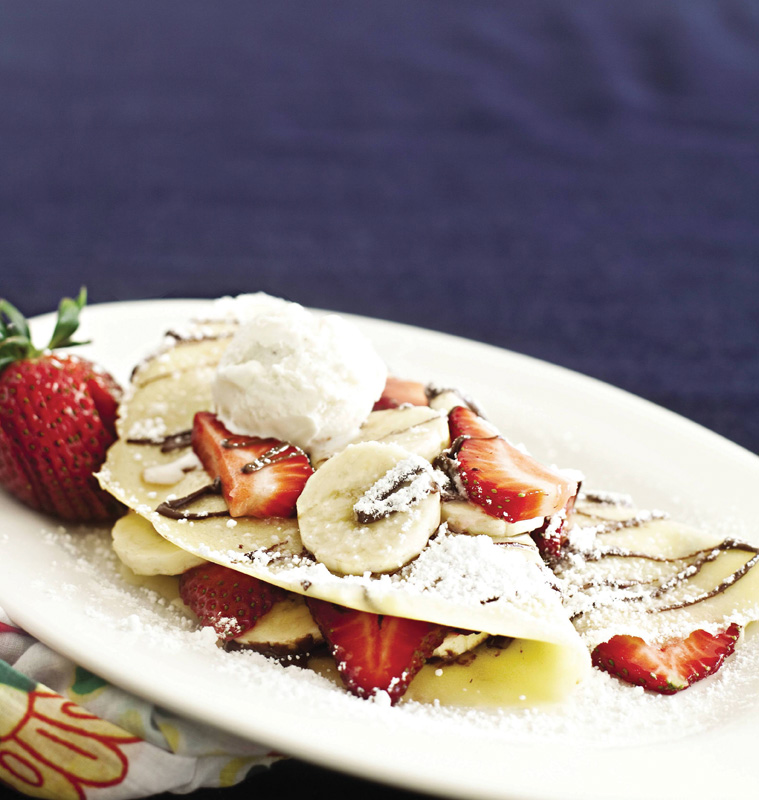 Makes about 8 crêpes; serves 4 to 6
Crepes
1 cup all-purpose flour
3 tablespoons granulated sugar
2 large eggs
1¼ cups whole milk
1 teaspoon pure vanilla extract
4 tablespoons (½ stick) unsalted butter, melted
Filling
1 cup Nutella
2 cups sliced fresh strawberries
3 bananas, sliced crosswise into ¼-inch thick rounds
Topping
¼ cup confectioners' sugar
extra sliced strawberries and banana
¼ cup Nutella
Directions
1. To make the crepes, blend the flour, sugar, eggs, milk, and vanilla in a blender or food processor until the batter is smooth. Heat an 8-inch nonstick skillet over medium heat. Brush a generous coat of melted butter over the bottom and sides of the skillet. Pour ¼ cup of the batter into the center of the skillet, twirling your wrist in a circular motion so the batter spreads out evenly. Cook for 30 seconds, until the crepe pulls away from the sides of the skillet. Gently flip the crepe over with a rubber spatula, and cook for 5 seconds more. Remove the crepe from the heat and transfer it to a plate. Repeat with the rest of the batter.
2. Spread a few tablespoons of Nutella over one side of each crepe. Evenly place a few tablespoons of sliced strawberries and bananas on top of the Nutella. Fold the unfilled side of the crepe over the filled side. Sprinkle with a dusting of confectioners' sugar and top it off with additional strawberries and bananas.
3. Finish the crepes off by melting the ¼ cup Nutella in the microwave for 15 seconds and then drizzling it on top.
Just for fun: For an extra-special added touch, scoop a dollop of sweetened whipped cream or vanilla ice cream over each crepe.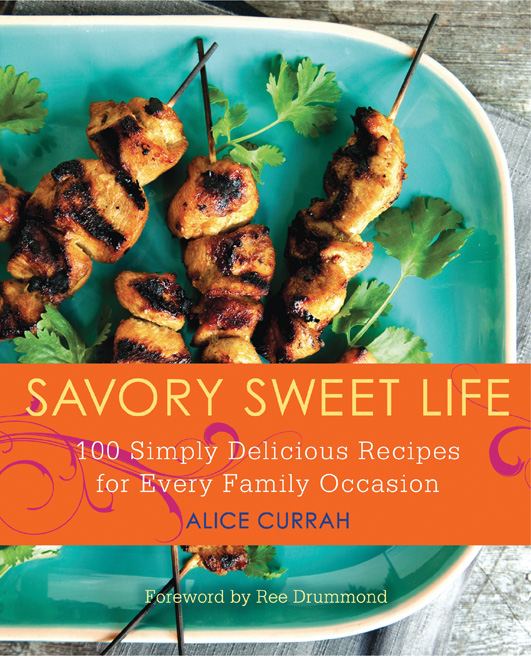 Inspired by Alice Currah's popular blog, the Savory Sweet Life cookbook includes personal stories, practical advice, stunning photography, and 100 recipes for everyday occasions ($24.99 paperback; $18.99 e-book).