FUN AND EASY HALLOWEEN RECIPES FROM A CELEBRITY CATERER
Related:
Celebrity caterer Andrea Correale
,
fun and easy Halloween treats
,
Elegant Affairs catering
,
pumpkin milkshakes
,
candy corn spoons
,
pudding cups
,
Halloween rice crispy treats
,
Celebrity caterer Andrea Correale, owner and creator of Elegant Affairs, shares four frightfully delicious Halloween recipes to make hosting a Monster Mash for your kids and their friends easier on you. Scroll down for Candy Corn Spoons, Pumpkin Pie Milkshakes, and Pumpkin Rice Crispy Treats.



Black and Orange Spook Cups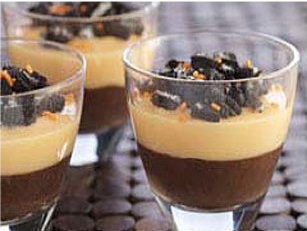 Ingredients:
1 qt. (4 cups) cold milk, divided
1 pkg. (4 serving size) JELL-O Chocolate Fudge flavor instant pudding
1 pkg. (4 serving size) JELL-O Vanilla Flavor instant pudding
Red food coloring (a few drops)
Yellow food coloring (a few drops)
10 Oreo Cookies, crushed
1/4 cups Halloween sprinkles
10 glasses (7 oz.)
Directions:
Pour 2 cups of the milk into a large bowl. Add dry chocolate pudding mix. Beat with wire whisk 2 minutes or until well blended. Spoon evenly into the glasses, filling each glass half way; set aside.
Add remaining 2 cups milk to separate large bowl and add vanilla pudding mix. Beat with wire whisk 2 minutes or until well blended. Stir in red and yellow food coloring until pudding is desired shade of orange; spoon evenly over chocolate pudding layers. Top with crushes cookies.
Refrigerate at least 1 hour or until ready to serve. Top with sprinkles.
Note: Pudding cups can be served frozen: Prepare in plastic or paper cups—NOT glass. Freeze for 3 hours or until firm.
Candy Corn Spoons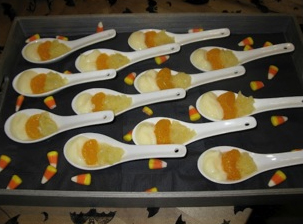 Ingredients:
Yogurt or pudding
One mandarin orange, peeled and seperated into slices
A small can crushed pineapple, drained
Large spoons
Directions:
Lay spoons out on tray. Place a small dollop of yogurt or pudding on the spoon, close to the edge.
Next to the yogurt, place a mandarin orange slice, then next to the orange, place some crushed pineapple.
Pumpkin Pie Milkshake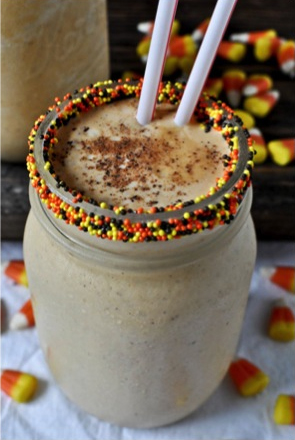 Ingredients: (makes 2 shakes)
2 cups Vanilla ice cream
1/2 cup milk
1/4 cup cream or half-and-half
1 tablespoon vanilla extract
2/3 cup pureed pumpkin
1/2 tablespoon pumpkin pie spice
1/3 cup graham cracker crumbs
Frosting and sprinkles (or cinnamon and sugar) for glass rims
Directions:
Add all ingredients to a blender and mix until combined.
Rim glasses with a light coating of frosting then dip in sprinkles. Pour in shake and sprinkle cinnamon on top.
Top with whipped cream if desired. Serve and enjoy!
Pumpkin Rice Crispy Treat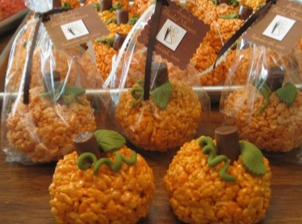 Ingredients:
1 stick of butter
2 (10 oz.) packages of marshmallows
12 cups crispy rice cereal
1 tsp. yellow food coloring
1/4 tsp. red food coloring
Green decorating icing in tube
Black decorating icing in tube
Decorating tips
Tootsie Rolls
Directions:
In a pot on low heat, melt the butter then stir the marshmallows in until they have dissolved.
Next, add the food coloring into the mixture and stir until the mixture is a uniform orange color.
Add crispy rice cereal to the mix, and stir until the cereal is completely coated in marshmallow.
Shape the mixture into into balls with either your hands or a spoon.
Place the balls in the refrigerator and leave there until the balls have completely chilled and are firm.
Once firm, using the black and green icing, decorate your pumpkins with leaves, and add a tootsie roll as your stem.
Andrea Correale is owner and creator of Elegant Affairs, a catering and event planning company serving Manhattan, Long Island, Westchester County, Connecticut, and New Jersey. Elegant Affairs has coordinated events for A-listers including Mariah Carey and Nick Cannon, Russell Simmons, Jimmy Fallon, P. Diddy, and the Trumps.
For more Halloween treats, tips, and activities, visit nymetroparents.com/halloween.
---
Get Your FREE Indoor Activity eGuide!
---
More Recipes Articles
Easy Holiday Dessert: Frozen Pumpkin Pie with Graham Cracker Crust
DIY Alien Monster Egg Halloween Decoration
Witches Brew Recipe for Halloween by MOMables
Halloween Treats: Eyeball Cake Pops, Monster 'Toes,' and 'Rotten' Apple Punch
Easy Recipe for New Cooks: Creamy Tomato and Rice Basil Soup