NYMetroParents Wins 17 Awards at 2015 Parenting Media Association Banquet
Get kid-friendly activities sent to you!
Get the Best Kid-Friendly Activities
Sent to You Weekly!
GOLD: Personal Essay

"Exceptional, Defined" by Jerry Mahoney
"The anxieties and uncertainties of parenthood are magnified when a gay dad is raising a young daughter. In a whimsical piece, this writer confronts and processes the various dimensions of being a father in a new kind of environment. Beneath the playfulness lies fierce self-doubt, which he measures against his little girl's complete acceptance. This is a successful meeting of candor and humility."
SILVER: Interview
NYMP Q&A: "The Parenthood Paradox" by Lucy Bayly
"This sophisticated Q&A with author and parent Jennifer Senior tells us it's OK to acknowledge that being a parent isn't always a barrel of laughs. Provocative questions allow Senior to help us understand the difference between fun and joy in our lives."
BRONZE: News Feature
Education Feature: "The Personal Touch" by Melanie Baker
"Amid the national debate over Common Core Standards, this article shines a light on schools that recognize education must be tailored to individual students and offers tips for parents on how to ensure their children get appropriate instruction."
GOLD: Special Series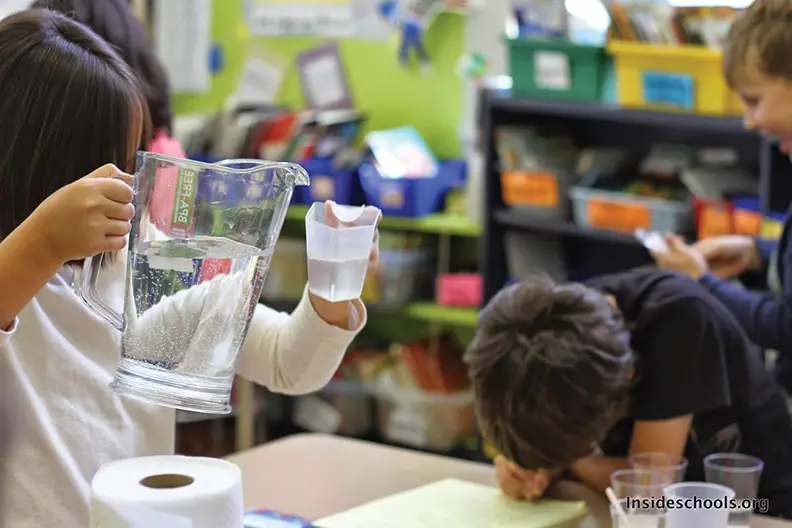 Two-Part Series: "Parents' Guide to Math and Science" by Clara Hemphill, Lydia Raschka
"This series provides both information and encouragement. These subjects can be intimidating to parents as well as to children. Here are helpful hints that suggest both how and why they can be and should be mastered. Complex content is conveyed clearly but not simplistically."
Part 1: A Parents' Guide to Quality Math and Science Education
Part 2: The Right Questions to Ask About Your Child's Education
BRONZE: Special Section within a Publication
Long Island/Nassau Parent: "A Year's Worth of Fun"
"What family wouldn't look forward to this spirited, delightful collection of activities and events to take them forward for an entire year? There is bound to be something for everyone, and the sheer number of details included is truly stunning. "
Check out this award-winning season-by-season guide to having fun in the New York metro area
2015 Design Awards for NYMetroParents
BRONZE: Table of Contents
Big Apple Parent
SILVER: Calendar of Events
Big Apple Parent

2015 Ancillary Awards for NYMetroParents
GOLD: Ancillary Feature Writing

"Destination Inspiration" by Christina Vercelletto
"'Destination Inspiration' is a well-written and engaging story on a specialized topic that no doubt found an interested audience with NY Special Parent. The story is packed with details about different destinations for parents of children with special needs, and it provides truly useful information that is unique and targeted. The story is clear and actionable, and is written in a way that makes for an enjoyable read as well—all the aspects of a successfully crafted feature story. The sidebar about wheelchair travel tips nicely complements the piece."
SILVER: Ancillary Overall Writing
NYMetro SpecialParent Spring/Summer 2014
"Original reporting, thoughtful columns and unique features combine to make this an outstanding product. The writers tackle complex subjects and add a human flair with stirring profiles of local 'heroes' who refused to let their disabilities get in the way of their dreams."
About NYMetroParents
Following the success of the first NYC parenting resource book, "Big Apple Baby," Big Apple Parent was launched in 1985; NYMetroParents is now the largest publisher of local parenting media in the United States. Filling the need parents had for hyper-local content, NYMetroParents created seven additional monthly magazines: Brooklyn Parent premiered in 1994; Queens Parent in 1995; Westchester Parent in 2000; Rockland Parent in 2007; Fairfield Parent in 2008; and Long Island Parent (both Nassau and Suffolk editions) in 2009. Today the total monthly circulation for all eight magazines totals more than 370,000.
After several years as the New York City affiliate for Disney's family.com, NYMetroParents launched its own parenting web resource in early 1999. NYMetroParents.com allows users to search for family-related businesses and services in each of our regions, and to locate any story from the archives.
For more information about NYMetroParents and its award-winning publications, visit davlermedia.com, nymetroparents.com, or fairfieldparent.com.
About Parenting Media Association

Established in March 1988, PMA is a national trade association of regional parenting publications that reaches from Seattle to Boston and from Minneapolis to Miami, and to Canada and Australia. Some of the publications are tabloid newspapers; others are magazines, with 4-color, glossy covers.
Headquartered in Los Angeles, PMA is a nonprofit national organization representing more than 120 parenting magazines and newspapers in the United States, Canada, and Australia. For more information about PMA, visit parentmedia.org.
FOR MORE INFORMATION, CONTACT:
David Miller, CEO, Davler Media | 646.736.3618 | [email protected]
Dawn M. Roode, Editorial Director, NYMetroParents | [email protected]