Related: april 2014 issue of nymetroparents, nymetroparents magazine april issue, april 2014 big apple parent, april 2014 articles,




NYMetroParents' April 2014 issues include articles on siblings at summer camp and the new rules of sharing, plus three birthday cake recipes, eight outdoor games for your next party, expert tips on how to help toddlers thrive, a guide to minor league baseball in the NYC area, and tons of fun family activities in the NYC area.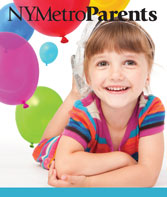 April 2014
Birthday Party Issue
FEATURE ARTICLES
CAMP FEATURE

Juggling summer camp schedules for several kids can be tough, but if you plan ahead, it is possible to help each child enjoy camp and without having a crazy schedule.

FEATURE

Heather Shumaker, author of It's OK NOT to Share…and Other Renegade Rules for Raising Competent and Compassionate Kids, discusses the importance of uninterrupted play for toddlers, and how the typical adult views of sharing trample kids' right to play, as well as the benefits of renegade sharing and child-directed turn-taking.
FUN & ACTIVITIES
FAMILY OUTING

At this celebrated urban garden, there's something beautiful to see and something fun for families to do year-round at events such as the Cherry Blossom Festival in spring, Ghouls and Gourds in fall, and Illuminated Festival in winter.

PLUS: Search our full calendar of events for more fun family activities in the NYC area

WHERE-TO GUIDE

The minorleague season in the NY metro area runs through September and many of the ballparks have special offers for families, making one of these games a perfect family outing when the kids are off from school. Check out the minor league baseball teams that play in New York and NYC, Long Island, New Jersey, Connecticut, and Pennsylvania.

STUFF WE LIKE

Earth Day is April 22. Celebrate the holiday with these earthy finds encouraging a green thumb or promoting green living, and don't forget to get outside and appreciate nature!
ADVICE & CONNECTIONS
QUOTABLES

The Best of the Rest of the Web

From the April 2014 issues of NYMetroParents comes a selection of funny and thoughtful quotes about the benefits of flexible work options, women and multitasking, fussy eaters, and the wonderful weirdness of kids.

VOICES

Years later, a mother's sad memory is forever changed by her daughter's very different recollection of the same day.

EXCLUSIVE Q&A

Child psychologist and parenting expert Tovah P. Klein, Ph.D., gives insight to toddlers and how they thrive by giving us a toddler's view of the world, as well as tips for calming a public tantrum.

ASK THE EXPERT

Why Does My Toddler Say She Hates School?

My toddler tells me repeatedly that she hates her school. What approach should I take to get to the bottom of why, as she is verbal but not able to fully express her thoughts, and when do I know I must put her in a new school?

ASK THE EXPERT

How Do I Explain to My Child that Teachers Are Sometimes Wrong?

How do I explain to my child that teachers are just like everyone else and sometimes make mistakes without having my child lose respect for his teachers?
---
Get Your FREE Indoor Activity eGuide!
---
More Articles
Be a good fellow parent and share this with a friend who would be interested
Local Sponsors
See Our Directory