Parenting Media Association (PMA) recognized NYMetroParents with 15 awards for editorial and design excellence at its 2012 awards banquet in Atlanta. This is a record-high number of PMA awards for NYMetroParents.
(New York, NY) – On March 9, Parenting Media Association presented NYMetroParents, a division of Davler Media Group and the largest publisher of regional parenting publications on the East Coast, with 15 excellence awards at its 2012 Editorial and Design Awards Competition banquet, held in Atlanta, GA.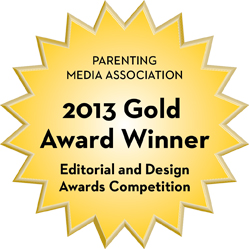 With 15 total accolades, NYMetroParents has once again broken its own record for number of awards received: The publishing group took home 11 excellence awards at last year's banquet and 10 awards for the year 2010.
NYMetroParents includes monthly titles Big Apple Parent, Brooklyn Parent, Fairfield Parent, Long Island Parent – Nassau edition, Long Island Parent – Suffolk edition, Queens Parent, Rockland Parent, Suffolk Parent, Westchester Parent, and the biannual ancillary publication NYMetro Special Parent.
Parenting Media Association is a national trade association of regional parenting publications. PMA's annual Editorial and Design Awards Competition recognizes excellence in journalism, photography, and design achieved by publishers, editors, writers, and designers at parenting newspapers and magazines throughout the U.S., Canada, and Australia.
According to Daryl Moen, a professor at the University of Missouri's School of Journalism and the coordinator of the awards, the contest was more competitive this year due to the elimination of 17 categories. "The elimination contributed to a drop of about 70 entries overall from last year, but the remaining categories are more competitive," Moen said.
The competition received 745 total entries across 18 Editorial categories, 11 Design categories, four Ancillary Publications categories, three Digital Media categories, and three General Excellence categories reflecting editorial and design. Open to all member publications, the competition was broken into three circulation divisions: 25,000 or fewer, 25,001 to 44,999, and 45,000 or more. The entries were reviewed by a panel of 26 judges. NYMetroParents was named a finalist in 21 categories.
In the most competitive category, Service Feature, NYMetroParents took home the Gold award for "Talking Politics" by Deputy Editor Kaitlin Ahern. According to the judges' comments, "'Talking Politics' centers on a refreshing topic addressed with a writing style that encourages parents not to talk down to their kids or ignore such an important event as an election. The subhead 'Party Training' in a parents magazine is award-worthy alone. The article combines quick-paced advice on how to bring attention to public service and politics and connect it to children's lives."
As in many years past, NYMetroParents was recognized for its superb calendar section, which features a comprehensive selection of low-cost, family-friendly events in the New York City area. This year, Rockland Parent (edited by Alison Reiser) took the Silver award in the Editorial category for Calendar of Events, and Fairfield Parent (edited by Karen Demeter) took the Gold award in the corresponding Design category.
"I am so very proud of our edit and design team for their dedication to providing excellent, valuable content to parents in our area every month," said Dawn Roode, editorial director of NYMetroParents. "Every individual contributes in an important way, and each deserves congratulations on these awards. It is most gratifying to know that the recognition comes from the independent judges at the University of Missouri, who under Daryl Moen's leadership also coordinate three other national contests for professional journalism organizations."
"Winning awards in the Editorial, Design, and Digital categories demonstrates our continued commitment to producing high-quality media that serves both our readers and our clients," says David L. Miller, CEO of Davler Media Group.
Below is the full list of NYMetroParents' 2012 awards:
Editorial Awards for NYMetroParents
• GOLD: Column: Publisher's/Editor's Note
Dawn Roode, Editorial Director (Brooklyn Parent)
"A good columnist touches on both the heart and mind. Whether writing about wrapping paper during the holidays or a father who left when she was young, this writer pumps a lot of effort, thought and context into every issue. It's not everyone who can make you feel good after every column—no matter the subject. But this writer does it."
• GOLD: Column: Reviews
Theater (Big Apple Parent)
Read a few of our recent Theater articles
• GOLD: Column: Family Matters
"Diagnosis: Diabulimia" and "Air Force One" (Brooklyn Parent)
"These health columns are NOT the usual kid health column on dealing with fevers or the flu. The first is on the growing trend of diabetic girls using insulin restriction to lose weight. With the growth of juvenile diabetes, this health crisis is real, and has a name: diabulimia. This column also deals with how parents can cope with growing pollution in urban areas, like New York. Both columns help parents protect their kids with timely information."
• GOLD: Interview
"No More Molasses Classes" (Big Apple Parent)
• GOLD: Service Feature
"Talking Politics" (Big Apple Parent)
• SILVER: Calendar of Events
Rockland Parent
See our online calendar of events for the NYC area

• SILVER: Column: Family Fun
Sports Column (Big Apple Parent)
"This thoroughly reported sports column covers an impressive array of topics, introducing parents to both important social issues and sports with which they may not be familiar. The writer's range of sources is equally commendable."
Read a few of our recent Sports articles
• SILVER: Profile
"Celebrity Parent: Meet Kevin Del Aguila" (Big Apple Parent)
• SILVER: Special Section within a Publication
"Holiday Bazaar" (Big Apple Parent)
"This collection of holiday-related first-person accounts gives readers a chance to feel like part of a community celebrating together. Combined with specific holiday tips, the section offers a useful panorama of ideas for approaching and perhaps rethinking traditions."
Design Awards for NYMetroParents
• GOLD: Briefs/Short Stuff
"Quotables" (Big Apple Parent)
See our Quotables column from recent issues: March 2013, February 2013, January 2013
• GOLD: Calendar of Events
Fairfield Parent
See our full online calendar of events for the NYC area

• SILVER: Special Section
"Party Time" (Big Apple Parent)
"This section was superbly organized and clear in it's pairing of the design style and the content. What a great combination and a fun, creative approach; good use of color and typography to lure readers into the content."
Ancillary Publication Awards for NYMetroParents

• GOLD: Ancillary Feature
"Do Video Games Cause ADHD?" (NYMetro Special Parent)
"We've all heard the theories and accusations. Here's a thoughtful look at some of the research on the topic, coupled with good dose of common sense. The answer(s) may not be different that you might imagine, but the reasons might surprise you. And that makes a good story."
Digital Awards for NYMetroParents

• SILVER: Best Blog/Bloggers
General Excellence Awards for NYMetroParents

• BRONZE: Ancillary General Excellence
"Beautiful portraits of children and current events-driven articles — notably new takes on autism, ADHD and bullying — make this publication stand out."
Get a FREE copy of NYMetro Special Parent!
About NYMetroParents
Following the success of the first NYC parenting resource book, "Big Apple Baby," Big Apple Parent was launched in 1985; it is now the largest parenting publication on the East Coast. Filling the need parents had for hyper-local content, NYMetroParents created seven additional monthly magazines: Brooklyn Parent premiered in 1994; Queens Parent in 1995; Westchester Parent in 2000; Rockland Parent in 2007; Fairfield Parent in 2008; and Long Island Parent (both Nassau and Suffolk editions) in 2009. Today the total monthly circulation for all eight magazines totals more than 400,000.
In October 2011, NYMetroParents launched its first-ever NYMetro Special Parent magazine, a biannual publication dedicated to families of children with special needs in our areas. The next issue will be published in April 2013.
After several years as the New York City affiliate for Disney's family.com, NYMetroParents launched its own parenting web resource in early 1999. NYMetroParents.com allows users to search for family-related businesses and services in each of our regions, and to locate any story from the archives. It also hosts a blog, updated daily, at Blogs.NYMetroParents.com.
For more information about NYMetroParents and its award-winning publications, visit davlermedia.com, nymetroparents.com, fairfieldparent.com, nyspecialparent.com, or fairfieldspecialparent.com.
About Parenting Media Association

Established in March 1988, PMA is a national trade association of regional parenting publications that reaches from Seattle to Boston and from Minneapolis to Miami, and to Canada and Australia. Some of the publications are tabloid newspapers; others are magazines, with 4-color, glossy covers.
Headquartered in Los Angeles, PMA is a nonprofit national organization representing more than 120 parenting magazines and newspapers in the United States, Canada, and Australia. For more information about PMA, visit parentmedia.org.