OVEN-ROASTED BUTTERNUT SQUASH WITH TOASTED PUMPKIN SEEDS
Related:
butternut squash with pumpkin seeds
,
recipe for butternut squash
,
fall recipe with squash
,
fall side dish recipe
,
This recipe pairs butternut squash with another fall favorite: pumpkin seeds. After you've carved your jack-o'-lantern and set it aglow, toast up the leftover pumpkin seeds and add them to this delicious fall side dish that also features kale and dried cranberries, with hints of nutmeg and clove.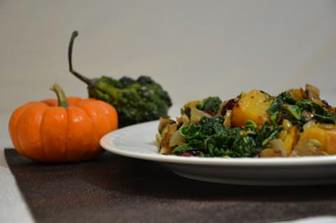 Ingredients
1 medium size butternut squash (about 2 lbs) peeled, seeded, and cut into 1-inch cubes
1 medium size white onion, peeled and ¼-inch diced
½ cup dried cranberries
1 bunch of kale, remove stems and slice into 1-inch wide pieces
½ cup shelled, toasted pumpkin seeds
½ tbsp. clove powder
½ tbsp. nutmeg
1 tbsp. salt (kosher)
½ cup olive oil
½ gallon water
Directions
1. In a medium bowl, toss the butternut squash with salt, clove, nutmeg and ¼ cup olive oil.
2. Place the butternut squash in a 9x8 sheet pan and bake for 20-25 minutes in a pre-heated oven at 400 degrees, then remove and leave at room temperature.
3. In the meantime, poach the kale for 3-4 minutes in ½ gallon of broiled water. Remove the kale and place in cold water, drain and set aside.
4. In a sauté pan, heat the ¼ cup of oil left, sauté the onion for about 5 minutes, and add cranberries. Sauté for 2 more minutes and add the pumpkin seeds, cooking for 1 minute.
5. Mix all ingredients together in a bowl and serve.
Recipe by Maria Zoitas, catering director at Westside Market NYC and creator of Maria's Homemade, a line of prepared food sold exclusively at Westside Market NYC.
---
Get Your FREE Indoor Activity eGuide!
---
More Food & Nutrition Articles
Witches Brew Recipe for Halloween by MOMables
Halloween Treats: Eyeball Cake Pops, Monster 'Toes,' and 'Rotten' Apple Punch
5 Tips for Cooking with Kids Who Have Special Needs
Easy Recipe for New Cooks: Creamy Tomato and Rice Basil Soup
How to Teach Kids to Separate Food and Feelings