The "world's tallest indoor ropes course," with 75 challenges and various difficulties for all athletic abilities and ages, is now open in West Nyack. Palisades Climb Adventure offers special rates for birthday parties and summer camp outings.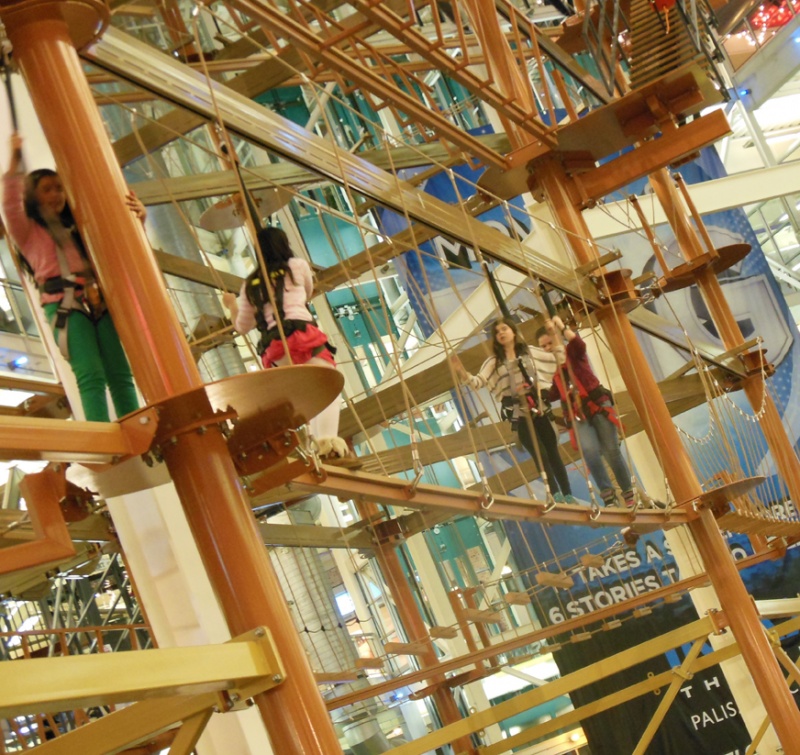 Four young girls test their skills
on the indoor ropes course at
Palisades Climb Adventure.
Palisades Climb Adventure, the "world's tallest indoor ropes course"—it stands 85 feet tall—is now open on the fourth floor of the Palisades Center. The course offers five levels and a total of 75 challenges that encompass all levels. With its indoor location, families can enjoy this year-round.
The challenges are appropriate for all ages, and parents can go through the course with their kids. The course design has various difficulties to accommodate the fitness level of any adventurer and has a capacity of 75 guests at a time. The challenges, which include a tremor bridge, tension traverse, swinging steps, and cargo nets, allow participants to have fun while putting their strength to the test.
"It's a great course for physical activity and getting kids out and having them do something active," says Jackie Vasquez, corporate director of sales. "It's about conquering your fears with each level you climb. Children are really going to feel a sense of accomplishment in the end."
The indoor ropes course also offers special group rates for birthday parties and summer camp outings, which allow groups of 15 or more to participate as a team on the course for an allotted time.