Studies have shown that even kissing your child can cause the transfer of cavity-causing bacteria from you to your child. Marc Liechtung, D.M.D., shares what you can do to prevent this and help you child have good dental and oral health.
I've heard that parents can sometimes transfer cavity-causing bacteria to their baby. Is this true, and what can I do to prevent spreading this bacteria to my infant?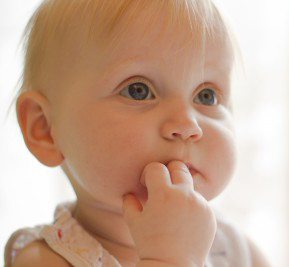 Studies show that infants are not born with the bacteria that cause cavities, but that they are infected most often by the transfer of saliva from their parents, according to Marc Liechtung, D.M.D., dentist and principal at Manhattan Dental Arts, an Upper West Side practice that specializes in cosmetic and restorative dentistry.
Young children are at particular risk for catching cavity-causing bacteria. A 2007 study by University of Queensland in Australia found that moms frequently infect their babies with bugs found in the mouths of 30 percent of 3-month-old infants and more than 80 percent of 24-month-olds with primary teeth. The American Academy of Pediatric Dentistry also noted in a 2008 study that mothers, as well as fathers, were the primary cause of bacteria colonization in children.
Once the transmission of bacteria from parent to baby has occurred the bacteria can rapidly multiply. The transmission of this decay-causing oral bacterium from parent to infant could be caused by kissing your infant, sharing eating utensils or a toothbrush with your infant, blowing on or pre-chewing your child's food, tasting the food or testing the temperature in your mouth prior to feeding, cleaning off the infant's pacifier with your own mouth, and the infant placing his or her fingers into your mouth and then into their own.
Since we live in a real-world scenario, it may be downright impossible to avoid some of these shared behaviors. But, there may be a way around it. "Wipe your baby's mouth out with a clean wet cloth after each feeding," Dr. Liechtung says. "If you wipe the tongue, teeth, and the inside of the cheeks from infancy on, then you will help to prevent the colonies of bacteria from forming."
"And make sure that your own oral health is taken care of with twice-annual visits to the dentist and practicing good oral care," Dr. Liechtung adds. "The cleaner your own mouth is, the better it is for your baby."
Marc Liechtung, D.M.D., is principal of Manhattan Dental Arts, an Upper West Side practice that specializes in cosmetic and restorative dentistry. He received his D.M.D. from The University of Pennsylvania School of Dental Medicine and, due to his experience in dental restoration, created Snap On Smile, a multipurpose restorative dental appliance.
Also see:
How To: Teach Teeth Brushing Basics to Young Children