Actor Peter Facinelli presented the 2013 Aflac Duckprints Awards to three individuals on Long Island who are making a difference in the fight against childhood cancer.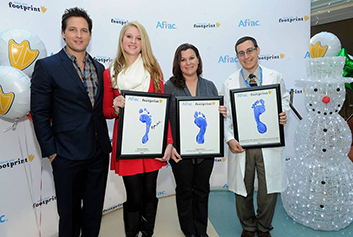 Photos by Diane Bondareff/Invision for Aflac/AP Images
Actor Peter Facinelli presented Aflac Duckprints Awards to cancer survivor Morgan Zuch (second from left); Abigail Slaven, RN (second from right); and Jonathan D. Fish, MD (far right), at Cohen Children's Medical Center in New Hyde Park on Dec. 18.
Aflac is the No. 1 provider of supplemental insurance in the U.S. The company's Duckprints Awards honor those who are leaving their footprint in the fight against childhood cancer.
Along with her family, 15-year-old Morgan founded The Morgan Center in Hicksville, a one-of-a-kind, tuition-free preschool program for children with cancer.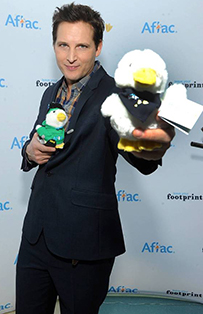 Slaven has been a pediatric oncology nurse at the Cohen Children's Medical Center for 15 years and serves as a mentor for nurses new to the field as well as a representative of CCMC at the Children's Hospital Association, where she collaborates with other children's hospitals nationwide on best practices.
Dr. Fish is the founder of the Survivors Facing Forward Program, a clinical long-term follow-up program for survivors of childhood cancer, 70 percent of whom develop a chronic illness related to their cancer treatment.
"As an actor, I have had the chance to play heroes on screen, but families facing the real-life threat of cancer are the true heroes," said Facinelli, a father of three known for his roles in the Twilight movies and on TV's Nurse Jackie.
"Aflac is proud to honor the Zuch family, Dr. Fish, and Nurse Slaven with a 2013 Duckprints Award for their dedicated service to children facing cancer," said Kathelen Amos, president of the Aflac Foundation, which has given more than $85 million to children's cancer causes in the last 20 years. "By leaving their large footprints on this worthy cause, they have demonstrated the values that our company, our employees, and our independent sales agents hold dear—that being there for others in their time of need is a very admirable mission."
To learn more about the Aflac Duckprints Awards or to nominate an unsung hero in your community who has made a difference in the lives of children and families facing cancer, visit aflacduckprints.com.