The Active Learning Elementary School P.S. 244Q in Queens was named the national grand prize winner in this year's 2013 Golden Carrot Awards for its creative approach to providing healthful vegetarian lunch options to its students.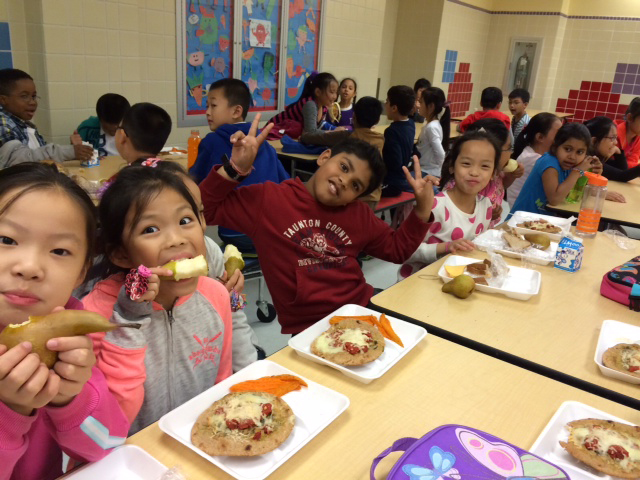 The Active Learning Elementary School (TALES) P.S. 244Q earned a national award last week for its creative approach to providing healthful vegetarian lunch options to its students. The Physicians Committee for Responsible Medicine, a nonprofit with more than 10,000 doctor members, named TALES the grand-prize winner in this year's 2013 Golden Carrot Awards.
TALES principal Robert Groff received the award during National School Lunch Week, on Oct. 17. A cash prize accompanies the award: PCRM provided TALES with $2,500 to support the elementary school's innovative food service program.
TALES is the first public school in the nation to switch to an all-vegetarian menu. It offers a variety of popular and healthful menu items, including Super Hero Spinach Wraps, Brooklyn Baked Beans, and Roasted Tofu Vegetable Wraps.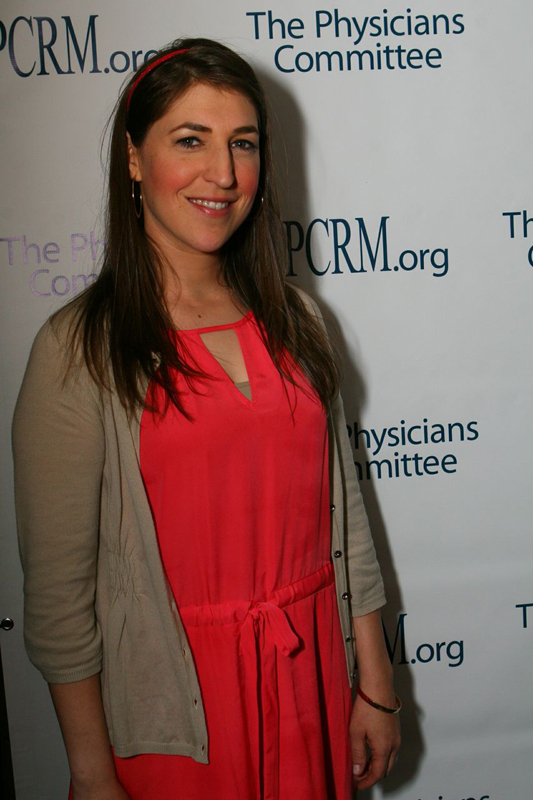 "I have family in Queens and now I know where to come if my children need a quick bite to eat," says Mayim Bialik, in praise of PS 244Q's dedication to providing healthy food options for its students.
After accepting the award, Principal Groff received a flurry of congratulatory notes from notables with ties to Queens, including actor and educator Mayim Bialik of The Big Bang Theory; fitness ambassador and former Olympian Mary Lou Retton; and twin NFL players Devin and Jason McCourty.
Outside the lunchroom, students can participate in wellness weeks each semester, food tastings each month, and become active in after-school sports clubs on a daily basis. The student garden and movement-based curriculum complement the new menu items: Students no longer experience an afternoon slump, attendance is up, and the school ranks 11th in the state on the most recent Common Core exams.
"The nutrition and health programs at TALES benefit students, parents, and teachers," says Susan Levin, M.S., R.D., C.S.S.D., director of nutrition education for the Physicians Committee. "As a community of educators, our common core is simple. We want our children to grow up to become healthy adults."
The Golden Carrot Awards, established in 2004, recognizes food service teams doing exceptional work to improve the healthfulness of school lunches. The Physicians Committee looks for programs that encourage students to eat fresh fruits, vegetables, and other disease-fighting foods.
The Physicians Committee applauds New York Coalition for Healthy School Food, FAN4Kids, and Alliance for a Healthier Generation for their support in working with TALES to provide students with resources about health, fitness, and nutrition.
Here, an easy lunch recipe that's a favorite among PS 244Q students:
Rainbow Roll-Ups

Ingredients:
½ cup hummus or bean dip (store-bought or homemade)
4 whole-wheat tortillas
2 carrots, grated
4 lettuce leaves, ½ cup baby spinach leaves, or ½ of a 5-ounce container of sprouts
Optional: Add thin sticks of cucumber or red bell pepper before rolling.
Directions:
1. Spread hummus or bean spread thinly on tortillas, and then add carrots and lettuce, spinach, or sprouts. Roll up each tortilla.
2. Eat whole or secure with five evenly placed toothpicks, and slice into five individual rolls (one toothpick per roll).
3. Serve Rainbow Roll-Ups immediately or cover lightly and store in the refrigerator for several hours. Bring them to room temperature for the best flavor. Do not store roll-ups longer than one day.
Nutrition facts per (makes 5 four-piece servings):
122 calories; 2.8 g fat; 0.3 g saturated fat; 0 mg cholesterol
5 g protein; 20.6 g carbohydrate; 1.5 g sugar; 4.9 g fiber
251 mg sodium; 27 mg calcium; 2 mg iron; 2.1 mg vitamin C; 1424 mcg beta-carotene; 0.4 mg vitamin E
Recipe source: The Physicians Committee for Responsible Medicine. For more information, visit HealthySchoolLunches.org.