The Wildlife Conservation Society's Bronx Zoo is New York City's largest zoo, and there's no shortage of animals to see or things to do there. Here, we break down what the zoo has to offer and how to plan an outing there with your family.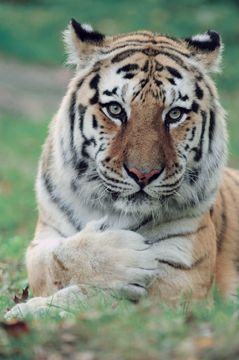 For any animal lover who's dreamed of traveling the world to explore the habitats and lifestyles of the most interesting and exotic animals, consider the Wildlife Conservation Society's Bronx Zoo your one-stop destination. Since its opening in 1899, the 265-acre zoo has brought animal-themed exhibits and events to the residents and tourists of New York City, and more recently to more than 2 million visitors every year.
The Bronx Zoo is one of five parks operated by the Wildlife Conservation Society, which also manages the Central Park Zoo, New York Aquarium, Prospect Park Zoo, and Queens Zoo.
Year-Round Features
No matter what time of year you're planning to visit the Bronx Zoo, there's always something to do and more than a few furry friends to visit. At the center of the park, visitors can watch clumsy sea lions play, flip, and feast during twice-daily feedings at the Sea Lion Pool, and take a leisurely stroll through the landscaped Peacock Garden.
A sea lion pup was born at the Bronx Zoo on June 28. The female pup joins five other California sea lions who lounge, play, and perform tricks for treats several times a day in the Sea Lion Pool, located in the center of the zoo.
Beyond, there's the African Plains, which offer great views of giraffes, zebras, and a few 400-pound lions. Under enchanting octopus trees in the Madagascar exhibit, you'll meet Nile crocodiles, playful lemurs, and stealthy fossas, and you can act as a field scientist in the Discovery Area.
For a change of pace, enter the Butterfly Garden, a lush meadow filled with these colorful, fluttering creatures, and stop by the photo station to transform yourself into a buzzing bee or bug. And at the 3-acre Children's Zoo, the littlest animal lovers can feed the goats, climb into a bird's nest, burrow like a prairie dog, take a photo with a chicken, and more. (Note: the Children's Zoo is closed for renovations and will reopen next summer.)
If you've still got time after all that, visit the striped cats at Tiger Mountain, wave to the Big Bears, monkey around at the Baboon Reserve, take a trip on the Wild Asia Monorail or Zoo Shuttle, and hop a ride on the Bug Carousel.
Limited Time: Jurassic Journey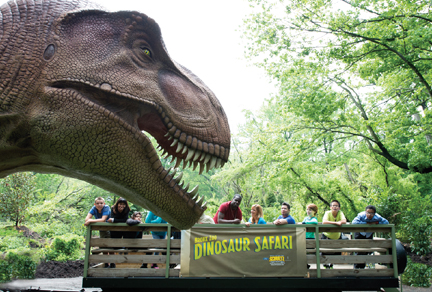 If your kids wish they could travel back in time to learn more about what came before us, they'll be delighted when you take them to the zoo's Dinosaur Safari, which opened Memorial Day Weekend and has been extended through Nov. 3.
The safari includes a ride through the Cretaceous and Jurassic periods and features more than two dozen animatronic dinosaurs up to 40 feet long that move, snarl, roar, and even spit. Guests also take a ride through a 2-acre area of the zoo where a guide will highlight the physical or behavioral adaptions many dinos share with species that are alive today.
Make sure you stop by the Dinosaur Safari Field Site, located at the ride's disembark zone, where you can dig for fossils, touch dinosaur skulls, and gain insight into what fossils and modern animals can tell us about these fantastic creatures.
For details and upcoming dino-themed activities, visit bronxzoo.com/dino. Included in Total Experience Ticket: $33.95; $28.95 seniors; $23.95 children ages 3-12; free for children younger than 3.
Halloween at the Zoo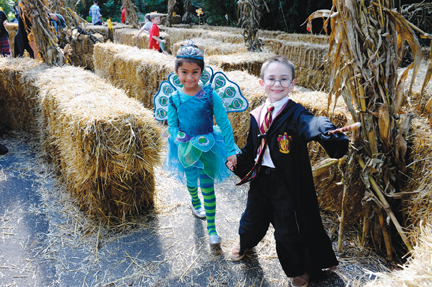 Boo at the Zoo returns this year, spanning five weekends between Oct. 5 and Nov. 3. Visitors can stop by the new komodo dragons exhibit, stroll through the Museum of UnNatural Mysteries, get lost in the hay maze, watch pumpkin-carving demos, visit treat stations throughout the park, and enjoy live music, magic shows, musical theater, and costume parades.
Find more fun Halloween activities in NYC at nymetroparents.com/halloween.
Details
Address: 2300 Southern Blvd., Bronx
Hours: Monday-Friday 10am-5pm; 10am-5:30pm weekends and holidays
Admission: $16.95; $14.95 seniors ages 65 and older; $12.95 children ages 3-12; free for children ages 2 and younger. Additional fees for special rides and attractions. $15 parking fee.
Note: Strollers are allowed, or you can rent one at the zoo for $10
For more information: 718-367-1010 or bronxzoo.com