Make these easy mini cheesecakes in muffin tins for delicious cheesecake cupcakes! Use traditional vanilla and almond flavors, or substitute in lemon, chocolate, or berries for a fun twist.
Easy Mini Cheesecakes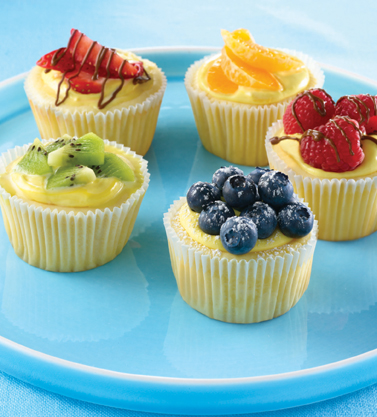 These luscious cheesecakes flavored with vanilla and almond extract are sized just right. Garnish with fresh fruit, lemon curd, or melted chocolate swirls.
Prep Time: 15 minutes
Cook Time: 24 minutes
Refrigerate Time: 4 hours
Makes 12 servings
Ingredients
2 packages (8 ounces each) cream cheese, softened
2/3 cup sugar
2 eggs
2 teaspoons pure vanilla extract
½ teaspoon pure almond extract
12 vanilla wafers
Directions
1. Beat cream cheese and sugar in large bowl with electric mixer on medium speed until light and fluffy. Add eggs and extracts; beat well. Place a wafer in bottom of 12 paper-lined muffin cups. Spoon batter into each cup, filling 2/3 full.
2. Bake in preheated 325°F oven 22 to 24 minutes or until edges are lightly browned. Cool in pan on wire rack. (Mini cheesecakes will deflate in center upon cooling.)
3. Refrigerate 4 hours or overnight. Garnish with desired toppings.
Nutritional Information (per serving): 210 Calories, Fat 14g, Carbohydrates 17g, Cholesterol 79mg, Sodium 166mg, Fiber 0g, Protein 4g
Variations
- Use 1 teaspoon pure lemon extract in place of almond extract.
- Use chocolate sandwich cookies in place of the vanilla wafers for the "crust."
- If you don't have fresh fruit, top cheesecakes with canned fruit such as cherry pie filling or mandarin orange segments.
Preparation and Presentation
Make Ahead and Batch Bake: Double-batch the dessert recipe and vary the extracts to make two unique treats in one effort. Make day-of prep a breeze by preparing the recipe in advance and refrigerating it overnight.
Bright Fruit Topping: Fresh fruits and berries make a simple yet colorful topping for cake, ice cream, and other desserts. Stir in 1 teaspoon pure vanilla extract and 2 tablespoons confectioners' sugar to 2½ cups fruit for a sweet seasonal treat.
Recipe courtesy McCormick.com