For this dish, the chicken, vegetables, and potatoes all go in the same pot, making it an easy weeknight dinner. The recipe is by Kelsey Nixon, the Emmy-nominated host of "Kelsey's Essentials" on the Cooking Channel.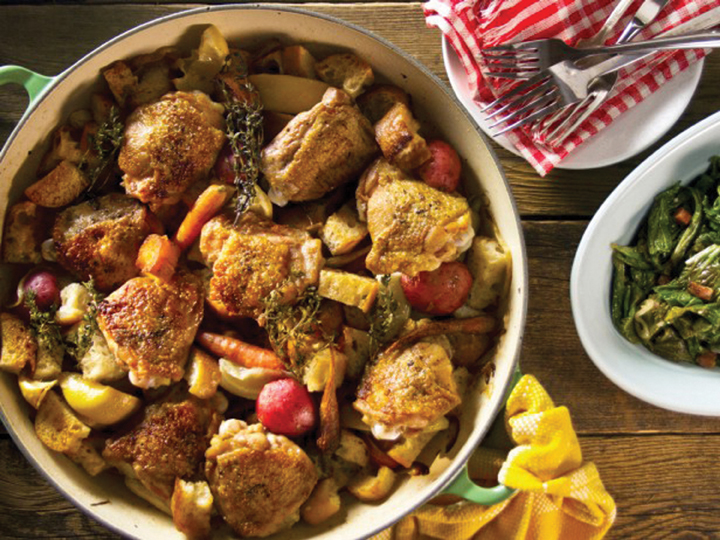 Total Time: 1 hour
Prep: 15 minutes
Cook: 45 minutes
Serves: 4
Ingredients
½ baguette, cubed
12 ounces small red new potatoes, halved
Canola oil
8 bone-in chicken thighs, skin on
Kosher salt and freshly cracked black pepper
1 large yellow onion, sliced
6 cloves garlic, peeled and smashed
12 ounces heirloom baby multi-colored carrots or supermarket baby carrots, scrubbed and tops removed
2 lemons, cut into wedges
1 small bunch fresh lemon thyme or thyme sprigs
Fresh parsley leaves, for garnish
Directions
1. Preheat the oven to 325 degrees.
2. Place the cubed baguette on a sheet tray and bake 10 minutes to dry out. Reserve.
3. Add the potatoes to a pot of simmering water and simmer until you just take the bite off, 10 minutes (we will cook these again in the skillet). Remove and reserve.
4. Turn up the oven temperature to 425 degrees.
5. Heat a 14-inch heavy-bottomed skillet on high and coat with canola oil. Sprinkle the chicken thighs with salt and pepper. Sear the chicken skin-side down, working in batches if needed, until golden brown, 4-5 minutes. Flip and cook another 2 minutes. Remove the chicken from the skillet, reserving all of the fat in the pan.
6. Add the onions, sprinkle with salt, and sweat until translucent and softened, 1-2 minutes. Add the garlic and cook 1 minute. Add the baguette cubes, reserved potatoes and carrots, and sprinkle with salt and pepper. Add the lemon wedges and lemon thyme. Toss all the ingredients in the fat with an additional glug of oil if needed. Arrange the thighs on top and place in the oven until the thighs reach 160 degrees, about 15 minutes.
7. Garnish with parsley and serve.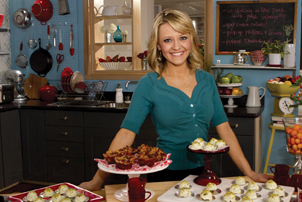 Kelsey Nixon is the Emmy-nominated host of Kelsey's Essentials on the Cooking Channel. On the show, Nixon offers savvy tips on must-have pantry items, the latest gadgets, and essential kitchen techniques such as roasting, baking, and knife skills. She is mom to 1-year-old Oliver and lives with her family in Brooklyn.