This easy recipe by celebrity chef Kelsey Nixon features skirt steak, a great weeknight protein that goes well in Mexican dishes such as fajitas and tacos. This recipe includes a side of roasted peanut slaw.
Pomegranate-Glazed Steak Fajitas
Total Time: 1 hour, 10 minutes
Prep: 20 minutes
Inactive Prep: 35 minutes
Cook: 15 minutes
Serves: 4-6
Ingredients
Spice Rub:
2 cloves garlic, grated
2 tablespoons chile powder
1 tablespoon kosher salt
1 tablespoon brown sugar
1 teaspoon ground cumin
1½ pounds skirt steak, cut into pieces that will fit on your grill
Pomegranate Glaze:
¼ cup pomegranate juice
¼ cup brown sugar
3 tablespoons balsamic vinegar
1 tablespoon mustard
1 teaspoon cornstarch
½ teaspoon kosher salt
Vegetables:
1 large Spanish onion, sliced root to tip
1 red bell pepper, seeded and sliced
1 yellow bell pepper, seeded and sliced
Serve with:
8 (6-inch) flour tortillas, warmed (recommended: Trader Joe's brand)
Fresh salsa
1 avocado, sliced
Grated Monterey Jack or cotija cheese
Directions
1. For the rub: In a small bowl, add the garlic, chile powder, salt, brown sugar, and cumin.
2. Rub the spice mixture over the entire skirt steak and let sit for 25-30 minutes in a dish or a re-sealable bag.
3. For the glaze: Meanwhile, whisk the pomegranate glaze ingredients together in a small saucepan. Bring to a boil over medium heat and simmer until thickened, about 1 minute. Remove from the heat and set aside.
4. For the steak and vegetables: Preheat a grill pan over high heat. Place the steak, onion, and peppers on grill, if it all fits. If not, cook the steak first and then, as the steak rests, char up the vegetables. Cook the steak for 3-4 minutes per side for medium-rare. Let rest for 5 minutes before slicing against the grain. You want the vegetables to get softened and charred, so they can stay on the grill as the steak rests, about 10 minutes total.
5. Serve the sliced steak, onions and peppers on the side of warmed tortillas, fresh salsa, sliced avocado, cheese, and the pomegranate glaze.
Roasted Peanut Slaw
Total Time: 20 minutes
Serves: 8
Ingredients
1 medium head Napa cabbage, shredded
1 bunch scallions, thinly sliced on the bias
½ cup fresh cilantro leaves, chopped
1 cup roasted unsalted peanuts, plus more for garnish
Kosher salt and freshly cracked black pepper
½ cup rice vinegar
4 teaspoons soy sauce
2 tablespoons smooth peanut butter (recommended: Jiffy)
2 tablespoons sesame oil
2 tablespoons sugar
½ cup canola oil, or as needed
Directions
1. Toss the cabbage with the scallions, cilantro, and peanuts. Season with salt and pepper.
2. In a small mixing bowl, whisk the vinegar, soy sauce, peanut butter, sesame oil, and sugar together. Slowly whisk in the canola oil until dressing is emulsified.
3. Toss the dressing with the cabbage and garnish with roasted peanuts before serving.
Cook's Note: Feel free to use different types of cabbages to make this simple slaw.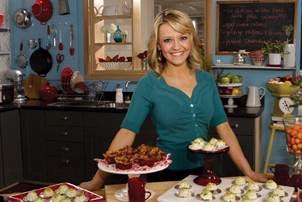 Kelsey Nixon is the Emmy-nominated host of Kelsey's Essentials on the Cooking Channel. On the show, Nixon offers savvy tips on must-have pantry items, the latest gadgets, and essential kitchen techniques such as roasting, baking, and knife skills. She is mom to 1-year-old Oliver and lives with her family in Brooklyn.