This recipe for salmon with green beans and whole-wheat pasta serves five people and is ready in less than 30 minutes. Add some fresh thyme and lemon zest and you have a healthy, quick, and easy seafood dish for your family's next weeknight meal.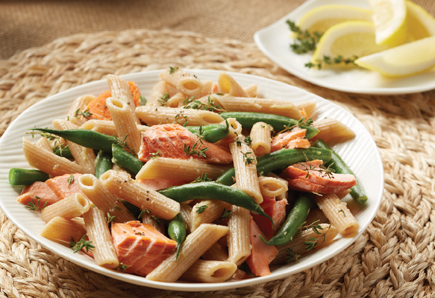 Prep time: 10 minutes
Cook time: 15 minutes
Servings: 5
Ingredients
12 ounces whole wheat penne (or other pasta)
½ pound fresh green beans, trimmed and halved
Finely grated zest and juice of 1 lemon
1 tablespoon fresh thyme leaves
½ teaspoon garlic salt
3 tablespoons olive oil, divided
12 ounces salmon (fresh, thawed, or frozen)
Salt and freshly ground black pepper
Lemon wedges and sprigs of thyme, for garnish
Directions
1. Cook pasta in boiling water for about 8 minutes, or according to package instructions, until al dente. Add green beans during the last 3 to 4 minutes of cooking time.
2. Drain pasta and beans, reserving 3 tablespoons cooking liquid, then return pasta, beans, and reserved liquid to pan. Add lemon zest, lemon juice, thyme leaves, garlic salt, and 2 tablespoons olive oil.
3. While pasta cooks, rinse any ice glaze from frozen salmon under cold water; pat dry with paper towel.
4. Heat heavy nonstick skillet over medium-high heat.
5. Brush both sides of salmon with 1 tablespoon olive oil. Place in heated skillet and cook, uncovered, about 3 to 4 minutes, until browned. Shake pan occasionally to keep from sticking.
6. Turn salmon over; cover pan tightly, and reduce heat to medium. Cook an additional 6 to 8 minutes for frozen salmon or 3 to 4 minutes for fresh/thawed fish. Cook just until fish is opaque throughout.
7. Break into large chunks (removing skin, if any); add to pasta. Cook and stir gently over medium heat for 1 to 2 minutes.
8. Season to taste with salt and pepper. Garnish with lemon wedges and thyme sprigs.
Recipe courtesy of Alaska Seafood