In this classic Italian fish dish, sole fillets are paired with fresh basil and sun-dried tomatoes and topped with an easy white wine sauce. Best of all: It's ready in 15 minutes!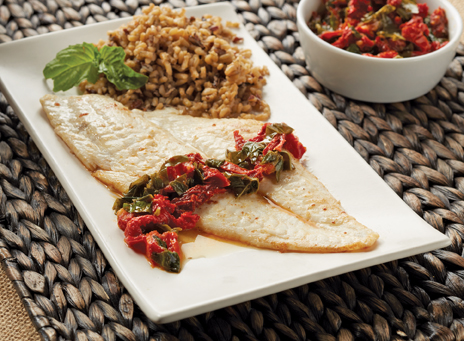 Prep time: 5 minutes
Cook time: 10 minute
Servings: 4
Ingredients
1 cup clam juice
¼ cup dry white wine
2/3 cup slivered fresh basil
2/3 cup sun-dried tomatoes in oil, sliced
Salt and pepper, to taste
4 sole fillets (4 to 6 ounces each), fresh, thawed, or frozen
½ tablespoon butter
Lemon wedges, if desired
Directions
1. Bring clam juice and wine to a boil in a large (12-inch) nonstick pan; stir in basil and tomatoes. Cook down slightly. Season with salt and pepper; remove and keep warm.
2. Rinse any ice glaze from frozen fillets under cold water; pat dry with paper towel. Coat pan with nonstick cooking spray, then heat butter over medium-high heat. Add sole fillets; cook 2 to 3 minutes until browned.
3. Gently turn fillets over and season with salt and pepper. Cover pan tightly and reduce heat to medium. Cook an additional 2 to 3 minutes. (Reduce cook time by half for fresh or thawed fillets.) Cook just until fish is opaque throughout.
4. Spoon 1/3 cup of topping over fillets to serve.
Cook's Tip: Pollock or cod fillets can be substituted for sole, just adjust cook time for smaller fillets, if necessary.
Recipe courtesy of Alaska Seafood