This quick and healthy salad recipe stars halibut, potatoes, red bell peppers, and mandarin oranges atop a bed of arugula with a warm dressing made of green onions, orange juice, and Dijon mustard. It's ready in 30 minutes and serves up to 6 people.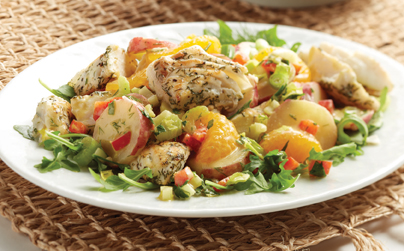 Prep time: 15 minutes
Cook time: 15 minutes
Servings: 6
Ingredients
1 pound small white or red new potatoes
4 halibut fillets (4 to 6 ounces each), fresh, thawed, or frozen
1 tablespoon olive oil
Pepper, to taste
1 teaspoon dried dill
2 tablespoons parsley, chopped
1 cup celery, chopped
½ cup red bell pepper, chopped
1 cup fresh (or canned) mandarin orange segments
1 tablespoon fresh dill, chopped
½ teaspoon seasoning salt
1 package (5 ounces) arugula
For the dressing:
½ cup green onions, sliced
2 tablespoons olive oil
½ cup orange juice
2 tablespoons Dijon mustard
Directions
1. Boil potatoes in salted water just until tender; drain and cool slightly. Slice potatoes in ¼-inch-thick rounds.
2. Meanwhile, rinse any ice glaze from frozen halibut under cold water; pat dry with paper towel.
3. Heat heavy nonstick skillet over medium-high heat.
4. Brush both sides of halibut with olive oil. Place in heated skillet and cook, uncovered, about 3 to 4 minutes, until browned. Shake pan occasionally to keep from sticking.
5. Turn halibut over; season with pepper and dried dill. Cover pan tightly and reduce heat to medium. Cook an additional 6 to 8 minutes for frozen halibut, or 3 to 4 minutes for fresh/thawed fish. Cook just until fish is opaque throughout. Break into large chunks (removing skin, if any).
6. Mix parsley, celery, red pepper, orange segments, fresh dill, and seasoning salt together in large bowl. Add potatoes to celery mixture; stir.
7. For dressing, sauté green onions in olive oil. Add orange juice and Dijon; whisk. While warm, pour dressing over salad. Add halibut chunks and mix gently.
8. To serve: Portion a handful of arugula onto plates; top with halibut potato salad.
Cook's Tip: If using canned mandarins, omit orange juice and use the juice in the can.
Recipe courtesy of Alaska Seafood