CHOMPING VAMPIRE COOKIES AND VAMPIRE CUPCAKES
Related:
vampire cupcakes
,
vampire cookies
,
halloween recipes
,
fun cookies and cupcakes for halloween
,
Try these ghoulishly easy Halloween recipes for chomping vampire cookies and vampire cupcakes. If you're short on time, use ready-to-bake cookie dough and pre-made cupcakes, then decorate away to turn them into festive Halloween desserts.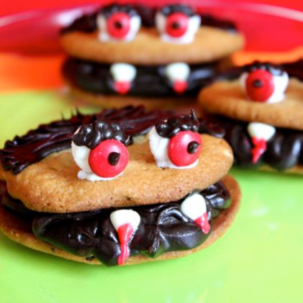 Chomping Vampire Cookies
Prep Time: 1 hour
What You'll Need:
1 package (16 oz.) Pilsbury Ready To Bake! Refrigerated Chocolate Chip Cookies
Gel food color, red
1 container ready-to-spread frosting (any white variety)
1 container ready-to-spread frosting (any chocolate variety)
¼ cup white vanilla baking chips
Miniature marshmallows
Candy-coated chocolate candies, red
Water
Directions:
1. Heat oven to 350°F. On ungreased cookie sheet, place cookie dough rounds 2 inches apart. Bake 12-16 minutes or until edges are light golden brown. Cool 2 minutes; remove from cookie sheet to cooling rack. Cool completely, about 10 minutes.
2. Create a red glaze for the "blood"-tipped teeth. In a small bowl, mix about 1 tablespoon of white frosting with enough red gel food coloring to reach the desired "blood" color. Add water, a few drops at a time, and stir until the frosting is the consistency of school glue. Dip the pointed ends of white baking chips into the red glaze. Set aside to dry.
3. Spoon chocolate frosting into a resealable food-storage plastic bag. Cut 1/2 inch off one corner of the bag, and pipe the frosting on bottom of 1 cookie. Press another cookie, flat side down, on frosting at an angle, cookies touching on one side and about 1 inch apart on the other, to look like an open mouth.
4. Prepare two more frosting bags for decorating the cookies, one with white frosting and one with chocolate frosting. However, this time only snip a tiny piece off of the corner of the bag.
5. To decorate, press "blood"-tipped white vanilla baking chips in frosting for teeth. (Tip: A toothpick may be helpful to adjust placement.) For the eyes, squish mini marshmallows between your fingers so that they are slightly flattened. Use white frosting to attach marshmallow eyes to the top cookie. Then attach red candy-coated chocolates to the marshmallows. Pipe chocolate frosting into the center of the eye and to make eyebrows. You can also use a toothpick to add more of the red glaze "blood" to drip off of one of the teeth.
6. Pipe chocolate frosting onto the top cookie to make hair in a "widow's peak" style.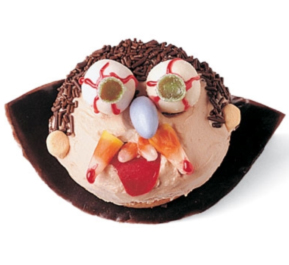 Vampire Cupcake
What you'll need:
1 cupcake (any flavor)
White frosting
Grape and strawberry fruit leather
Chocolate jimmies
2 orange mini marshmallows
1 purple Jordan almond
1 green gumdrop, halved
1 white gum ball, halved
Red gel icing
4 candy corns
Directions:
1. Turn the unwrapped cupcake upside down and frost. Set on a cape made from the grape fruit leather.
2. Use the jimmies for hair, the marshmallows for ears, the almond for a nose and the gumdrops -- placed on the gum balls -- for eyes (make them bloodshot with gel icing). The teeth are candy corns with red gel blood, and the tongue is strawberry fruit leather.
Recipes courtesy of Spoonful.com.
More Halloween Recipes
Cater Your Very Own Graveyard Bash
---
Get Your FREE Indoor Activity eGuide!
---
More Food & Nutrition Articles
Easy Holiday Dessert: Frozen Pumpkin Pie with Graham Cracker Crust
Witches Brew Recipe for Halloween by MOMables
Halloween Treats: Eyeball Cake Pops, Monster 'Toes,' and 'Rotten' Apple Punch
5 Tips for Cooking with Kids Who Have Special Needs
Easy Recipe for New Cooks: Creamy Tomato and Rice Basil Soup