When her infant daughter was diagnosed with cerebral palsy, one mom turned her questions into action. Laverne's inspiring story about traveling the world with Kasenya and their family will inspire you to redefine the possibilities and journeys presented to your own family.
After my daughter, Kasenya, was born three months prematurely, she spent a grueling 10 weeks in the hospital. My husband David and I knew from our reading that disabilities were a possibility for such a premature baby. That possibility loomed over us like a heavy cloud until a neonatologist whom I had never before met asked to speak to me; he told me that my daughter had an 80 percent chance of having a disability because of a bleed in her brain. He could not tell me how severe the disability would be or how it would affect her. "She'll most likely have cerebral palsy," he said.
And that was that. I didn't even really know what cerebral palsy was.
First, Acceptance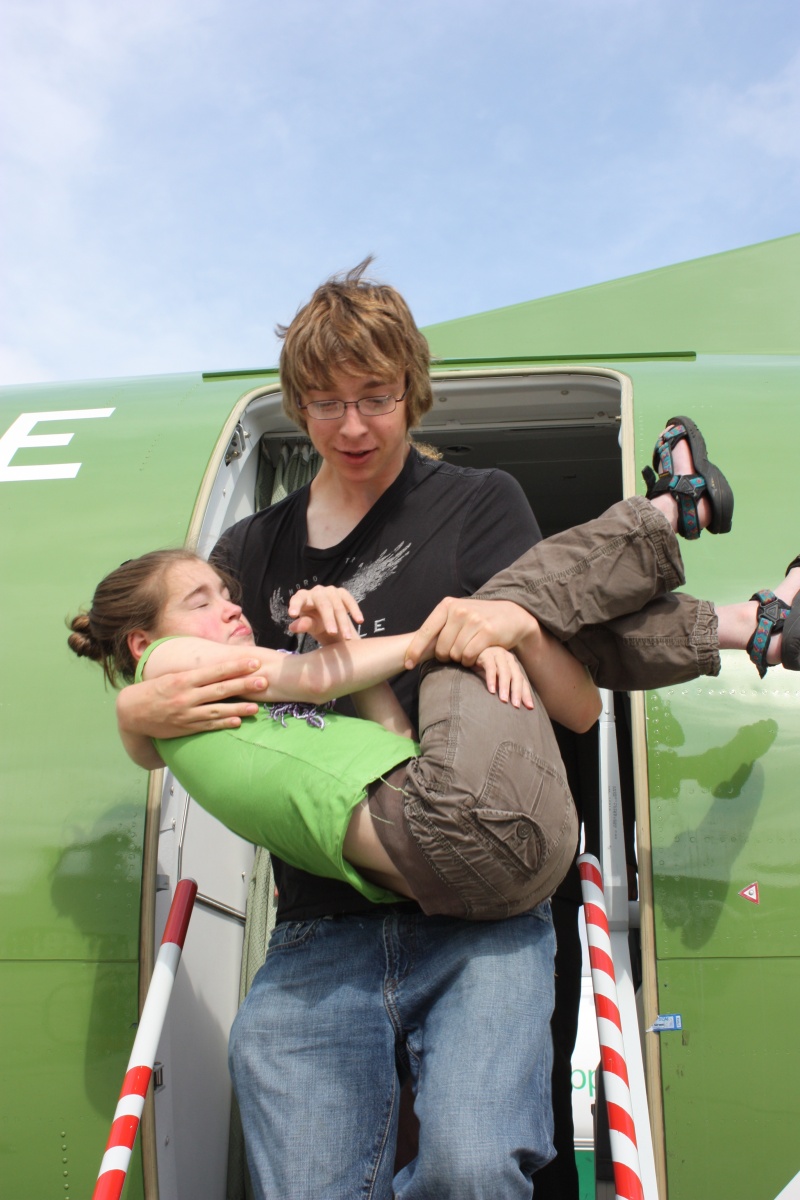 Parents react to the news of a child's disability in different ways: devastation, disbelief, anger. I experienced a sense of relief. I finally had something I could sink my teeth into. I bounded out of the hospital to tell my husband our daughter's prognosis, cry inconsolably for a day or two, and then begin to formulate a plan.
At first we focused on accessing the best therapies and making sure Kasenya would "reach her potential." We were determined to conquer this disability. Sometimes, though, we tried a little too hard. We had scads
of educational toys designed to stimulate her and develop her motor skills. Then a physiotherapist noticed that Kasenya liked dolls. Imagine that! A girl liking dolls? We hadn't thought to buy her even one.
With time it became clear that, despite our best efforts, there would be physical limitations that Kasenya would never overcome. We learned to accept the idea that she would require a wheelchair for the rest of her life.
Packing Bags, Unpacking Baggage
Dave and I shared a love of travel, and it was a "given" that when we had children we would travel with them—at least until Kasenya was born. We wondered if her disability would hold us back from doing what we love.
Eventually we realized that it was not the disability that needed to be conquered, but rather the limitations we thought it put on our lives. We needed to conquer our fears and the limits we were putting on ourselves. It became about proving we could do it as much as our initial wanderlust.
We worried that if we waited too long it would be daunting to start traveling with older children. So we decided to start with a trip to Australia when Kasenya was 4 and her brother, Devin, was 6. At that point it was easy to travel with Kasenya because she was small enough for one person to lift. Her foldable wheelchair was no more difficult to accommodate than a stroller, so no special instructions were needed for airlines, and we could easily lift her into a taxi or onto a train and stow the wheelchair.
As Kasenya grew, we adapted to her changing needs. And as our experiences grew, so did our sense of what was possible. And that lead to a whole new world of "poss-abilities".
It wasn't just the trip to Australia that set us apart from other families— even our summer vacations began to diverge from what typical families do. We have driven across Canada and have visited every province, camping for weeks at a time. People started saying to us: "I have typical kids and I couldn't imagine doing that."
We began to understand that 'exceptional' is not just a euphemism for disability, it is a way of being in the world: an attitude that transcends disability and is even enhanced by it. We have often said that disability has given us the courage to do many things we would not have otherwise done. It didn't just push us outside the box, it eliminated the box all together.
The skills learned in adventurous travel are also the foundation of living an exceptional life: coping with change and stress, pushing through exhaustion and knowing when to pull back, managing your resources, communicating effectively, diplomacy, looking out for each other, working together, valuing and most of all being able to really see the wonder that surrounds us.
A World of Possibilities
On our second trip to Australia, Devin declared that he wanted to visit all seven continents—while his parents were still paying for it! How could we say no to that? What began as conquering our limits became a challenge to conquer the world.
Along the way to visiting our first six continents, something magical began to happen. We started to redefine our sense of community. Families of children with disabilities approached us wherever we went, and we felt the instant bond that comes from sharing a common life experience.
One of our most memorable encounters happened in Kampala, the capital of Uganda. One evening, while our family waited outside for a taxi, a man appeared from the darkness, pointed at Kasenya, and demanded to know: "Who is the mother of this child?" I gulped and stepped forward. The man's voice softened as he explained that his daughter had fallen from a balcony when she was 3 and was now severely disabled. There was sadness in his voice as he talked about how he would never be able to travel with her to his native India. He wanted nothing from us, only a moment to share his story. He thanked us and disappeared into the darkness.
From this and many other experiences we have come to see that all parents share the same concerns and love for our children, no matter where we live. But we also came to realize the real disadvantage that children with disabilities live with in Asia, Africa, and South America.
Early in our travels we were very naive about the conditions of children with disabilities in other parts of the world. We knew they would not necessarily have all the physical resources we have, or near-equal access to therapies. We had no idea, however, just how undervalued these children were in developing countries. It was this realization that spurred us to action.
In 2012, we founded No Ordinary Journey Foundation as a vehicle for helping families in the developing world. In these resource-poor places, people with disabilities, especially children, are the last to benefit from economic growth. Research—and our own personal experiences around the globe—show us that programs to train and educate individuals and families in managing disabilities such as cerebral palsy help lift them from poverty and bring dignity to their lives.
Our first major project: six weeks in Vietnam this summer. While this magazine is in production, our family will be traveling as volunteers, at our own expense. We will be doing education sessions with children and their families at several hospitals throughout the country. We will also be meeting with families in their homes and children who live in orphanages in some of the poorest parts of Vietnam.
We know that we have something special to offer families. There are many charitable organizations that send professionals to do amazing work in the developing world with and for people who have disabilities. We offer something different: Families connect
and identify deeply with us because we live their life. We model 'poss-abilities' for them.
Following our passion for travel, we have found a unique way to celebrate Kasenya's disability. It has led us to our version of an exceptional life.
Your Unique Journey
Every family will have their own unique opportunities to live an exceptional life. It is important to know these two things: that no matter how big and grandiose your dream is, you can achieve it; and it doesn't need to be big and grandiose to be worthwhile.
My friend Adrienne, also the mom of a child with a disability, once lamented the fact that her family was going on a hot holiday without her son Evan. "You take Kasenya everywhere," she said. "I feel bad leaving Evan at home."
"We do take Kasenya everywhere," I agreed. "That's our thing. But Evan would be miserable if you took him to Cuba with you. Your thing is taking him to Grandma and Grandpa's cabin at the lake. He loves that."
Adrienne is living her own exceptional life and has been an exceptional advocate: making life for people with disabilities better where she lives.
What's important about exceptional living is to do it your own way. Instead of wishing your family, your lifestyle, or your income were different, work with what you've got. By being true to the gifts and resources that you have, you will find your own exceptional life—one that is filled with deep meaning, hope, and enthusiasm.
Laverne Bissky, mother of two (one who has cerebral palsy), inspirational speaker, writer, and life coach, is author of the book Exceptional Parent, Exceptional Life, due to be released in October and available at exceptional-parent.com. She lives in Calgary, Canada with her family. Despite the challenges of traveling with a child in a wheelchair, she and her family have visited every continent except Antarctica…so far. Learn more at bissky.com.