Gift it Green fabric gift boxes and tissue paper are an eco-friendly way to wrap your child's or friend's birthday present. Bonus: The gift boxes fold flat and are reusable.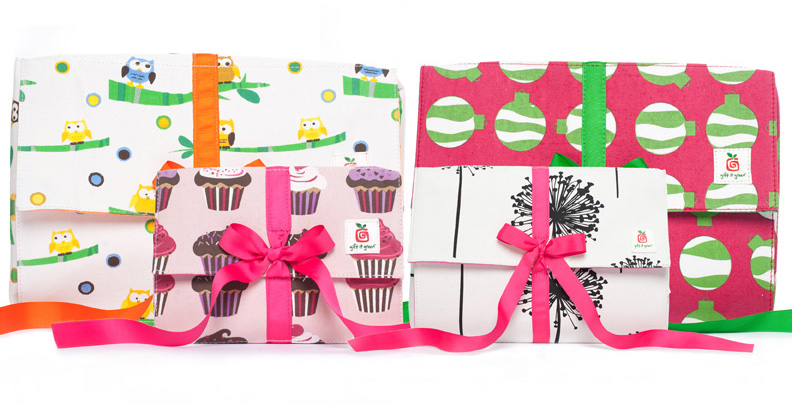 Green Giving! Have you ever noticed how much goes into the trash after a child's birthday? Beyond the half-eaten pizza slices and scraped-clean cake plates, there are paper cups, juice boxes, ribbons, plastic utensils…you get the idea. And did you realize that most wrapping paper is still not recyclable because of how it's made? No matter how good our intentions, those saved gift bags and that smoothed-out wrapping paper that we swear we're going to reuse for the next gift-giving event rarely see the light of day.
This is precisely why one mother created Gift it Green fabric gift boxes. Each cotton gift box comes with a fabric "Gift It Forward" tag sewn inside where you write your hometown or name to see where the box has been or who received it before you; Velcro closures; and a sewn-on cloth ribbon. When the present has been opened, the box folds flat for easy storage. (The whole process might remind your kids of the Flat Stanley Project!)
The gift boxes come in four patterns—It's a Hoot, Cupcake Bliss, Wildflowers, and Green Christmas—in small, medium, and large. Gift it Green also sells Eco-Chic Tissue Paper (25 inches by 18 inches; $3). Not sure what size box to get? Gift it Green has a size guide on the website that lists what gifts fit in each size (the small box fits three DVDs). In addition to reducing wrapping waste, the Green America Silver–certified business supports organizations that teach kids about the environment. (giftitgreen.com; $14-$18)
Happy MARCH Birthday to…

Theodore Seuss Geisel, a.k.a. Dr. Seuss
(March 2)…Barbara Millicent Roberts, a.k.a. Barbie
(March 9)…Seventh U.S. President Andrew Jackson (March 15)...Big Bird (Mar. 20)...Wonder Woman
(March 22)…magician and escape artist Harry Houdini (March 24)



Your Party Planner
Search our extensive directory of resources including party places, entertainment, and more.
Get ideas: We've got tips (like avoiding birthday party meltdowns), downloadable activity sheets, how to take the best pictures of your kids, and so much more.