"Annie" the musical, now playing on Broadway, is winning over a new generation of kids who connect with Annie's spirit and classic rags-to-riches tale. Our theater critic goes behind the scenes with Katie Finneran, who plays the comically villainous Ms. Hannigan.
I confess, I'm a sucker for a good script—and not just the dialogue, the mise-en-scène, and character descriptions that spell out "who and where" on the printed page. Which explains why, concise as it is, the introductory text of the musical Annie drew me in instantly:
…New York City Municipal Ophanage – Girls' Annex… Shortly after three a.m. on a chilly morning in early December 1933. The stage is nearly dark. Asleep…are six ORPHANS – MOLLY, the littlest, who is 6; KATE, the next-to-littlest, who is 7; TESSIE, the cry baby who is 10; PEPPER, the toughest, who is 12; JULY, the quietest, who is 13; and DUFFY, the biggest, who is also 13.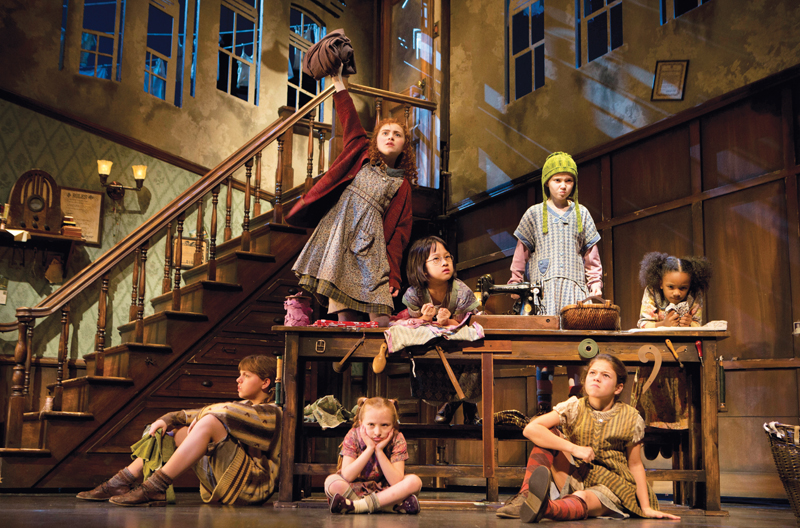 Annie (Lilla Crawford) with the other six orphans—played by Junah Jang, Taylor Richardson, Tyrah Skye Odoms, Georgi James, Emily Rosenfeld, and Madi Rae DiPietro—under Miss Hannigan's care.
Still, all this—the crowded sleeping quarters (juxtaposed on an upstage tenement landscape of loaded laundry lines) and assortment of half-awake urchins scuffling and complaining—doesn't officially become a solid visual triumph until it's brought to life on the stage of Broadway's Palace Theatre…and, most importantly, the title character arrives to break up the row, soothe Molly out of a bad dream, and belt the first number in the score, "Maybe."
Annie, played by Lilla Crawford in her second Broadway outing (her debut was in Billy Elliot), asserts her alpha orphan status as soon as she utters her first words: "Pipe down, all of ya. Go back to sleep." Gotta love the attitude, which, not surprisingly, is a big selling point for young theatregoers who totally get Annie's moxie—not to mention her free-flowing red curls that look as stylish in 2013 as they no doubt did 80 years ago. In fact, this new version of Annie is so well conceived and designed that even hardcore smart phone-fanatics (their young fingers seemingly locked for eternity in texting mode) have no difficulty whatsoever adapting to cyber-free Depression-era NYC.
The plot of Annie is another selling point: a rags-to-riches story that has the 11-year-old heroine swept from her bleak orphanage digs—and away from her nemesis who runs the place, Miss Hannigan—to the palatial home of ultra-wealthy, ultra-influential Oliver ("Daddy") Warbucks (Anthony Warlow).
Yet even while enjoying the perks of luxury with Warbucks and his secretary Grace Farrell (Brynn O'Malley), Annie never stops searching for her birth parents, who left her at the orphanage with a note reading: Please take good care of our little darling. Her name is Annie. She was born on October 28th. We will be back to get her soon. We have left half of a silver locket around her neck and kept the other half so that when we come back for her you will know that she's our baby.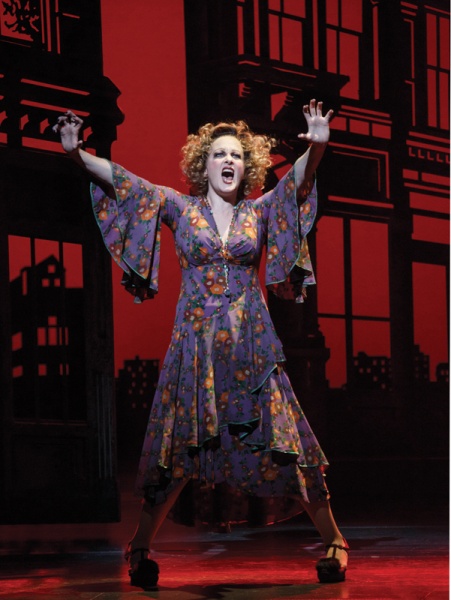 Katie Finneran as Ms. Hannigan
And here (of course!) is where the bad guys—Miss Hannigan (two-time Tony Award-winner Katie Finneran), her miscreant brother Rooster (Clarke Thorell), and his floozy girlfriend Lily (J. Elaine Marcos)—hatch a plan to bilk Warbucks out of the reward money he's offering to help locate Annie's parents.
The beyond-catchy score by Charles Strouse (music) and Martin Charnin (lyrics) literally teems with numbers that fall into the "earworm" category (songs that grab you and won't let go)—take it from someone who arrived at the theater with a steady loop of "Tomorrow" playing in my head. And get ready to hum a few other songs before Annie ends—like the Hannigan and cohorts showstopper "Easy Street," Warbucks and company's love song to Manhattan, "N.Y.C.," and the fabulous "You're Never Fully Dressed Without a Smile," sung first on Bert Healy's glitzy "Oxydent Hour of Smiles" radio show and later as a parody by the kids in the orphanage.
And while it goes without saying that a "happily ever after" rocks the musical's grand finale, it's Finneran as the chronically tipsy, orphan-exploiting Hannigan who dominates comedic-wise whenever she hits the stage, from her flawless timing to her slightly unorthodox approach to the role, which is traditionally performed with a sense of resignation on the part of Hannigan.
"Rather than playing it like she's doomed to be at the orphanage for the rest of her life, I see her as having one foot out the door," Finneran says. "A woman who sees herself a movie star who hasn't been discovered yet… an aging flapper or burlesque dancer who still hopes for a relationship."
Yet, as the loving mother of two very young boys in real life—22-month-old Ty and 7-month-old Wes—she admits to initially being cloudy on the whole being-cruel-to-kids concept. "When I started working on the role I was seven weeks post-partum, and whenever the orphans sang I melted," Finneran recalls. "But I got over it. It's not hard to play mean when they know we're all acting and pretending."
As a result, she has no qualms about pulling out all the stops when performing her solo, "Little Girls"—an exasperated catharsis of a number that includes the lyrics:
Some women are dripping with diamonds,
Some women are dripping with pearls.
Lucky me! Lucky me!
Look what I'm dripping with—
Little girls.
According to Finneran, her troupe of young costars is anything but annoying. And she—who knew she wanted to act when she was only 5—doesn't even attempt to mentor them. "I try to stay professional and don't give them advice. I believe in letting them come up with their own ideas," she says. "They do watch everything I do, though, so I try to be clear about how I behave onstage."
UPDATE: Jane Lynch to replace Katie Finneran in the role of Ms. Hannigan on May 16
The Details
Where: Palace Theatre, 1564 Broadway (at 47th Street)
When: Current show schedule runs through early June
Running time: 2½ hours (includes one 20-minute intermission)
Age range: 4 and older (Note: Children younger than 4 are not permitted in the theater.)
Tickets: $59 – $238. Weeknights are recommended for best availability. Lottery rush tickets are available the day of the performance for $40 (cash only) at the Palace Theatre box office. Sign-up begins 2½ hours prior to curtain; the drawing is held 2 hours prior to curtain. Limit 2 tickets per person and winner must be present at the drawing.
For more information: 877-250-2929; anniethemusical.com
Annie: Online & Interactive
A totally engaging "high-reach educational initiative," drawing on the current revival of Annie, is serving up a kid-friendly grab bag of historic and behind-the-scenes info via a most iconic tour guide: the original comic-strip Annie. Which is to say, when you visit the show's website, you and your kids have instant access to a gallery of free games, video, and interactive content developed by a team of public television educators. This smart and educationally savvy concept includes quizzes featuring show trivia and even an audio trip to the 1930s with an actual episode from the "Little Orphan Annie" radio program. Notably, the Broadway Education Initiative portion of the website—a collaborative effort between Arielle Tepper Madover Productions and NY Public Media WNET/Channel 13—was produced in partnership with award-winning New York-based interactive company Funny Garbage. All in all, it's well worth a visit.