Summer is filled with BBQs, street and county fairs, and ball games, where unhealthy foods abound. Here, a registered dietician lays out three easy rules to help you and your family choose the healthiest food options at these events and beyond.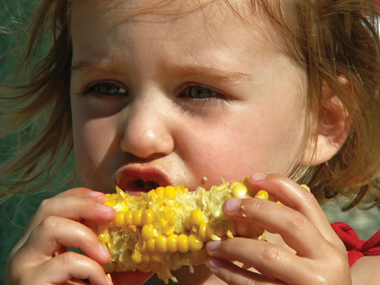 It seems like many of our favorite summer activities are closely tied to junk food. In "Take Me Out to the Ballgame," we sing about Cracker Jacks before we even mention the home team. The word "barbecue" refers to both a lively backyard event and a type of cuisine. And you can't enter a fair—street, county, or otherwise—without walking through seemingly endless food stands selling staples like corn dogs and funnel cake.
It can be tough to choose the healthiest options at ball games, barbecues, and summer fairs—not only is food often a major focus of the activity, but nothing comes with a nutrition label and you and your kids will probably want to try it all. The good news: You shouldn't deprive yourself entirely. After all, the food is part of the fun, and you should be sure to enjoy yourself. If you generally eat a balanced diet, it's okay to indulge occasionally. The key is moderation.
With a few simple tricks, parents can turn summer junk-food fests into healthy, active, outdoor afternoons. How? Shift your focus away from the food, make balanced choices, and plan ahead.
Healthy Choices at the Baseball Game
• Shift your focus away from the food: Direct your children's attention to the action on the field by putting them in charge of scoring the game or identifying players from a program. Encourage them to bring a mitt so they can try to catch a foul ball, and ask younger kids to identify numbers on the field or read billboards—asking what number the first baseman wears or which player has the highest number on his jersey both engages them and teaches math and literacy skills.
• Make balanced choices: Stadiums are starting to introduce more healthy options, and you can often go online ahead of time (search for "concessions") and find a map with menus for the various stands. At Yankee Stadium, Melissa's Farmers Market offers veggie dogs and fruit salads, and Triple Play Sliders has grilled chicken. Choose regular or kid-size snacks instead of jumbo, and stick with basic versions of food: ketchup-and-mustard instead of chili-and-cheese; plain, swirled frozen yogurt instead of candy-topped.
• Plan ahead: Many parents choose to bring their own snacks to the field. Donna Younghans, a Long Island mom with three young children, packs snacks she knows her kids will eat, such as cheese sticks, fruit cups, and a pre-portioned sweet like a mini pack of Oreos. "That way, they get something that feels like a treat," she says.
Healthy Choices at the Barbecue
• Shift your focus away from the food: Since barbecues are outside, there's usually room for kids (and their parents) to play. Come prepared with a football, Frisbee, or tennis ball to throw around.
• Make balanced choices: As long as you avoid the classic mayo-based side dishes (like potato or macaroni salad), most foods at a barbecue are pretty healthy: corn on the cob, chicken, grilled fish, and fruit salad. It's fine to have red meat once in a while, as long as it's cooked properly and you watch portion sizes. A serving of meat should be about the size of a deck of cards.
• Plan ahead: Offer to bring something. Usually the host will welcome the help, and you'll know there will be at least one kid-friendly dish you'll feel comfortable serving. Ideas include sliced fruit and yogurt dip, veggie sticks and hummus, or a citrus chicken salad.
Healthy Choices at the Fair
• Shift your focus away from the food: Fairs are often full of games to play, dramatic shows to watch, and vibrant crafts to explore. Spend most of your afternoon away from the food stalls and focus instead on the fun.
• Make balanced choices: Try to avoid fried foods, which are both addictive and loaded with carcinogens, fat, calories, sodium, and sugar. Seek out healthier options like corn on the cob, grilled food (think kabobs and gyros), sliced mango, popcorn, and veggies. Share sweets or limit everyone to one or two favorite indulgences. If you can, sit down and eat together. Family meals aren't limited to the dinner table, and all of their benefits still apply—even in the middle of the fairgrounds.
• Plan ahead: Don't arrive hungry. "By avoiding going famished, you're going to decrease the amount of junk you'll take in," says Melissa Halas-Liang, MA, RD, founder of SuperKids Nutrition. Have a healthy snack before you go. Halas-Liang recommends pairing healthy carbohydrates like fruits or whole grains with a protein or fat (think an apple or whole wheat bread with peanut butter or a slice of deli meat). Then pack some veggies like carrots, cucumber sticks, or jicama for the drive over to boost your fiber intake.
Wherever you go this summer, you can reinforce healthy eating behaviors, encourage your kids to be active, and most of all, have fun as a family.
Caroline Kaufman, MS, RDN, is a registered dietitian, freelance writer, and nutrition consultant who specializes in childhood and family nutrition. Her award-winning blog, Sweet Foodie, features family-friendly meals, time-saving tips, and food photography. You can follow Kaufman on Twitter, Pinterest, and Facebook.
Also see:
Foodborne illness tends to spike in the summer, so it's especially important to handle food properly at this time: Get food safety tips for the season.
Head to Kaufman's blog, where you'll find a recipe for healthy black bean burger nachos (yum!)