The Roslyn Heights and Farmingdale locations of School of Rock now offer Little Wing, an early music education class. The music class for preschoolers teaches the fundamentals of music using play-based learning.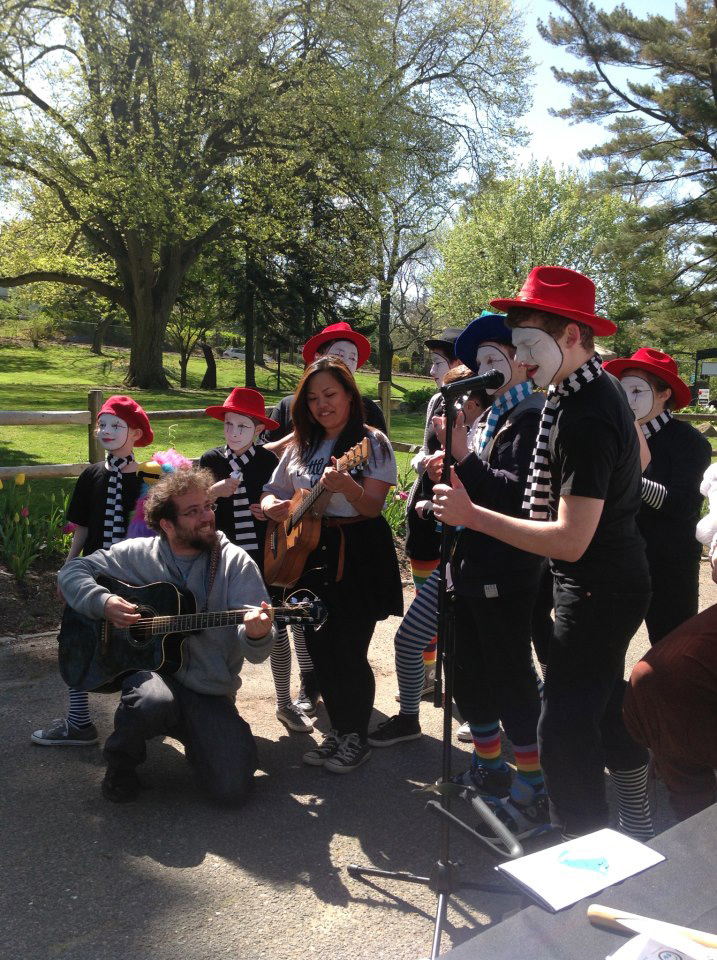 Little Wing teachers and mimes entertained
children at the Tulip Festival in Huntington.
School of Rock's Roslyn Heights and Farmingdale locations now offer a new take on early music education for children ages 2-5 in its Little Wing program. The curriculum focuses on teaching the fundamentals of music including pitch, melody, rhythm, sound, and vibration, and features play-based learning.
Your little rock stars will move, dance, and sing to the very best of pop and rock songs. Each week, instructors introduce real instruments and allow the kids to try them out. The program's schedule also devotes a portion of time to arts and crafts in which kids can make and decorate their own instruments. The combination of the curriculum- and play-based program promotes social, emotional, cognitive, and gross and fine motor development in a fun and exciting environment.
Little Wing offers a 'Mommy and Me' class for children ages 2-3 who have never been socialized. Parents can participate with their child in activities led by the Little Wing puppet—ages 2-3 who have been previously socialized can take a version of this class without a parent. Programming for children ages 4-5 is slightly more advanced and focuses on learning the choruses of famous rock songs, exploring different instruments, learning notation and counting, playing together with "band mates," and improving hand-eye coordination.