On May 31, assemblywoman Margaret M. Markey and the Queens Tourism Council at the New York Hall of Science kicked off New York State Museum Week, which will be from June 10-16.
From June 10-16, roughly 250 sites all around the Empire State -- including zoos, botanical gardens, historic homes, arts centers and cultural organizations -- will participate in the celebration of New York State Museum Week by providing discounts and promotional offers to those who want to discover the fascinating worlds of art, photography, history, science, nature, pop culture, and more. This museum week is sponsored by the NYS Economic Development Department's "I Love NY" program.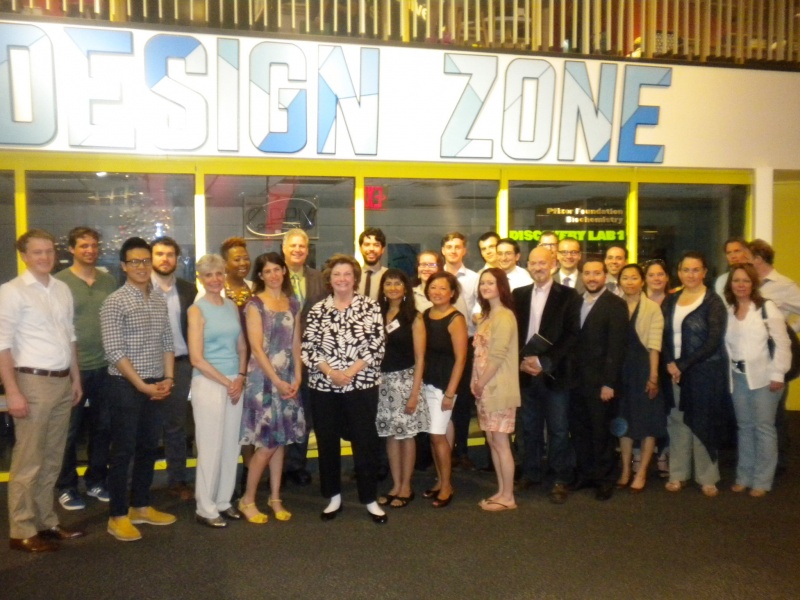 Assemblywoman Margaret M. Markey (center in black and white shirt) and the Queens Tourism Council announced the upcoming New York State Museum Week at the New York Hall of Science's Design Zone on May 31.
"Museum Week is a wonderful way to put the spotlight on the terrific array of educational, cultural and historic attractions that are available in Queens and throughout the state," says assemblywoman Margaret Markey, who chairs the Assembly Tourism, Parks, Culture and Sports Development Committee. "I urge every Queens resident to visit the Armstrong House or one of the other participating sites and attractions during this special week and to look for other opportunities throughout the year to visit these and others of the many museums, historic and cultural sites located throughout our exciting borough."

Tour the Queens County Farm Museum for free during Museum Week or enjoy half-off admission at the Queens Botanical Gardens. The Isamu Noguchi Foundation and Garden Museum, King Manor Museum, and the Museum of the Moving Image will offer two-for-one admission, and Louis Armstrong House Museum will give away a complimentary museum collectible (while supplies last) to visitors that mention Museum Week along with a 10 percent discount in the gift store.
"Tourism to boroughs other than Manhattan has been largely responsible for the general increase in tourism to the city," says Carl Goodman, the executive director of the Museum of the Moving Image. "The museum gets roughly 150,000 visitors a year with almost half of them from outside New York City and almost one-third of them from outside the Metropolitan Area. Queens has arrived!"
Statewide, participants stretch from Manhattan's Fifth Avenue, where El Museo del Barrio will offer free admission during the Museum Mile Festival on June 11, to the Hyde Collection upstate in Glens Falls, where visitors will receive a free poster. A guided walk with a naturalist through the Jamestown Audubon Center & Sanctuary will cost $2 less, while checking out the Erie Canal Discover Center will be half the normal admission.
For a complete list of participants and bargains, visit iloveny.com.