Head to Lincoln Center for LUMINOCITY, the Big Apple Circus' all-new show starting October 25, 2013. The one-ring performance will showcase acrobats, clowns, and performers from all over the world for an awe-inspiring tribute to New York City.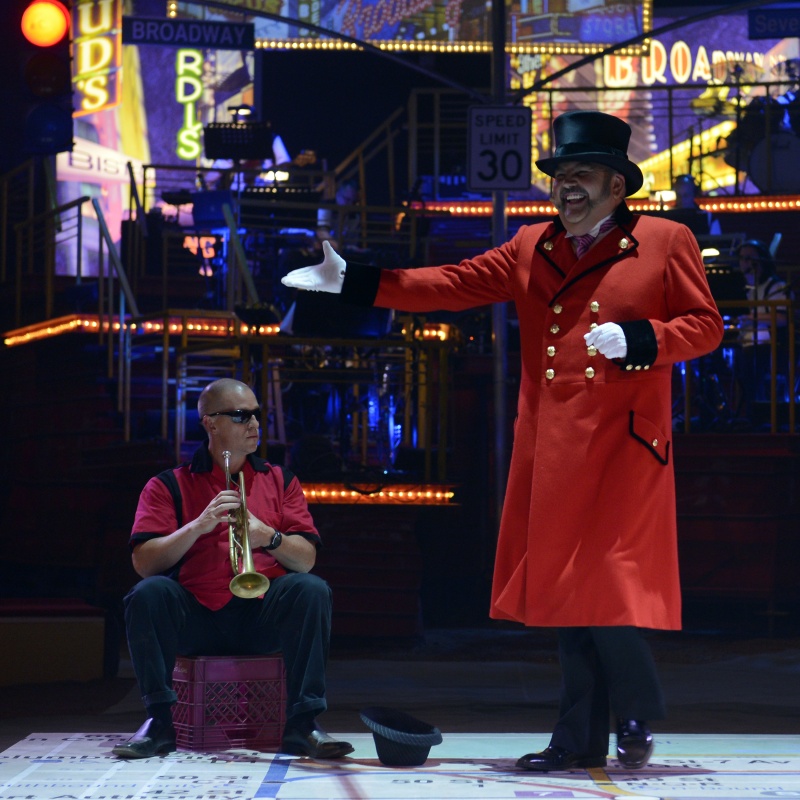 Image Courtesy Big Apple Circus.
Now in its 36th season, the Big Apple Circus celebrates the vitality of life in the Crossroads of the World with the all-new show, LUMINOCITY. Catch all the verve, the high-spirits and racing-pulse thrills under the Big Top, where no seat is more than 50 feet from ringside.
Performances begin Friday, Oct. 25, 2013, and continue through Sunday, Jan. 12, 2014.
Witness fantastic feats by performers inspired by New York City itself, including a dog-walker, whose rowdy pups perform amazing tricks, and businesswomen soaring high above on a double trapeze. Watch acrobats fly like fireworks during New Year's Eve revelry, with a chic couple of wire-walkers suspended mid-air for the event. And it wouldn't be New York without a repairman, a policewoman on horseback, a food cart vendor juggling his produce, and construction workers assembling athletic poses of incredible strength, who all make their appearances. The celebrated Big Apple Circus Band, under the baton of maestro Rob Slowik, provides the lively musical soundtrack, and your cosmopolitan Ringmaster, John Kennedy Kane, will conduct your tour through the cityscape.
Run away and join the Big Apple Circus this season for an unforgettable spectacle of wonder, merriment and joy!
Show Information
Performers from around the globe create awe–inspiring moments at the Big Apple Circus under the artistic direction of Guillaume Dufresnoy for the 2013-2014 show:
From the US, John Kennedy Kane returns as ringmaster to guide you around this shimmering city–center of spectacles and wonder.
From Japan, 15-year old Ty Tojo, holder of three Guinness World Records, captivates the audience with his jaw–dropping juggling routine.
From Portugal, the Duo Guerrero (Werner Guerrero and Aura Cardinali) dance across the sky with their high wire performance.
From the US, Rob Torres, the cheerful and beloved "International Man of Mirth," returns to the Big Top with gleeful exhilaration.
From France, Pierre Ginet, the marvelous flimflam man, fuses comedy and crime to bewilder the audience with his amusing shenanigans.
From Russia, the robust AcroDuo (Vitaliy Prikhodko and Alexei Anikine) bend gravity with balance and agility.
From Russia, the sensational Dosov Troupe burst from their teeter-board like fireworks into the firmament.
From the US, Jenny Vidbel warms the heart of spectators with her adorable ponies and animated puppies, with an added surprise or two!
From Canada, Daniel Cyr, the fabulous handyman, scrambles a ladder to nowhere but air.
From Mongolia, the graceful angels Davaasuren Altantsetseg and Narangua Altankhuyag arc through the heavens with daring acts of elegance.
Directed by Michel Barette, LUMINOCITY features choreographry by Vicki Davis and costumes by Sarah Conly. Scenic designer Michael Deegan, sound designer JP Perreaux, and lighting designer Louis Morisset enhance the music, performed by the Big Apple Circus Band and musical director Rob Slowik.



Tour & Ticket Information
Performances of LUMINOCITY begin on Friday, October 25th and run for 129 shows through Sunday, January 12th under the Big Top at Damrosch Park in Lincoln Center (62nd Street between Amsterdam and Columbus Avenues), the second stop on the Big Apple Circus's tour, following its world premiere engagement at Dulles Town Center, VA. Tickets for LUMINOCITY start at $25 and are available at www.bigapplecircus.org or by calling (888) 541-3750. The Circus Box Office, located in front of the Big Top, will open Tuesday, October 22nd; there is no service charge for tickets purchased at the box office. Hours of operation: Tuesday through Friday from 10 AM to 8 PM, and Saturday through Monday from 10 AM to 6 PM (or to 8 PM on weekend days when there is a 7 PM performance). The Big Top is heated in cold weather and air-conditioned in warm, for all-season comfort. The show's running time is about two hours, including a fifteen-minute intermission. For more ticket information, group sales, inquiries about wheelchair-accessible seating, or for additional information, please call the Ticket Info Line at (800) 922-3772.
About the Big Apple Circus
For 36 years, the Big Apple Circus, New York's original one-ring circus, has been delighting audiences of all ages under its Big Top by presenting the finest in live family entertainment featuring world-class circus artistry. Experience the instant connection between audience and artist as your family sits less than 50 feet from the ring. The Big Apple Circus is a not-for-profit performing arts and outreach institution committed to invigorating the communities we serve with the joy and wonder of classical circus. Tax-deductible contributions made by corporations, foundations and individuals enable the Big Apple Circus to bring its special magic to diverse audiences through its outreach programs — Clown Care[SM], Vaudeville Caravan[SM], Circus After School[SM], Circus For All!® and Circus of the Senses® — as well as its critically acclaimed performances.