Through VSP Vision Care's Send a High Five campaign, you can help up to 50,000 Special Olympics athletes receive eye exams and related vision services with just a few clicks.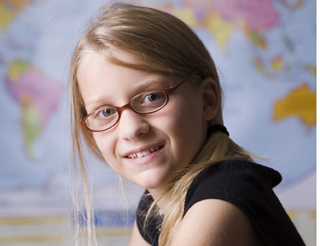 For many, seeing well can be a struggle, especially when it comes to people with intellectual disabilities. Approximately 2 percent of the global population, almost 200 million people, has ID and some estimates suggest that up to 40 percent of these individuals are also affected by some type of vision loss or abnormality. In light of this startling statistic, VSP Vision Care, a national nonprofit vision care company, has announced the Send a High Five campaign, a program that will provide comprehensive vision exams, critical follow-up eyecare, and related services and materials for up to 50,000 Special Olympics athletes across the United States, a total donation valued at $43 million.
The lack of access and barriers to quality eyecare for people with ID means vision correction needs often go undetected and unmet. Research has shown that not only do people with ID have a heightened risk for health and vision problems, but that medical professionals often lack the necessary training to work with them. The Send a High Five campaign was developed to help raise awareness about both the importance of healthy vision as well as the barriers to care people with ID face.
"Special Olympics is thrilled to be collaborating with VSP on the Send a High Five campaign," saya Dr. Timothy Shriver, Special Olympics chairman and CEO. "Access to quality health care is a critical issue facing our athletes worldwide, including in the United States. With VSP's support, we can now connect our Opening Eyes program to a national network of community-based providers and support increased access to care for people with intellectual disabilities."

For every "high five" sent, VSP will donate a gift certificate to a Special Olympics athlete for a comprehensive eye exam, and if needed, glasses as well as additional services, such as low vision, vision therapy, and a medical allowance at no cost to the athlete. VSP's donated services will further strengthen the Special Olympics Opening Eyes program by increasing access to necessary vision care and ensuring that the program will be able to provide critical follow-up services where they are needed most.

"At VSP, we believe everyone deserves to see their best, and when we learned that more than 35 percent of Special Olympics athletes have not received an eye exam in more than three years, we saw an opportunity to help make a difference," says Kate Renwick-Espinosa, chief marketing officer of VSP Global. "With this campaign, sending a 'high five' not only serves as a sign of support and awareness, but actually makes a meaningful impact on the health and lives of these incredible athletes."

For more information about the VSP Send a High Five campaign and to participate, visit SeeMuchMore.com. The site also includes helpful information about the benefits of healthy vision and an interactive game to teach players more about the importance of annual eye exams and vision insurance.