Planning a family trip to Jamaica? The Beaches Ocho Rios Resort & Golf Club is an all-inclusive vacation spot that features Sesame Street characters and other fun programs for kids as well as scuba diving, snorkeling, kayaking, and more for the whole family.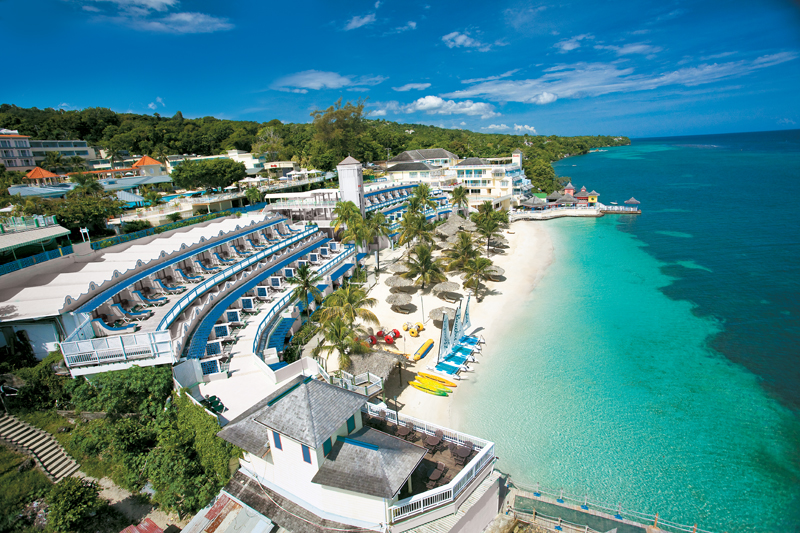 It seems that resorts are lately creating family-friendly themes around favorite characters, and Beaches Ocho Rios Resort & Golf Club in Jamaica is no exception. Here, Sesame Street characters will join your child for breakfast, march in a carnival street parade, and even tuck your child in at night. How could you not smile when Elmo and friends give you and your child a hug over pancakes and bacon?
This all-inclusive resort on 22 acres is surrounded by greenery, mountains, and a private white-sand beach. It was voted among the Top 10 Best Beach Resorts by Parents magazine. There are five gourmet restaurants, a fitness center, spa, and three swimming pools—one with six slides and a kids' aqua play section called Pirates Island—and a blue-green ocean in which to enjoy swimming and water sports.

Accommodations at Beaches Ocho Rios

The 223 rooms and suites have been newly decorated in soothing island themes with rich wood furniture. Room choices include penthouse suites, sunset oceanfront one-bedroom suites, the hibiscus luxury mega family suite, and various honeymoon suites. Each suite is stocked with alcohol and soft drinks. Prices vary but start at $242 per person, per night for the St. Mary's Deluxe Family Room, with children at $42 per child, per night.
Dining at Beaches Ocho Rios

The five all-inclusive dining options range from the poolside BBQ Park and Bella Napoli Pizzeria to the Venetian Italian restaurant. There's a poolside chocolate buffet served on Fridays, and kids and parents can help themselves to self-serve ice cream, popcorn, frozen drinks, and soda all day long at various stations around the resort.
Programs for Kids at Beaches Ocho Rios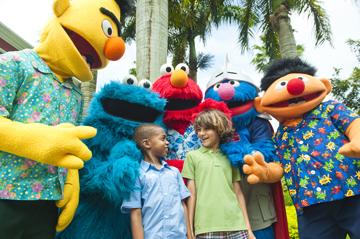 For young fans, the Caribbean Adventure with Sesame Street offers special programs such as From Trash to Treasure with Oscar the Grouch, Super Science Fair with Super Grover, Baking with Cookie Monster, and Story Time with Elmo.
The other big draw here is the Kids Kamp, which is a separate facility on the grounds designed to accommodate guests ages 17 and younger. There are accredited nannies for infants and toddlers as well as programs designed specifically for ages 3-4, 5-7, 8-10, 11-14, and 15-17. During my visit, I encountered some smiling school-aged pirates accompanied by a camp counselor who were about to uncover the hidden loot at the end of a resort-wide treasure hunt.
In addition to the "camp," there's an arts and crafts room that will appeal to grown-up artists as well. An Xbox Play Lounge for tweens and teens is a maze of kiosks featuring 26-inch screens and popular games. And there's a Scratch DJ Academy for kids who want to mix, blend, and scratch their own music.

Fun for Everyone at Beaches Ocho Rios
For family time fun, there's a scuba diving program. Kids and adults can get certified through the PADI International program, and there are unlimited dives for certified divers. You can also enjoy kayaking, Hobie cats, snorkeling, windsurfing, aqua-trikes, and paddle boarding. There are land sports, too, such as basketball, shuffleboard, and outdoor chess. Enjoy theme nights, like family bonfire on the beach, family fashion fiesta, and Caribbean street party.

Other Activities near Beaches Ocho Rios

While there is plenty to do at the resort, Ocho Rios has many off-site attractions as well. Two popular nearby locations I visited are Dunn's River Falls and Rainforest Adventures Mystic Mountain. These excursions are conveniently located and bookable at the resort with the Island Routes Caribbean Adventure desk (visit islandroutes.com for more information).
Dunn's River Falls is a beautiful setting where you can climb a series of waterfalls that span about 900 feet. You have to form a human chain to do so, and the guides promote fun side activities, like a rockslide at one level and a pool plunge at another. While the park allows children as young as 4 to climb, it's not something I recommend. The climb is challenging at points, and the potential for accidents is there. Use your discretion. For more information, visit dunnsriverfallsja.com.
Rainforest Adventures Mystic Mountain is a small amusement park with a chairlift, ziplining, and a Jamaican "bobsled" (roller coaster). The ziplining includes five ziplines and a 100-foot abseil drop. There's a waterslide, small pool, restaurant, and viewing tower at the top. Kids have to be at least 46 inches tall to ride the slide and at least 5 year old to zipline. The skyride through the rainforest is stunning. As for the rest, I gave up thrill-seeking when I became a parent, but if leaping off platforms is your thing, you'll enjoy it. I wouldn't recommend 5-year-olds should zipline, but here again, it's a personal decision. The 9-year-old in my group handled it all like a pro. In fact, she was my inspiration to leap. Learn more at rainforestadventure.com.
Getting to Beaches Ocho Rios

You can fly into Montego Bay Airport and visit the Sandals Resort Lounge where you can freshen up and have a snack. The resort provides transportation from the airport. Be forewarned that it's a two-hour trip, which is the one downside. But they do their best to make you comfortable with a cooler full of drinks and your first taste of Jamaica's luscious fresh fruit. There is a newly renovated airport nearby, Ian Fleming International Airport, so be sure to check for flights there first.
Learn more about Beaches Ocho Rios in Jamaica