DRESS UP YOUR PETS: SKELETON COSTUME BY MARTHA STEWART PETS
Related:
dog costume
,
dress up your pet
,
black skeleton costume for dogs
,
Martha Stewart Pets collection
,
PetSmart
,
While planning your trick-or-treating adventure this Halloween, don't forget to include the family dog in on the fun. The Martha Stewart Pets collection at PetSmart has some great costumes that will give your pet spooky style.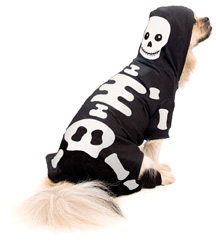 Do your kids want to take Fido trick-or-treating this year and now you're looking for just the right spooky Halloween garb to dress up your canine companion? Look no further! The Martha Stewart Pets Black Halloween Skeleton Costume is perfect for your pup.
The black skeleton costume is made from 100 percent polyester material, which allows for comfortable, long-lasting use, and features a white glow-in-the-dark skeleton design on a black background. And, if you're looking for a girly option, the skeleton costume also comes in pink.
The costumes are available in sizes extra-small (for dogs up to 7 inches long), small (for dogs up to 9 inches long), medium (for dogs up to 13 inches long), large (for dogs up to 17 inches long) and extra-large (for dogs up to 20 inches long) and range in price from $15.99-$17.59.
Martha Stewart Pets, which was introduced exclusively by PetSmart in 2010, is all about stylish, practical, and functional clothing and accessories for your dog. Stewart uses several of her signature colors, like robin's egg blue, throughout her collection. Everything in the collection has Martha's stamp of approval. In fact, her pet collection was designed, tested, and approved by Martha herself. The collection, which extends into the style of your house, includes anything you may need for your dog, from beds and collars to food and water bowls, leashes, and toys.
For more costume ideas, Halloween treats, and awesome giveaways, go to nymetroparents.com/halloween.
---
Get Your FREE Indoor Activity eGuide!
---
More PRODUCTS Articles
Holiday Fashions for Boys and Girls
Photographer Behind Humans of New York Releases Children's Book
New Book Encourages Kids to Give Up Halloween Candy
Runnin' Wild Kids Shoes Owner Opens Toy Store
Top 10 Audiobooks for Halloween Season