Try this easy weeknight recipe for smoky Southwest chicken and wild rice soup, a heart spin on the usual chicken-and-noodle duo. This recipe serves 6, so it's a perfect meal for a big family or a small family that appreciates leftovers.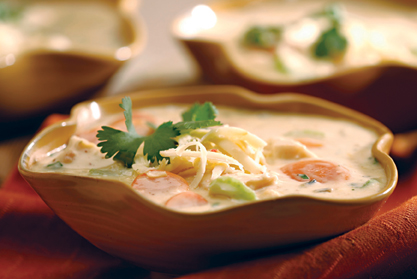 Prep time: 15 minutes
Cook time: 25 minutes
Serves: 6
Ingredients
1 tablespoon olive oil
½ cup chopped onion
½ cup thinly sliced celery
1 can (10¾ ounces) reduced-sodium cream of chicken soup
1 cup low-sodium chicken broth
1 cup cooked wild rice
1 cup canned, sliced carrots, drained
2 cans (3 ounces each) premium chunk chicken breast in water, drained
½ teaspoon chili powder
½ teaspoon ground cumin
Pinch ground chipotle chile
1 cup shredded, pepper jack cheese, divided
1/3 cup evaporated fat-free canned milk or heavy cream
3 tablespoons chopped cilantro
Cilantro sprigs for garnish
Directions
1. In a large saucepan, heat oil over medium-high heat; add onion and celery. Sauté, stirring occasionally, 8 to 10 minutes or until softened.
2. Stir in soup and broth. Add rice, carrots, chicken, chili powder, cumin, chipotle chile and ¾ cup cheese; bring to a boil, stirring occasionally.
3. Reduce heat and simmer 10 minutes to blend flavors; stir in evaporated milk and chopped cilantro.
4. Garnish with remaining cheese and cilantro sprigs.
Recipe courtesy of Mealtime.org