Actors Charlotte D'Amboise and Terrence Mann, the husband-and-wife duo who play Fastrada and King Charles in 'Pippin' on Broadway, talk about how they juggle parenting their two daughters while performing eight shows a week on the Great White Way.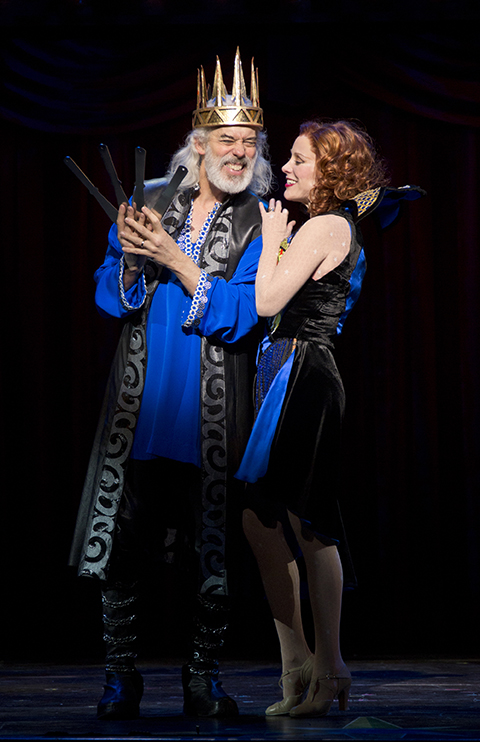 Terrence Mann as King Charles (left) and Charlotte d'Amboise as Fastrada
Getting to the Music Box Theatre's dressing rooms prior to curtain time requires a human guide, staunch determination, and—should you wish to return the same way you came—a trail of breadcrumbs. It requires crossing a vast stage of busy stagehands, while keeping one eye on the floor for snaking cables and the other looking out for scenery on the move. Once across, you climb many stairs until you arrive at an Alice in Wonderland-like hallway of dressing room doors.
All in all, it's an apt backstage setting for the Tony Award-winning musical revival of Pippin—a full-blown Broadway fantasy in which skilled circus performers and Broadway stars join forces to bring to life the tale of King Charles/Charlemagne's son Pippin (fresh out of school and ready to take on the world) as he searches for the meaning of life.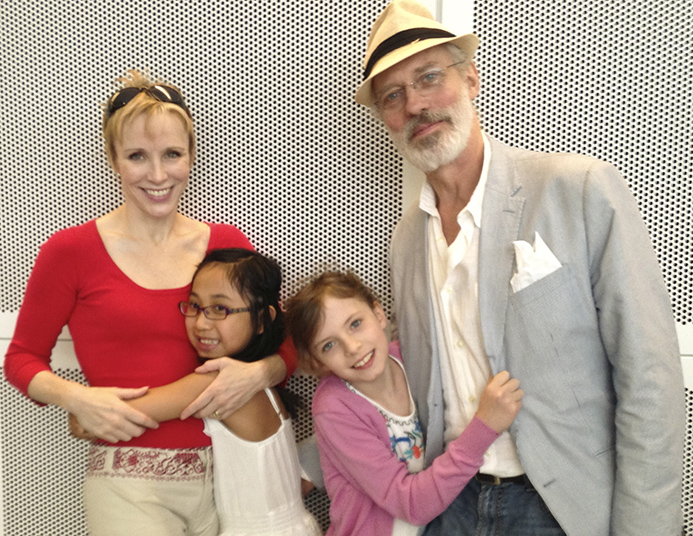 Charlotte d'Ambroise and Terrence Mann with daughters Josephine and Shelby
Family Ties
Yet as stylized and storybook as the show is, its structure is decidedly familial, with key characters including a father and son, stepmother and stepbrother, and grandmother. A blithely surreal and dysfunctional clan to be sure, but no more so than your basic reality TV family.
Which is most certainly not the case with real life husband-and-wife duo Terrence Mann and Charlotte d'Amboise, who play King Charles and his beautiful and manipulative second wife Fastrada, respectively.
Fastrada: Oh, my darling, before I forget, the royal treasurer informs me I've somehow overdrawn my allowance account.
Charles: You're overdrawn again?
Fastrada: Now, now, my Lord, you know how confused I get about money. After all, I'm just an ordinary housewife and mother…just like all you housewives and mothers out there.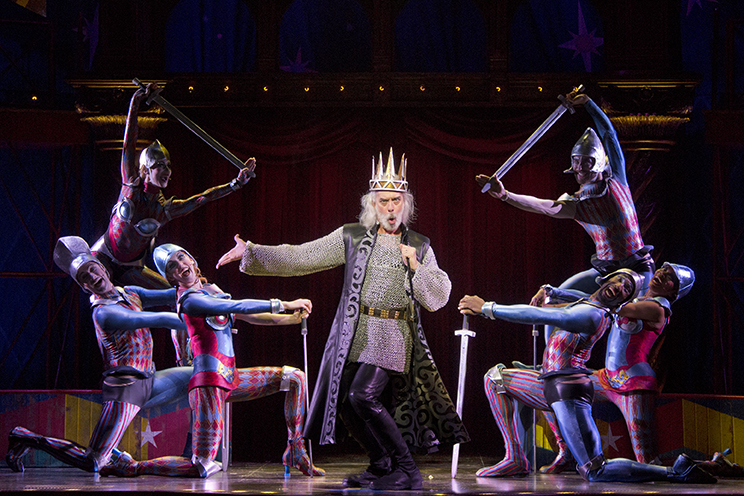 Where Charles and Fastrada have disparate agendas (she having set her sights on the crown for her dolt of a son, Lewis), Mann and d'Amboise are so much on the same page when it comes to raising their two daughters Josephine and Shelby (ages 11 and 10, respectively) that they tend to finish each other's sentences when the subject turns to family.
Tucked away in Mann's compact dressing room (read: the previously cited trek), the couple—who met in 1983 when d'Amboise joined Mann in the Broadway cast of Cats—are a study in laidback likability who, when they're not onstage, are unconditionally immersed in parenting and the day-to-day routine of juggling Mom and Dad time with stage time (which, in Pippin, also includes juggling). And they're loving every minute of it.
Juggling Act
Considering the girls are close in age—d'Amboise had just given birth to Shelby when they adopted 11-month old Josephine from China ("Kind of like having Irish twins," Mann says)—you'd think the daily logistics would be fairly straightforward, but that's not so much the case with this crew.
"We all get up in the morning together and take them to school—different schools," Mann says. After school, the doting parents pick the girls up and take them to dance class, "Again, at different schools," says d'Amboise, noting, "Shelby is more into the ballet world, so she studies at Lincoln Center, while Jo is most interested in modern, so she likes the classes at Steps." This year, both dancers will be performing in (different productions of) The Nutcracker.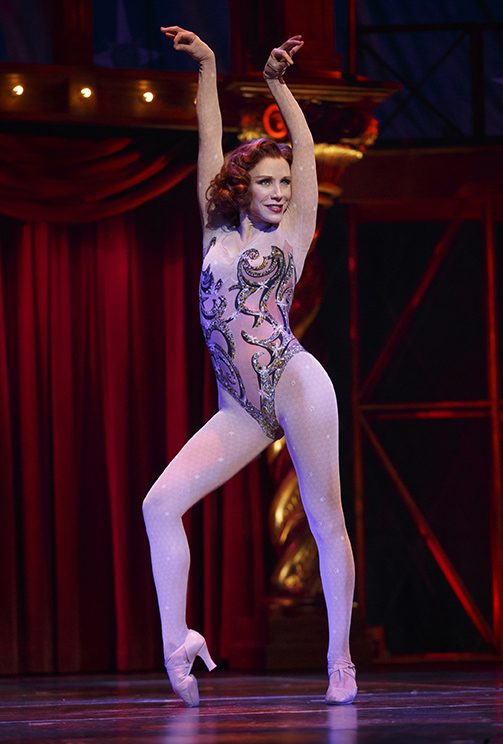 Still, as madcap as their schedules are, after dance classes they zip up to their home in Harlem and spend some fleeting family time together before d'Amboise and Mann leave for the theater.
"It's quality over quantity," says Mann, who credits part of his passion for spending every possible second with his kids to having them later in his career: "During my midlife crisis," he laughs.
When the couple goes out at night, they typically take the girls with them. "Because we include them in everything and they listen to our conversations, they're as comfortable with adults as they are with kids," Mann says. "And of course the adults they're spending time with are our crazy actor friends who are always telling funny stories, so they're totally entertained."
Returning to the verbal tag-team ballet, d'Amboise says if she's learned one thing as a mother it's that the key thing all kids want growing up is to spend time with their parents. "It doesn't have to be anything monumental…taking them to class, hanging out together…just being," she says.
And despite all theatrical odds—i.e. rehearsals and performances (together and apart)—they've managed to stick to their convictions, whether on vacation in Italy with several other couples and their kids or during their ultimate challenge: pulling Jo and Shelby out of school to be with them during Pippin previews in Boston.
"For us, it was nice to be on the same schedule with them for once, where we could put them to bed and wake up with them," says d'Amboise, with a twinge of nostalgia in her voice. "We were staying in an apartment where we could have breakfast together and they could just go down a floor to where their tutor was waiting," Mann adds. "And of course they loved it—they could go to class in their pajamas carrying stuffed animals."
The Boston scenario lasted for three months—November 2012 to January 2013—and remains one of Mann and d'Amboise's most cherished memories.
Now, Jo and Shelby are regulars backstage on weekends when there are Saturday matinees, and they can fly from dressing room to dressing room with the daughter of another Pippin star, Rachel Bay Jones (Catherine in the show).
Suffice it to say, since Shelby and Jo have seen the show numerous times, they have no qualms about critiquing their parents' performances. "They know every song, every line," d'Amboise says. "Shelby always has copious notes for us," Mann adds. "She knows if we've changed our timing in a moment and tells us 'You need to do it such-and-such a way.'"
Still, despite the much-appreciated input, these noted Broadway performers don't have it in their genetic makeup to give anything but a first-rate performance. The bonus in Pippin being what the couple calls "a subliminal knowledge of one another," the kind of married-couple chemistry that serves them well onstage even when the spouses they play are in the throes of circus madness—like the knife-throwing scene (Mann being the thrower, d'Amboise the throwee). "The moment flows," Mann says. "Comfortable," d'Amboise concludes.
Show Details
Where: Broadway, The Music Box Theatre, 239 W. 45th St.
Age Range: May be inappropriate for ages 8 and younger (some stylized passion is choreographed into the show). Keep in mind that the minimum age for children in Broadway theaters is 4. The circus backdrop and fabulous musical numbers are catnip for kids, but only you can gauge your young child's comfort level.
When: Open-ended run: Tuesday-Saturday at 8pm; Wednesday and Saturday at 2:30pm; Sunday at 3pm. During the holidays, Broadway performance schedules and cast members are often subject to change, so be sure to double check when reserving tickets during November and December.
Running Time: 2 hours, 35 minutes
Tickets: $89-$157.00. Visit pippinthemusical.com or call 212-239-6200. A limited number of $37 rush tickets are available for purchase in person at the Music Theatre box office when it opens at 10am (12pm on Sundays) for that day's performance only. There is a limit of one ticket per person. Tickets are subject to availability and may not be offered at all performances. Cash or credit is accepted.
'Pippin' Facts
Synopsis: This is the story of a young prince on a death-defying journey to find meaning in his existence. Will he choose a happy but simple life? Or will he risk everything for a singular flash of glory?
Creative Team:
Author: Roger O. Hirson
Music & Lyrics: Stephen Schwartz
Director: Diane Paulus
Choreographer: Chet Walker in the style of Bob Fosse
Winner of Four 2013 Tony Awards:
• Best Revival of a Musical
• Best Performance by an Actress in a Leading Role in a Musical (Patina Miller)
• Best Performance by an Actress in a Featured Role in a Musical (Andrea Martin); Note: Tony-nominee Tovah Feldshuh has since replaced Martin in the role of Berthe
Triple Arts
Mann & d'Amboise's Musical Theater Intensive For Young Performers
Every August, Terrence Mann and Charlotte d'Amboise give themselves over to their inner teachers when they hold their exclusive two-week Triple Arts program, a musical theater intensive dedicated to building a strong foundation of skills and confidence in young performers ages 12-18 while challenging them to reach new levels of personal achievement across the triple arts of the trade: singing, dancing, and acting.
Falling back on their love of teaching (e.g., among other teaching posts, Mann has been a professor at Western Carolina University while d'Amboise, the daughter of dancers Jacques d'Amboise and Carolyn George, literally grew up teaching dance, following in her father's footstep.)
"I started singing and acting rather late, which is why I wanted to expose students to all three disciplines at one time. This program challenges everybody to do everything…and everybody's insecure about one aspect of performing or another," d'Amboise says.
Says Mann: "Triple Arts forces you to challenge yourself physically and mentally for two solid weeks—and that's a life lesson we all need."
To test their threefold performance skills, students take part in a final performance alongside their peers and faculty members.
Auditions take place over the winter, so check the website regularly for sign-up information: triplearts.com.