A New York City mom decides to take her son to his first gay wedding and uses it as a teaching moment for herself and family.
My son Jamie has grown up for much of his young life hearing me root for gay marriage. He attends a Catholic School, and while the early years of primary-grade religious indoctrination seem to focus on service and kindness, I've been steadily planting my opposing social values one seed at a time, I suppose as a type of antidote to what I fear could come down the pike at any time: David and Doug should be able to be married, just like Mommy and Daddy.
So when I got the invitation to attend my dear friend Candace's wedding to her partner Laura, I was honored to be a part of their most special day, and that it was to be a kid-friendly wedding made it all the sweeter.
Candace had moved from New York City across the country to Santa Fe in 2002 to be with her new husband. They had a beautiful son and daughter, and then, as these things go 50 percent of the time, their marriage ended in divorce.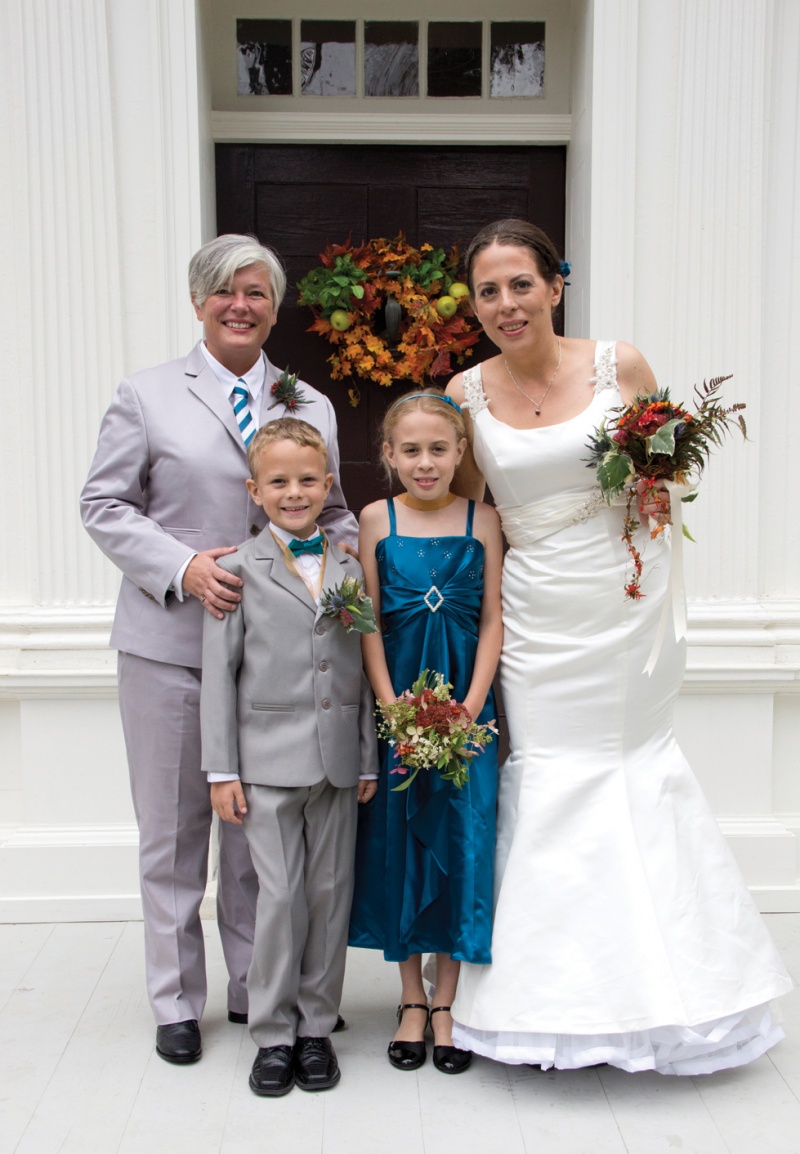 The authors' dear friends on their
wedding day, a true family affair
Then came a photo Candace posted on Facebook that was taken on vacation in Mexico with Laura. It was my first recognition that there was, in fact, a Laura. Candace's head was lying on the sand, and she dreamily looked into the camera (with the best beach hair, by the way). With that one look I knew this was the real deal: Love with a capital L, sexy and true. She glowed so brightly she may as well have dragged an ocean's worth of phosphorescence around her after her last dip.
The exact moment that theirs was a gay wedding came up with Jamie when I was checking the mail in the lobby of our apartment building in downtown Manhattan. I must have mentioned impending travel to upstate New York, when he turned around and said, "Are Candace and Laura both womens [sic]?" I paused, realizing at once the gravity of the moment, and the fact that I knew I didn't want to give it any weight whatsoever. "Yep." To which he looked at me and said, "Oh, they're like David and Doug. That's really nice." I went on to explain that he'd love hanging out with Candace's daughter and her son, an 8-year-old boy just like him.
The ceremony was held in a lovingly restored historical home in Claverack, New York, against the backdrop of perfect blue skies. Laura greeted guests as they arrived, while Candace readied herself to descend down the winding spindled staircase, her children by her side. Nathanial wore a little gray colored suit that matched Laura's; Honore wore a dress that more mirrored Candace, whose mermaid-shaped gown knocked the air out of the room.
When the processional music began, Candace slowly made her way down the stairs, and a giant lump formed in my throat, the kind that warns of imminent sloppy tears. I could do nothing but go along with them. She was the loveliest bride and, as she was in her Mexico snapshot, she was incandescently happy. Her bride waited for her at the top of the aisle. When they recited the vows that they'd written to each other and to Honore and Nathanial, I don't think there was a dry eye to be found. Jamie sat between my husband and me, and held on to every word with the understanding that he was witnessing something very special happen between a family. Weddings are, by their nature, full of promises made to one another, but this was the first wedding I'd ever been to that had honored the family so deeply that they'd recited vows to the children, as well. To each other, they read:
I choose you as my One, and I vow to be the most encompassing
One to you
to champion your boldest and most desired quests
to applaud your triumphs and to soothe you when you stumble
to shield you from life's nuisances and blows, great and small
to constantly remind you of your beauty and my love
to reflect all the best in you so that you walk in your greatness
to cherish all the worst in you so that you may be fully present
to honor your soul's path, knowing when to assist and when
to refrain.
After the ceremony, Honore, Nathaniel, and Jamie frolicked around the grounds chasing each other and running through the house, filling it with shrieks of typical kid chaos and happiness. Later, they tore up the dance floor after Bride and Bride had their first dance.
Weeks and months passed. Now, instead of just uttering "David and Doug" whenever I go on my pro-gay marriage rants, I can now say "Candace and Laura." Generic faces of children that once went along with these conversations of equality have become, instead, the real-life, breathing Honore and Nathaniel.
There's something that feels barbaric about growing up in a time when your friends' beautiful wedding needs to double as a teaching moment. I look forward to the time when the next gay wedding won't be anything but a wedding invitation. Not a loaded invitation that closed-minded relatives often choose to send "Regrets" for. Not something to explain to anyone—just a celebration to witness the sacred weight and beauty of the commitment.
Shortly after the wedding, Laura posted a video on Facebook of one of Nathanial's first wobbly bike rides. The video would have been poignant in any case, but I couldn't help but feel the triumph of her participation in that moment, officially as a Mom. How I wish they lived nearby; Jamie just learned to ride his bike too.
Rachel Aydt is a freelance writer and journalism teacher at The New School. She lives in Manhattan with her husband and son. Find more of her writing at nymetroparents.com/author/Rachel-Aydt and NewYorkLostandFound.blogspot.com.